International Conference on Knitwear Practices
A key aspect of the Fleece to Fashion research project has been running events to promote engagement and outreach across the extended community of researchers, home-knitters, industrial designers and producers, and heritage professionals.
Most recently, the project team welcomed a range of international participants, in-person and online, to a conference held at University of Glasgow on 8-9 September 2022.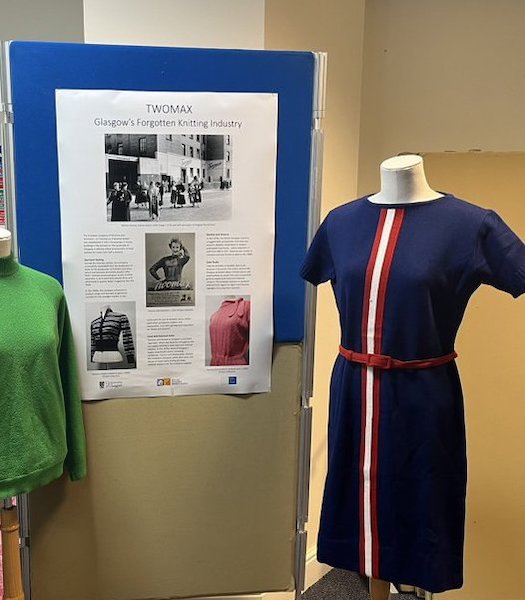 Exhibit from the Fleece to Fashion Conference presenting Twomax, a Scottish knitwear company founded in Glasgow in the 1920s
Speakers covered a wide range of topics addressing the conference theme of 'creativity, authenticity and sustainability in knitted textiles past and present'. Panels spanned work on business and retail, heritage, curation and collections, wool and sustainability, design and creativity, learning and teaching craft, and the role of knitting in promoting expression and well-being.
Look out for future news of 'Knit a Margaret Klein', another event organised by the Fleece to Fashion team in collaboration with National Museums Scotland and the Klein Estate, and timed to coincide with a major Bernat Klein exhibition at the National Museum of Scotland running from November 2022 until April 2023.
---
First published: 11 October 2022