Training at the Kelvin Centre
Our unique specialist postgraduate programmes at MPhil and MLitt level are underpinned by object-based interdisciplinary practice and research. All students benefit from our strong links to the cultural heritage sector in the UK and internationally.
Our Centre is based in Kelvin Hall where our training spaces include workrooms/studios for conservation, study space, chemical, analytical and technical examination labs.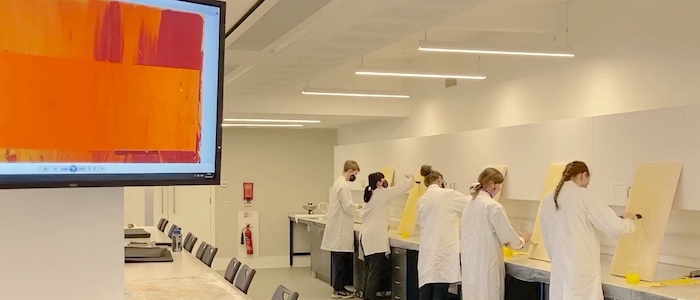 All staff and students have access to the Hunterian Study Centre at Kelvin Hall, offering an exceptional opportunity for object-based teaching and research.
Our research and training facilities include photography, microscopy, UV imaging, Infra-Red Reflectography, FTIR, pXRF, Raman, HPLC, RTI, contact profilometers, uniaxial and biaxial tensile testers, ageing ovens (thermal and light), 3D printing and dyeing.