Karen Finch Centenary
Dr Karen Finch OBE, was a weaver, designer, teacher and a true pioneer of textile conservation in the UK. We are honoured to commemorate her today, the 8th May 2021, on the 100th anniversary of her birth.
The wider field of textile conservation and our Centre in particular owes a great debt to Karen. She was the founder of our predecessor, the Textile Conservation Centre, which offered the first recognised training programme in textile conservation. Originally based at Hampton Court Palace from 1975 and subsequently at the University of Southampton from 1999, the Centre moved to the University of Glasgow in 2010, where it continues to play a unique role in educating textle conservators worldwide and in undertaking textile conservation research.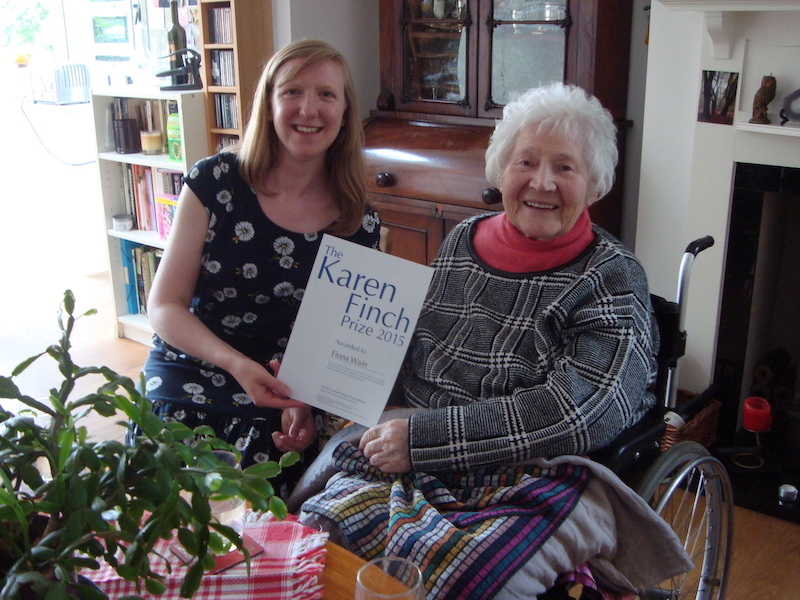 Karen Finch presenting the Karen Finch Prize to student Fiona Wain in 2015 (photo courtesy of Textile Conservation Foundation)
Karen is remembered with both fondness and gratitude at the Kelvin Centre for Conservation and Cultural Heritage Research. Our reference collection of textiles, which she started so many years ago, is named after her. This valuable resource remains central to practical teaching within our programme. An annual Karen Finch prize is awarded to an outstanding student by the Textile Conservation Foundation, and the Foundation also awards a Karen Finch bursary in her memory.
Whilst the textile conservation programme has evolved over the years to reflect changes in our fast developing field, it is at heart still recognisably the programme established by Karen, with its emphasis on science, textile practice and an understanding of the cultural significance of the textiles we care for.
---
The Karen Finch website is launching a new Centenary Section including recollections, photographs, interview transcripts, lecture notes and other content to mark this special occasion.
First published: 8 May 2021