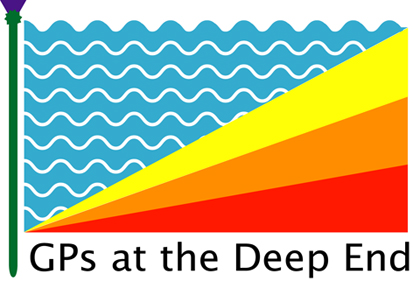 Recent additions
2022
2021
December
November
October
August
July
June
May
April
Learning from the Scottish Deep End Project
Talk given by Professor Graham Watt at a session on "Social Inequality and Health" at the annual meeting of the College of the Norwegian Medical Association, coordinated virtually from Oslo on 20 April 2021
DEEP END REPORT 37 COVID-19 vaccine deployment for marginalised groups in Scotland
Summary | Full report
January
2020
November
October
September
GPs at the Deep End [video]
Three academic GPs and members of the Deep End group talk about the importance and value of the group, ahead of the UofG Knowledge Exchange and Public Engagement Awards 2020
August
Health inequalities in Scotland: a GP view
This account from a frontline GP, Dr Catriona Morton, reflects on the experience of a professional lifetime in practices serving socio-economically deprived populations. It refers to the evidence base, is a call to action, and offers pragmatic solutions and recommendations for resource distribution. The paper is rooted in the current Scottish General Practice architecture, unapologetically using that, and Edinburgh-based approaches, as case studies. It is a document of its place and time: it will achieve its purpose if colleagues feel free to use it as a resource to change things for the better, in the service of our patients.
July
Deep End Zoom Meeting 1
Brief summary of the first Deep End International Zoom Meeting held on 09 July 2020 and exploring the shared agenda of Deep End Projects
June
May
April
March
February
January
2019
December
November
Mentoring for hard to reach people with hepatitis C Christopher Weatherburn, Neil Sneddon, Nancy Sturrock, Alessandro Insalaco, David Shaw
Effectiveness of Community-Links Practitioners in Areas of High Socioeconomic Deprivation Stewart W. Mercer, Bridie Fitzpatrick, Lesley Grant, Nai Rui Chng, Alex McConnachie, Andisheh Bakhshi, Greg James-Rae, Catherine A. O'Donnell, Sally Wyke. Annals of Family Medicine 2019 17(6)
Further evaluation of the Deep End Link Worker programme suggests that ongoing engagement with the community link worker is essential in uptake of suggested community resources and improved patient outcomes
Overview of Glasgow HSCP Community Link Worker Programme [video]
A GP and Community Link Worker discuss practical aspects of the CLW role in the primary care team.
GPs at the Deep End: identifying and addressing social disadvantage wherever it lies Elizabeth Sturgiss, Peter Tait, Kirsty Douglas, Joo-Inn Chew, Susan Baglow, Graham Watt. Australian Journal of General Practice 48(11) 2019
October
September
August
Deep End response to the One Year Care Consultation
The Deep End group response to the second phase of the Scottish Government inquiry into what primary care should look like for the next generation
Deep End GPs as institutional entrepreneurs and political navigators
Short report | Summary
Summary of a dissertation carried out in partial fulfillment for the degree of BA (Hons) Business Enterprise at the University of Strathclyde. The aim of the study was to investigate the connection between traditional entrepreneurial concepts within the context of the healthcare sector. The study looks at the concept of 'institutional entrepreneurship', which sees frontline actors attempt to initiate change within already established institutions through unconventional behaviour for that particular field. The GPs at the Deep End project was used as the focus of the study to understand how intuitional entrepreneurship was being carried out within the context of primary healthcare to narrow healthcare inequalities through strategic navigation of the medical political system.
July
June
May
March
January