Capacity strengthening projects in Africa
Discover more
Creating the next generation of research leaders
Scientists from the University of Glasgow are engaging in capacity strengthening projects in sub-Saharan Africa, particularly in the area of One Health, in order to reinforce African-led research and, in turn, tackle the many complex health and development challenges the region needs to overcome.  
Capacity strengthening enhances the human and institutional resources of an area and is critical to the development of low and middle-income countries (LMICs), though there are myriad reasons why it is worthwhile.
In order to address the many global challenges we face including those related to poverty, inequality, health, climate, environmental degradation and prosperity, as outlined by the UN, international collaboration between researchers in developed countries and LMICS is essential.
Professor Dan Haydon, Director of the Institute of Biodiversity, Animal Health and Comparative Medicine, and Professor of Population Ecology and Epidemiology, explains: 
"Achieving the United Nations Sustainable Development Goals will require effective international collaboration between established and emerging research institutions located where the research challenges are physically located and with local researchers who understand the issues and the societies that are affected by them.  These collaborations can only be effective through equitable partnerships." 
Moreover, capacity strengthening in LMICs is paramount as most of the world is in fact comprised of LMICs. "By 2030, 85 per cent of the world's population will live in what we currently define as LMICs and these countries account for nearly 70 per cent of the planet's land area." states Professor Haydon. Therefore limiting research expertise and scope to the 'global north' where most established research institutions are based would be highly restrictive, representing "only a small fraction of all that is most important to humanity."
On a regional level, investing in African researchers who have an inherent understanding of the culture and issues that affect their home country is fundamental to building a strong and sustainable research base in an area. Crucially, it is their expertise that is likely to be translated into effectual national policy, as African-led research is the best way to influence policy.
Professor Haydon highlights that capacity strengthening projects in LMICs are a bilateral process, allowing Glasgow academics to work on research questions that they would not otherwise be able to engage with: "International collaboration and capacity strengthening activities with LMIC research institutions isn't altruism. On the contrary, we are privileged and fortunate to be able to work on some of the world's most interesting and important research questions with inspirational African researchers." 
Funding
Afrique One-ASPIRE is funded by the DELTAs (Developing Excellence in Leadership, Training and Science) Africa initiative, a consortium of donors including the Alliance for Accelerating Excellence in Science in Africa (AESA), the New Partnership for Africa's Development Planning and Coordinating (NEPAD) agency, UKaid and the Wellcome Trust.
Afrique One-ASPIRE
Afrique One - ASPIRE (African Science Partnership for Intervention Research Excellence) is one such capacity strengthening programme that Glasgow partners in, alongside a constellation of African partners and one other northern partner institution. 
This research and training programme aims to create a generation of African researchers and practitioners who employ the One Health approach as a means of tackling endemic zoonotic diseases.    
Training and employment opportunities for African scientists and students have been created, including 18 Masters fellowships, 11 PhD fellowships and 5 post-doctoral research fellowships. The researchers are equipped with expertise in planning, monitoring and evaluating interventions of One Heath research, focusing on zoonotic diseases in particular. 
The research capacity of the selected African scientists will be expanded through a structured programme of scientific training across five themes: rabies elimination, brucellosis control, control of mycobacterial infections, mitigating foodborne diseases and surveillance-response. 
Staff from Glasgow have assisted in a number of ways. They have helped with the preparation of proposals, the management and thematic direction of the consortium, in preparing for the selection of interviews, in selecting, supervising and monitoring students and post-docs and directly through training workshops. 
Afrique One-ASPIRE, which has funding until 2021, is the second phase of the Afrique One initiative (2009 – 2015), which was a consortium of fourteen institutions dedicated to developing human and technical capacity across sub-Saharan Africa to address the challenges of zoonotic disease.  By 2021 the Wellcome Trust will have contributed over £11m to the development of the consortium.
The programme has proved to be mutually beneficial for both the African countries involved and Glasgow academics, who have gained access to some of the world's most interesting and challenging epidemiological research questions. "Afrique One has built up a long-term community of One Health researchers across east, central and west Africa" says Professor Haydon, "providing extraordinary opportunities for Glasgow-based researchers to engage with a truly global agenda." 
Funding
Afrique One-ASPIRE is funded by the DELTAs (Developing Excellence in Leadership, Training and Science) Africa initiative, a consortium of donors including the Alliance for Accelerating Excellence in Science in Africa (AESA), the New Partnership for Africa's Development Planning and Coordinating (NEPAD) agency, UKaid and the Wellcome Trust.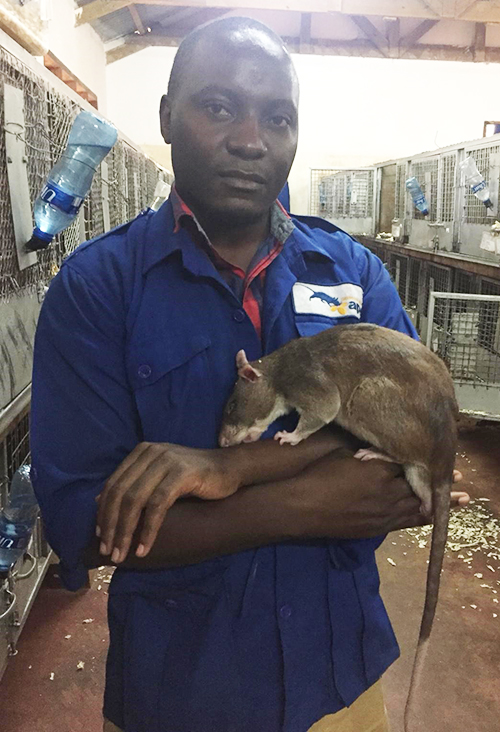 A handler with one of the trained sniffer rats
Using sniffer rats to detect brucellosis
One project currently being undertaken by African and Glasgow researchers in Tanzania as part of the Afrique One-ASPIRE initiative is an investigation into the potential for sniffer rats to detect brucellosis in cattle.  
Brucellosis is a highly contagious zoonotic disease caused by the bacterial genus Brucella. It infects key livestock species such as cattle, sheep and goats causing abortion, infertility and low milk yields. Humans can contract brucellosis through direct contact with livestock or from drinking unpasteurised milk. Though rarely fatal in humans, it is a debilitating disease that also causes devastating losses to the livestock industry and small-scale farmers in some of the world's poorest countries.   
Currently, diagnostics for both humans and animals have several constraints meaning brucellosis is grossly underreported and underdiagnosed, resulting in its status as a neglected tropical disease. 
This new research builds on work done by the NGO Apopo, which has a 20 year history of using rats, with their strong sense of smell and ability, as a successful tool to detect landmines and tuberculosis in many LMICs. 
Using the same methodology employed when training rats to detect tuberculosis, the aim of this Afrique One-ASPIRE project is to prove the rats' suitability for detecting Brucella in livestock dung. 
Over the course of around six months, eight giant African pouched rats are being trained to detect inactivated cultured Brucella.  This is achieved in a series of stages. Firstly, the young rats are socialised so that they are at ease with humans. Next, they undergo 'clicker training', where they learn to associate the sound of a click with a food reward. Once they know that 'click' means food, the rats are ready to be trained on the target Brucella scent.  The rat is offered a choice between various scents placed beneath three sniffer holes. Whenever the rat pauses its nose above the brucella scent, the click and food treat teach the rat that this is the correct scent to detect. The training is stepped up with the rats eventually being taught to detect the brucella scent from one of ten sniffer holes and then to detect it in spiked fecal samples in a natural setting, mimicking the real conditions that the rats will be working in. 
If this initial investigation proves successful, the rats could be a highly effective additional diagnostic tool in the battle against brucellosis, particularly in settings where there are large number of samples to be analysed and resources are limited.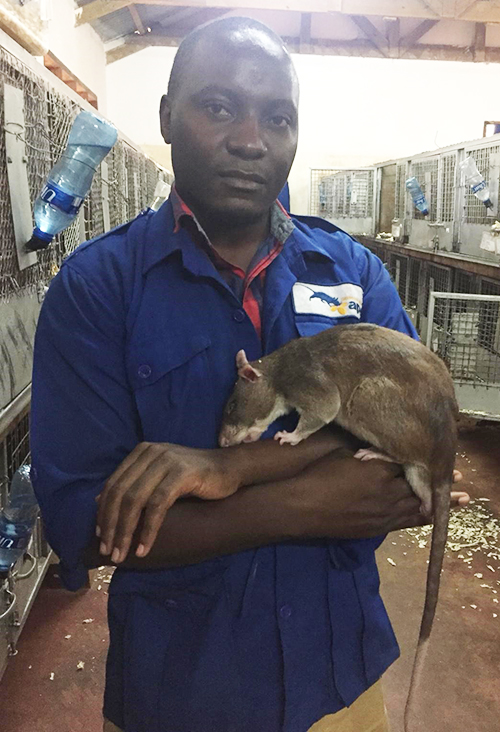 A handler with one of the trained sniffer rats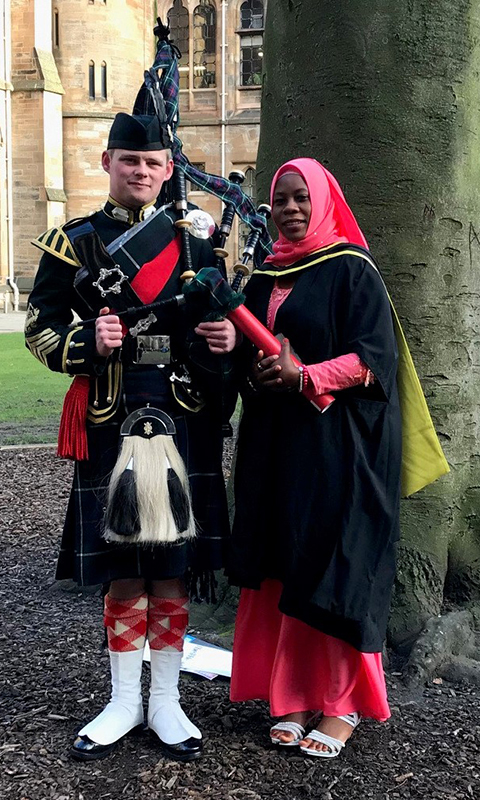 Karimjee scholar, Zabibu Kabalika, on graduation day at the University of Glasgow
Karimjee scholarship programme
A new Masters programme offered by Glasgow is also contributing to developing local capacity in Tanzania. 
The Conservation Management of African Ecosystems MSc is a dual Masters programme being implemented with the Nelson Mandela African Institute of Science and Technology (NM-AIST) in Arusha, Tanzania. It provides insight into the principles of conservation management, biodiversity management, applied ecology, the human dimension of conservation and the epidemiology of diseases that threaten endangered species.  
Tanzanian students are encouraged to apply for one of the three fully-funded places provided by the Karimjee Jivanjee Foundation, a charitable foundation that invests in education as a means of enhancing the economic development of Tanzania. 
During the Masters, Glasgow provides the students with enhanced research skills, particularly in statistics, writing, study design, presentation, and assists with the development of their research project in Tanzania conducted in the second year with Tanzanian research partners.  
A Karimjee scholar and graduate of the programme, Zabibu Kabalika, highlights the many benefits of the programme: 
"As a CMAE graduate, I have gained powerful conservation knowledge and skills especially those related to study designing, data analysis as well as scientific writing. The programme has equipped me with excellent communication skills and I can now confidently present my research findings to a wide range of audiences. The opportunity to use stable isotopes techniques for my MSc research project has provided me with unique and valuable experience in solving complex ecological questions."   
Improving local capacity through these scholarships is vital, not only for increasing local expertise in the region but also because of the likely impact it will have at a policy level, as Professor Haydon explains: 
"Strengthening the quality of the research that Tanzanians themselves do in their unique ecosystems is really important, it is right that these amazing assets are used to help build the careers and prosperity of Tanzanians, and that evidenced-based management driven by Tanzanian-led research drives Tanzanian government policy."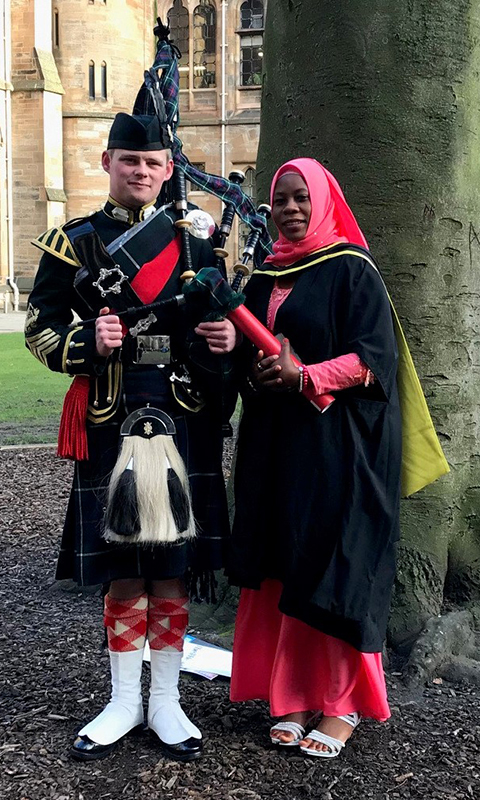 Karimjee scholar, Zabibu Kabalika, on graduation day at the University of Glasgow