Gameli Tordzro - Artist in Residence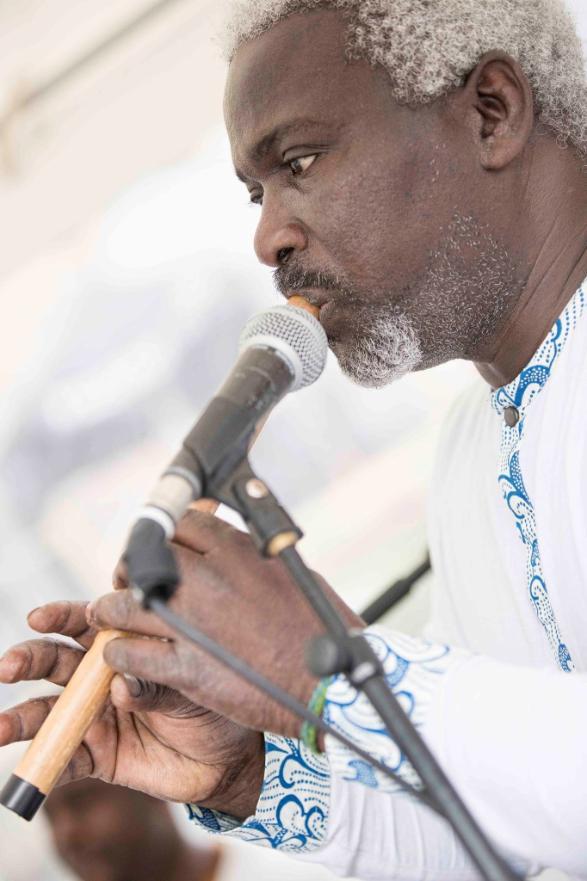 Dr Gameli Tordzro is a Ghanaian multiple arts professional and a Creative Arts (CA) researcher, consultant and lecturer in Glasgow. He is Artist in Residence with UNESCO RILA, and a Research Associate on The MiDEQ Hub. His research is in creative arts and translating cultures, language and education with a focus on African diaspora music, video film production, story and storytelling.
View his School of Education profile here.
Gameli is founder, composer and Creative Director of Ha Orchestra and the AdinkraLinks Poetry Network. In 2015 he received the Critics Award for Theatre in Scotland (CATS) Music and Sound for his role in Kai Fischer's Last Dream (On Earth).
Ha Orchestra was set up as part of his doctoral research with AHRC Large Grant "Researching Multilingually at Borders of Language, The Body Law and the State" (RM Borders). Ha Orchestra was the first symphonic African Orchestra in Scotland, established in June 2014 through a Creative Scotland and Glasgow Life Glasgow Cultural Grant. The Orchestra consists of African migrant musicians living in Europe and Scottish musicians, and they have performed at major festival venues including Glasgow Green, The Kelvingrove Band Stand, The Merchant's Square and BBC at The Quay. The Orchestra's first music video was filmed at the University of Glasgow.
Ha Orchestra - Whispers from Showman Media on Vimeo.
Appointed the first Artistic Director of Pan Arican Arts Scotland in 2006, Gameli developed the artistic programme, setting up a number of African arts project initiatives including the the Adinkra Creative links workshops programme for schools and community groups, The Hesu African-Celtic fusion Band, Sima Fashions and the Glasgow Highlife Band.
In Ghana, Gameli is well noted for his role as 'Grandpa' the storyteller on the Ghana Television Storytelling programme 'By the Fireside' in the 1990's. He worked as the first producer of the TV3 Network youth magazine programme 'YouthQuake' and directed children's theatre productions for the National Theatre of Ghana's Kids Festival Kidafest 1996/7 for the Goethe Institute in Ghana.
On his PhD graduation day, Gameli wore his first self-made kilt made from the colourful Ghanaian hand woven kente fabric he designed specially for the ocassion.
He produced the audio book of the "Warriors Who Do Not Fight" by Professor Alison Phipps and Tawona Sitholé and currently edits and publishes the Adinkra Links Poetry Anthology Series.
He settled in Scotland in 2003 and successfully defended his PhD thesis in 2018.
Gameli's latest book publications are Funtunfunefu 'Synched' (September 2019) and Mazungumzo Ya Shairi (February 2020 - a poetic conversation with Kenyan Poet Nancy Ndeke).
For further information on Gameli's work under the UNESCO project, please see the Events pages.