The inaugural meeting for the Shared Interest Group on Bacterial Infectious Diseases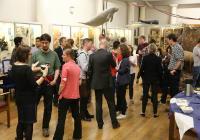 The Shared Interest Group for Bacterial Infectious Diseases (SIGBID) is interested in multi-disciplinary approaches to understanding bacterial pathogens. The group was launched on June 16th 2015 with a symposium in the Graham Kerr Building of the University of Glasgow to learn more about the kinds of bacteriology research we are collectively involved in and to discuss ways of working together. You can find a timeline of some of the highlights on twitter by searching for #SIGBID.
About the Day
The symposium focussed on the four themes of SIGBID: Epidemiology, Genetics & Genomics, Host-Pathogen Interaction, Anti-Microbials & AMR. Our speakers for the day included:
Iain McInnes and Dan Haydon – Welcome
Brian Jones, Scottish HLMP Reference Laboratory - NHS diagnostic services and research
Sarah Cleaveland – Bacterial zoonoses in Tanzania
Rowland Kao – Epidemiological approaches to bacterial phylodynamics
Ruth Zadoks – Streptococcus agalactiae: One Health – multiple diseases
Robert Davies - Bacterial population genetics as a basis for understanding host-pathogen interactions
David GE Smith – Determinants in adaptability
Roman Biek – Bacteria as measurably evolving pathogens
Paul Everest – Campylobacter - survival, disease and death in the gastrointestinal tract
Andy Roe – The importance of host metabolites for bacterial infections
Gordon Ramage – Complex microbial communities: oral and systemic implications
Tom Evans - Pneumococcal Infection; Host Immunity and Bacterial Competition
Mark Roberts - Envelope stress and antibiotic sensitivity
Dan Walker – Species-specific antibiotics
Gillian Douce – Combating Infection: Epidemiology, Vaccination and Treatment
Louise Matthews – Diversity and modelling based approaches to understanding the ecology of AMR
Dominic Mellor – Bacterial Zoonoses and AMR – ideas and provocative questions
SIGBID Symposium Final Programme
Organisers
SIGBID is led by Professors Ruth Zadoks and Jose Penades, who organized the symposium, which was funded by the Boyd Orr Centre for Population and Ecosystem Health.
More Information
For‌ more information about SIGBID, including joining our mailing list, please contact Ruth Zadoks.