The 5th Boyd Orr Symposium: From viral genotype to phenotype, Thurs 23rd Oct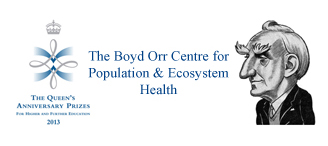 The Boyd Orr Centre for Population and Ecosystem Health hosted its 5th Boyd Orr Symposium entitled "From viral genotype to phenotype" on Thursday 23rd October 2014 at the Hilton Glasgow Grosvenor Hotel, Great Western Road, Glasgow.
This one day meeting covering the full spectrum of variation in viral genotype, phenotype and relationships between them, with sessions on pathogen-host relationships and disease emergence, variation in viral antigenicity and virulence, and viral genomics within-host to across landscapes.
Michael Lässig (University of Cologne) delivered the keynote lecture on "Predicting the evolution of influenza". Further talks were given by visiting speakers from the University of Edinburgh and local researchers from within the Boyd Orr Centre and the MRC – UoG Centre for Virus Research.
Organisers: William Harvey and Richard Orton.
Programme
Predicting the evolution of influenza.
Michael Lässig, University of Cologne
Jack of all trades: the challenge of studying virus biology within a phylodynamic framework.
Pablo Murcia, Centre for Virus Research, University of Glasgow
Pathogen-host relationships and disease emergence
Cross species transmission and disease emergence in primates.
Amy Pedersen, University of Edinburgh
The ecological and evolutionary dynamics of rabies host shifts among bats.
Daniel Streicker, Boyd Orr & Centre for Virus Research, University of Glasgow
Investigating the drivers of phenotypic variation amongst host-specific rabies virus variants.
Nardus Mollentze, Boyd Orr, University of Glasgow
Variation in virus antigenicity and virulence
Identifying the determinates of HCV immunity: the acute HCV UK study.
Chris Davis, Centre for Virus Research, University of Glasgow
Identifying genetic determinants of antigenic differences among RNA viruses.
Will Harvey, Boyd Orr, University of Glasgow
Ecological risk factors for virulence in human RNA viruses.
Liam Brierley, University of Edinburgh
Next generation viruses: from within-host to across landscapes
Intra-host diversity of equine influenza in horses with different immunological histories.
Joseph Hughes, Centre for Virus Research, University of Glasgow
Modelling the fitness landscape of foot-and-mouth disease virus using NGS data.
Paul Johnson, Boyd Orr, University of Glasgow
Viral sequence adaptation through codon pair bias.
Richard Orton, Boyd Orr & Centre for Virus Research, University of Glasgow
Whole genome phylodynamics of endemic rabies virus in Tanzania.
Kirstyn Brunker, Boyd Orr, University of Glasgow