Partnerships
The BHF Centre of Research Excellence in Vascular Science and Medicine is linked to a number of other key vascular organisations in Europe and North America.
These established links provide us the opportunity for collaboration on a scientific level, event organisation, sharing of each others' vacancies and other opportunities, co-promotion and much more!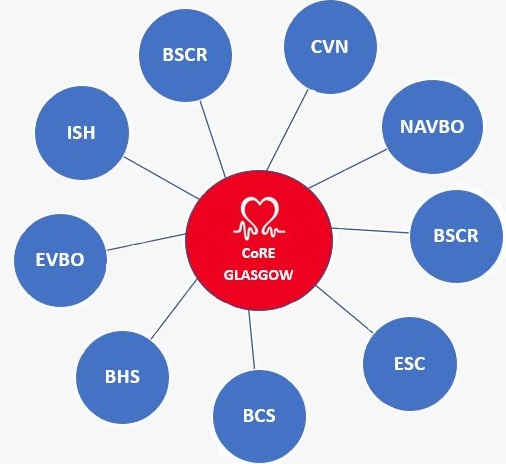 ‌
The Canadian Vascular Network is a Canadian Institutes of Health Research (CIHR) funded Emerging Network launched by the Government of Canada; part of a national coordinated strategy to evaluating and resolving specific challenges in the area of vascular health.
Based on the overlapping interests between the two vascular groups, there are outstanding opportunities for collaborations between Glasgow and Canada at the research, trainee and resource levels. Bringing together intellectual capacity through common research interests and shared ultimate goals will enrich the science in both groups specifically and will advance vascular research in general.
Towards the end of 2014 Prof Rhian Touyz, Director of the Centre of Research Excellence, was successful in obtaining funding from the International Partnership Development Fund, run by the University of Glasgow. The funding received is earmarked as seed funding for further collaboration with the Canadian Vascular Network (CVN). Consequently, and after both a face-to-face meeting and teleconference discussion with Prof Stewart and his colleagues at CVN, it is planned to use the money to organise face-to-face meetings between the leadership of the BHF Centre of Research Excellence and the Canadian Vascular Network. One meeting will take place in Glasgow and the other in Canada.

Researchers from the BHF Centre of Research Excellence in Glasgow attended the AGM of the CVN in October 2015 to progress collaborative projects. A summary of the ongoing and prospective studies are below:
Vascular function, biomarkers of cardiovascular disease and preeclampsia
The mechanisms underlying the increased cardiovascular risk in women with a history of pre-eclampsia remain poorly understood. The teams in Glasgow and Canada use complementary strategies to unravel this pathophysiology and bring their expertise together. In their cohort of women with premature cardiovascular events the Canadian team have identified micro-RNA signatures that are associated with a history of pre-eclampsia and could contribute to the development of cardiovascular disease. We will now replicate these findings in the Glasgow cohort of women who had pre-eclampsia but have not experienced cardiovascular events yet. Both the Canadian and Glasgow cohorts are characterised by endothelial dysfunction in women who had pre-eclampsia which points towards the fundamental role of the vascular endothelium in the disease process. Further work will include assessment of other biomarkers and collaboration on non-invasive assessment of vascular phenotypes.
Research undertaken by Prof Christian Delles
T cells, Dendritic cells, hypertension and heart failure
Activation of inflammatory and immune responses are a common feature of vascular and cardiac damage. Inflammatory cells, which infiltrate target organs and tissues modify their biology, regulating oxidative stress, development of fibrosis and endothelial dysfunction.
The aim of this collaboration with the Canadian Vascular Network is to investigate the inflammatory mechanisms associated with vascular and cardiac fibrosis, and associated target organ dysfunction. In particular our efforts are aimed to focus on understanding the role of T cells and dendritic cells in the process of initiation of pathologic inflammation in the heart and in the vasculature that then leads to remodelling. This question will be addressed in relation to hypertension as well as heart failure as in both conditions prominent fibrosis in the heart and vasculature is observed. Both teams have distinct methodologies which can be shared, which include dendritic cell and antigen presenting cell immunophenotyping and functional characterization as well as models for cardiovascular and immune imaging and functional analysis of immune cells in the heart and vessels.
Research undertaken by Prof Tom Guzik and Dr Pasquale Maffia
Sex hormones in pulmonary hypertension
The collaboration between Prof MacLean and Duncan Stewart aims to understand why a unique experimental model, discovered and held exclusively in the Stewart lab, develops severe sugen-induced pulmonary hypertension. We will investigate the role of female sex hormones, and estrogen in particular, on the susceptibility to PAH in this novel model. The hypothesis to be examined is that these models have altered estrogen synthesis and metabolism that may precipitate PH via dysregulated BMPR2 signalling.
Research undertaken by Prof Mandy MacLean

Our Centre of Research Excellence is delighted to be working closely with the BHF Cambridge of Research Excellence who received their award from the BHF at the same time. We plan to link closely with this centre and host joint research days to promote and enhance the activities at both centres.
Since 1994, the North American Vascular Biology Organization (NAVBO) has provided a forum for vascular biologists who are either in the traditional basic science disciplines (structural/molecular biology, cell biology, physiology) or studying the pathogenesis and treatment of human disease in disciplines such as medicine, pathology, surgery. NAVBO's membership is a mixture of scientists with different backgrounds and thus inherently different viewpoints on the same scientific problems. This makes for lively discussions and mutual education at our meetings and workshops. NAVBO provides the opportunity to communicate with a diverse cross-section of colleagues enhancing this discovery process, which will facilitate rapid translation into practical remedies.
The European Vascular Biology Organisation (EVBO) was launched in 2006, after discussion between European vascular biologists who recognised that there is a need for a democratic society to provide a united focus and forum for vascular biologists in Europe, primarily by organising conferences but also by maintaining and enhancing an interactive network of researchers; evolving from the experience of the previous European Vascular Biology Association and building on the achievements of the FP6 European Vascular Genomics Network (EVGN).
The British Society for Cardiovascular Research (BSCR) aims to provide a forum for scientists and clinicians with research interests in the heart and vasculature. There are over 450 members representing a broad range of scientific and clinical disciplines drawn from academic, industrial and clinical environments. Members are investigators at all stages of their careers engaged in laboratory-based and clinical research on the regulation, physiology and pathophysiology of the cardiovascular system and the treatment of cardiovascular diseases.
Established in 1966, the International Society of Hypertension (ISH) is committed to promoting and encouraging the advancement of scientific research and knowledge and its application to the prevention and management of heart disease and stroke in hypertension and related cardiovascular diseases around the world.
The Women in Hypertension Research Network, which is part of the ISH, is chaired by our very own Director Prof Rhian Touyz and has been established to encourage, support and inspire women in science and medicine in the field of hypertension and related cardiovascular diseases. It aims to allow new avenues for communication, collaboration and education.
The British Hypertension Society is the forum for professionals working in the field of hypertension and cardiovascular disease in the UK and Ireland. The Society comprises doctors, nurses and other healthcare workers specialising in the delivery of care in hypertension and allied fields, together with clinicians and scientists in the forefront of cardiovascular research.
The British Cardiovascular Society (BCS) was founded in 1922 and has evolved into a complex organisation that plays a pivotal role in the delivery of cardiovascular health across the UK. There are currently over 2,500 members of the BCS. The membership is growing steadily and includes the great majority, probably 90%, of UK consultant cardiologists. Many Specialist registrars, GPs with a special interest, Nurses and other professionals with an interest in cardiovascular medicine are also members.
The European Society of Cardiology (ESC) represents over 80,000 cardiology professionals, principally from across Europe and the Mediterranean basin, but also from the rest of the world.
‌