Offered jointly by The University of Glasgow and the famous Glasgow School of Art, the aim of this programme is to dissect and examine human anatomy and reconstruct it in a real-time 3D environment for use in education, simulation, and training.
Why this programme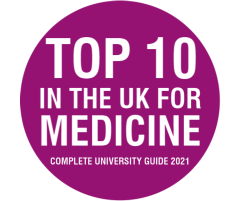 5th in the UK for Anatomy & Physiology (Complete University Guide UK 2021)
The Glasgow School of Art is 8th in the world for art and design in the 2020 QS World University Rankings
Learn to combine actual cadaveric dissection with 3D digital reconstruction, interaction and visualisation.
Undertake cadaveric dissection of key areas of the human body and examine prosections
Gain 3D visualisation skills specific to applications in the medical, biomedical, anatomy, or health domains.
Get access to a wide range of digital interaction technologies including virtual and augmented reality, stereographic 3D and haptic devices and become involved in the design and development of related visualisations and/or applications eg visualising current life science research, creating patient information applications or training applications for medical practitioners, diagnostic and clinical applications, medical visualisation and simulation.
Each student has a dedicated PC for their studio work due to the studio based teaching approach at The Glasgow School of Art.
Access is available to the Laboratory of Human Anatomy at The University of Glasgow, one of the largest in Europe.
Opportunities are avalailable to have your work published in journals, books and conference proceedings / presentations through collaborative research projects.
Benefit from guest lectures by practitioners, researchers and experts through our excellent industry connections from research and commercial projects.
Projects are supervised by leading scientists across the College of Medical, Veterinary and Life Sciences.
This programme and teaching staff are accredited by the Institute of Medical Illustrators.
The staff in Simulation and Visualisation have expertise in 3D modelling, Human-Computer Interaction, Virtual Reality, Augmented Reality and in the use of games and related technology to support education and learning.
Watch the programme directors and students tell you more....
Programme structure
Your time is split between The Glasgow School of Art (School of Simulation and Visualisation) at Pacific Quay in the City Centre and The University of Glasgow (Anatomy Facility), Gilmorehill Campus in the west end.
The programme is structured into three compulsory stages:
Stage 1: digital technologies applied to medical visualisation (at The School of Simulation and Visualisation)
Stage 2: human anatomy (Anatomy facility at The University of Glasgow)
Stage 3: self-directed final project, supported throughout with individual supervision
Stage 1
Academic Skills for Masters Research - Here you will be taught core research skills for masters research. You will conduct a literature review and develop a research proposal for a project of your choosing. This review and project proposal may optionally be taken further in Stage 3 of the MSc

Medical Visualisation - This course is taught in three distinct strands:

Volumetric Visualisation will show you how to work with 3D medical scan data (such as CT, MRI or confocal microscopy image) and transform these into 2D images for easily interpretation or 3D models for use in the creation of animations or interactive applications
3D modelling focusses on the creation of 3D models for use in animations or interactive applications. Models can be created from scratch, working from reference drawing, photographic images, or from 3d models generated from volumetric visualisation. Attention to detail in use of professional workflows and processing for optimization and efficiency are important considerations.
Interactive application development uses modern 'game engine' technology (e.g. Unity3D) to develop 3D interactive applications for desktop or mobile devices. Tools such as Unity are now widely used across many disciplines for creating 3D applications for training, education and visual communication.
During Stage 2, additional classes in the creation of Augmented and Virtual Reality applications are offered, and have proven very popular.
Stage 2
Introduction to anatomy

Examine key concepts in anatomy, learning about the broad structure and organisation of the human body and examine the different systems. Designed to enable those not familiar with the human body with an excellent overview of the terms and definitions of anatomy
Learn about how legislation and laboratory practice, and health and safety is practiced and conducted in a human anatomy laboratory
Explore the ethical issues around body and organ donation
Interactive sessions will ensure there is active student engagement and participation while you learn about the human body from enthusiastic and experienced staff
Examine prosections and become introduced to anatomical specimens

Structure and function of the human body

Examine a wide range of body systems and receive exposure to many prosections across all areas of the human body
Examine related clinical imagery and visualisations and illustration techniques related to identifying anatomical structures and relevant clinical applications
Learn anatomy using specimens that have been professionally dissected and preserved. This gives an unrivalled learning opportunity and exposure to the anatomy of the human body.

Cadaveric dissection techniques

Undertake cadaveric dissection on specific areas of the human body
Experience immersive anatomy with hands on experience of dissection
Stage 3 Research Project
In stage three you will complete a self-directed final project, supported throughout with individual supervision.
Past projects have included:
Numerous life science projects from anatomical, anthropological, molecular, cell biology, genetics and virus research
Patient education tools
Public engagement activities
Clinical applications across surgical specialties including plastics, otorhinolaryngology, neurosurgery, orthopaedics and dentistry
Applied veterinary medicine, surgery and public health projects
By utilising tools like 3D visualisation, augmented and virtual reality, confocal microscopy, animations, cross platform apps and interactive educational tools, these cross College projects have been brought into the digital age.
Working with active researchers and subject specialists across such a diverse range of areas, these projects undertaken in the last third of the degree offer an opportunity to engage much more deeply with educational and research activities from a chosen speciality.
All students have two supervisors – one from the College of Medical, Veterinary and Life Sciences and one from The School of Simulation and Visualisation of The Glasgow School of Art. This offers subject specialists to facilitate your development as an independent researcher developing digital tools and technologies within your chosen domain.
Want to combine Masters teaching and a PhD? Find out more about our Integrated PhD programme.
Programme alteration or discontinuation
The University of Glasgow endeavours to run all programmes as advertised. In exceptional circumstances, however, the University may withdraw or alter a programme. For more information, please see: Student contract.
Career prospects
Career opportunities exist within diverse fields like and many of our graduates have gone on to work in a range of areas related to anatomical education, medical illustration, digital life sciences and interactive media.
Other former students now work in teaching roles in Universities across the world or have progressed onto Doctoral, Medical or Dental studies.
Graduate employers include:
Interns, Clinical Assistants and Clinical Researchers at Toshiba Medical Visualisation Systems
Research Prosector (GU)
3D printing industry
Demonstrators in Anatomy
PhD studies - medical history, medical visualisation
Medical School
Dental School
Digital Designer at Costello Medical
Lead Designer at Open Bionics
Founder of Axial Medical Printing Ltd
Digital Technician at University of Leeds
Digital Specialist at Royal College of Surgeons and Physicians Glasgow
Researcher and Factual Specialist at BBC
Graduate Teaching Assistants
Freelance Medical Illustration
Numerous successful placements on PhD programmes (medical visualisation, anatomy, anatomy education, medical humanities)
Canon Medical Research Europe
Outcome Health (formerly ContextMedia)
SensiBlu Pharmaceuticals
Touch Surgery
Infineon Technologies

Fees & funding
Additional fees
Fee for re-assessment of a dissertation (PGT programme): £370
Submission of thesis after deadline lapsed: £350
Registration/exam only fee: £170
Fee information is subject to change and is for guidance only
Funding opportunities
Commonwealth Scholarship Schemes
Commonwealth Scholarships are available each year to fund Commonwealth citizens' study in the UK for undergraduate and postgraduate qualifications. A range of scholarship schemes are available for citizens of Commonwealth countries other than the UK. Further information is available on the Commonwealth Scholarship Commission's website.
Postgraduate Tuition Fee Loans England only (PTFL)
If you're starting a master's degree, you could get a Postgraduate Master's Loan of up to £10,609 to help with course fees and living costs. You have to repay your Postgraduate Master's Loan at the same time as any other student loans you have. You'll be charged interest from the day you get the first payment.
If you're studying by distance learning, you can also apply.
Examples of postgraduate master's qualifications include:
MSc (Master of Science)
MA (Master of Arts)
MPhil (Master of Philosophy)
MRes (Master of Research)
LLM (Master of Law)
MLitt (Master of Letters)
MFA (Master of Fine Art)
MEd (Master of Education)
MBA (Master of Business Administration)
If you plan to study for Master of Architecture (MArch) or an Integrated Master's qualification, you should apply for undergraduate support
Postgraduate Student Loan (NI)
If you are a Northern Irish student looking to study a taught Masters programme* in Glasgow then you can apply for a student loan in exactly the same way as you would for a University in Northern Ireland.
Northern Irish students are able to apply for non-means-tested tuition fee loans of up to £5,500, to help with the costs of funding.
For more information visit www.studentfinanceni.co.uk/types-of-finance/postgraduate .
* does not apply to Erasmus Mundus programmes
Postgraduate Student Loan (Scotland and EU)
Eligible full-time and part-time students, undertaking an eligible postgraduate course, can apply for a tuition fee loan up to a maximum of £5,500 towards their course. 
Eligible full-time postgraduate students can apply to us for a living-cost loan of up to £4,500. 
Please see the Postgraduate funding guide.
For more information visit the SAAS website
Postgraduate Loans for Welsh Students
If you are a Welsh student looking to study a postgraduate programme* in Glasgow then you can apply for a student loan in exactly the same way as you would for a Welsh University.
* does not apply to Erasmus Mundus programmes
Postgraduate Master's Finance
If you're starting a full-time or part-time Postgraduate Master's course (taught or research based) from 1 August 2019, you can apply for Postgraduate Master's Finance and receive up to £17,000 as a combination of grant and loan:
a maximum grant of £6,885 and loan of £10,115 if your household income is £18,370 and below
a grant of £1,000 and loan of £16,000 if your household income is not taken into account or is above £59,200.
For more information visit Student Finance Wales
Postgraduate Doctoral Loan
If you're starting a full-time or part-time postgraduate Doctoral course (such as a PhD) from 1 August 2019 you can apply for a Postgraduate Doctoral Loan of up to £25,700.
For more information visit Student Finance Wales


The scholarships above are specific to this programme. For more funding opportunities search the scholarships database
Entry requirements
You should have an Honours degree or equivalent in the following disciplines:
Life sciences, medical or biomedical science, e.g. anatomy, physiology, dentistry or dental technology, forensic anthropology, molecular biological degrees and the allied health professionals
computer science, 3D visualisation, computer graphics, health informatics, mathematics, and physics
medical illustration, 3D design, product design, digital media, digital arts, 3D modelling and animation
or equivalent professional practice. However, high calibre graduates from other disciplines may be considered if they are able to demonstrate an interest and ability in the field of medical visualisation.
English language requirements
Important information for entry in Autumn 2020 and January 2021
For applicants whose first language is not English, the University sets a minimum English Language proficiency level.
International English Language Testing System (IELTS) Academic module (not General Training)
overall score 6.5
no sub-test less than 5.5
For international students, the Home Office has confirmed that the University can choose to use these tests to make its own assessment of English language ability for visa applications to degree level programmes. The University is also able to accept an IELTS test (Academic module) from any of the 1000 IELTS test centres from around the world and we do not require a specific UKVI IELTS test for degree level programmes. We therefore still accept any of the English tests listed for admission to this programme.
Pre-sessional courses
The University of Glasgow accepts evidence of the required language level from the English for Academic Study Unit Pre-sessional courses. We also consider other BALEAP accredited pre-sessional courses:
FAQs
What do I do if...
my language qualifications are below the requirements?
The University's English for Academic Study Unit offers a range of Pre-Sessional Courses to bring you up to entry level. The course is accredited by BALEAP, the UK professional association for academic English teaching; see Links.
my language qualifications are not listed here?
Please contact the Recruitment and International Office using our enquiry form
For further information about English language requirements, please contact the Recruitment and International Office using our enquiry form
International students
We are proud of our diverse University community which attracts students and staff from over 140 different countries.
How to apply
Please apply through Glasgow School of Art.
Application deadlines
September 2020
Application deadlines for PG Taught programmes commencing September 2020 have been extended, where vacancies are available:
International applicants: 10 August 2020 (Exceptions apply for certain high demand programmes.)
UK/EU applicants: 31 August 2020
November 2020
Application deadlines for PG Taught programmes now commencing November 2020 have been extended, where vacancies are available:
International applicants: 28 September 2020 (Exceptions apply for certain high demand programmes.)
UK/EU applicants: 19 October 2020
January 2021
Application deadlines for PG Taught programmes now commencing January 2021 have been extended, where vacancies are available:
International applicants: 27 November 2020 (Exceptions apply for certain high demand programmes.)
UK/EU applicants: 15 December 2020
More information about this programme
Related programmes