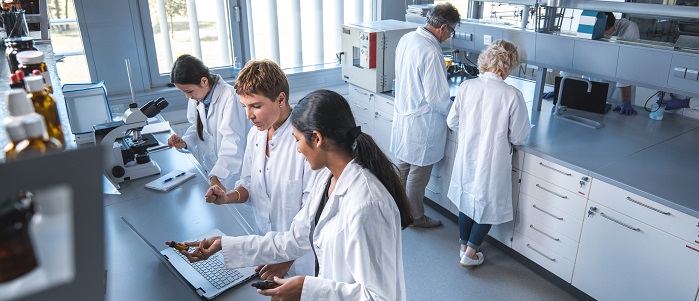 Online learning at the University of Glasgow allows you to benefit from the outstanding educational experience that we are renowned for, without having to relocate to our campus.
This online Health Technology Assessment MSc programme will enable you to appraise evidence and understand the consequences of technology, then prioritise its use in order to better prevent, diagnose and treat disease. Our Masters in HTA focuses on the production, critical appraisal and use of scientifically rigorous research evidence, applied to a range of health-related areas. Health Technology Assessment (HTA) analyses relevant evidence and knowledge in order to understand the effects and consequences of healthcare technologies. It contributes to priorities and decisions in relation to prevention, diagnosis, treatment and rehabilitation. If you are a recent graduate or you work in the pharmaceutical industry, government agencies or research, this programme will give you the practical skills to advance your career.
MSc: 30 months part‑time
PgDip: 24 months part‑time
PgCert: 12 months part‑time
Why this programme
Health Technology Assessment
Delivered by our College of Medical, Veterinary and Life Sciences, our Health Technology Assessment online Masters brings together internationally renowned experts and state-of-the-art facilities to improve health for humans and animals across the globe.
The College also provides innovative and research-led teaching for our students, preparing you for a wide variety of exciting careers.
The programme is delivered by the Health Economics and Health Technology Assessment (HEHTA) research team. Our academics are world-class experts in their field.
As well as being involved in research and teaching, the team is involved in HTA decision making at a national level.
Drawing on insights in data science, health economics, analytical decision modelling and patient-reported outcome measures, this programme will give you hands-on experience of the interconnected disciplines that are core to Health Technology Assessment.
The HEHTA team also drives key decisions and assessments for a range of international health agencies, ensuring our content is always up to date and relevant in the real world.
Programme structure
PgCert
3 x 20 credit core courses
PgDip
3 x 20 credit core courses
3 x 20 credit optional courses
MSc
3 x 20 credit core courses
3 x 20 credit optional courses
1 x 60 credit research project
Throughout each course you will be assessed in a variety of ways which could include essays, discussions, blogs, online presentations, interactive quizzes, assignments or group work. Details of these assignments are found in your induction.
The duration of this programme is 2.5 years - 6 years taken on a part-time basis. For details on full-time options request more information to speak to an admissions representative.
Core and optional courses
Core
Optional
Programme outcomes
Analyse the policy, principles, methods and analytical techniques appropriate for health technology assessment.
Discuss the role of health technology assessment in policy development.
Evaluate how the policy context varies between international regions and countries.
Explore health economics, statistical methods and analysis, outcome measurement, evidence synthesis, decision analytic modelling, economic evaluation and patient-reported outcomes to guide the principles of health technology assessment.
Critically assess the research methodologies used for informing priorities and decision making in health care systems.
Develop original and creative approaches to translate policy issues into research proposals to assess health technologies.
Programme alteration or discontinuation
The University of Glasgow endeavours to run all programmes as advertised. In exceptional circumstances, however, the University may withdraw or alter a programme. For more information, please see: Student contract.
Career prospects
Health Technology Assessment (HTA) is growing in importance internationally and there is increasing demand for employees with relevant skills.
Graduates are well equipped with qualitative and quantitative research skills which are ideal for jobs in academia, the pharmaceutical industry, and government information services/statistical agencies.
Potential employers and roles:
Academic/research centres or universities undertake HTA research projects funded by HTA agencies, national research bodies or health technology companies to support reimbursement or develop HTA methods.
Private industry, including pharmaceutical companies, biotechnology companies and health insurance companies, design and undertake evaluations (effectiveness and/or cost-effectiveness) for presentation to reimbursement agencies in support of health technology products.
Local or national government agencies, regulators, health service providers or international health organisations (e.g. WHO) commission and review assessments submitted to support reimbursement of health technologies; undertake systematic reviews, evidence synthesis and evaluations to focus and direct health care policy; evaluate policy and programmes previously funded.
National or international consultancy companies undertake HTA projects for governments, HTA agencies or industry clients.
Examples of job positions include:
public health officer
senior finance manager (NHS)
freedom of information analyst (NHS)
local health board co-ordinator (NHS)
heath services researcher (NHS)
research assistant
Fees & funding
Tuition fees for 2021-22
MSc
UK / EU / International:
You can pay in instalments of £1,667 per 20 credits
PgDip
UK / EU / International:
You can pay in instalments of £1,667 per 20 credits
PgCert
UK / EU / International:
You can pay in instalments of £1,667 per 20 credits
NHS-funded students
Fees for students funded by the NHS (after NHS discount) are:
£9,450 (total cost)
£1,050 per 20 credits
Tuition fees for January and April 2021 start
UK / EU /International: £1,667 per 20 credits
Students funded by the NHS (after NHS discount): £983 per 20 credits
Deposits terms & conditions
The University requires a deposit to be paid by applicants in receipt of an offer to this programme and who require a Certificate of Acceptance for Studies (CAS) from the University in order that they can apply for a student visa. This is required where the programme is competitive and the deposit is required in order to demonstrate your commitment to attend the programme should you meet all the conditions of your offer.
If you are made an offer for this programme the University will write to you and request a deposit with information on how to pay your deposit and the deadline for making the deposit payment. Please note that if you are unable to pay a deposit because you are planning to fund your studies through an official financial sponsor then you should upload a copy of your scholarship application or award letter to your application by the deadline date.
The following guidelines will apply in determining whether or not a deposit will be refunded. Where the deposit is refunded, a 10% handling fee will be deducted.
Deposits WILL be refunded to applicants under the following circumstances:
Where the University is unable to offer you a place.
Where the applicant has personal circumstances such as illness, bereavement or other family situations that has prevented them coming to the UK. Medical or other proof may be requested.
Applicant can prove that they have applied for a visa to attend the University of Glasgow, but the VISA has been refused. The applicant must have shown 'real intent' to study at the University of Glasgow but has been unable to obtain their visa.
Applicant does not meet his / her conditions of offer: this may be academic or language test requirements. Satisfactory evidence must be uploaded to the student's online application to prove that they have not met the conditions of their offer (note that applicants who do not meet the language condition of their offer must show reasonable attempt to meet this, i.e. they must provide a language test which was taken after the date that the deposit was paid).
Deposits WILL NOT be refunded to applicants under the following circumstances:
Applicant decides to go to another institution.
Applicant cannot be released from work to study at the University of Glasgow.
Applicant does not send completed documentation as requested in the condition of the offer: this may be required in order to prove that the offer has not been met for academic or language test conditions - failure to respond to requests for this information will result in no refund.
Applicant has not secured funding to attend the University of Glasgow: this may be as a result of not being successful in applications for scholarships, OR simply not having sufficient funds in bank at time of visa application. This condition will apply unless it can be proven that there are clear mitigating circumstances which have significantly changed the applicant's position since the time of application.
Applicant has requested a deferral – in this situation, if a deferral is granted, the University will retain the deposit and credit it against the applicant's account for securing their place for the following year of entry. Please note that some highly competitive programmes do not allow applicants to defer.
Refund requests must be made within 60 days of the programme start date stated on your offer letter: requests made after this date will be subject to discretion.
Additional fees
Fee for re-assessment of a dissertation (PGT programme): £370
Submission of thesis after deadline lapsed: £350
Registration/exam only fee: £170
Fee information is subject to change and is for guidance only
Funding opportunities
Sustainability Scholarship
Finduddannelse.dk is a Danish platform for lifelong learning. 
The scholarship will be awarded for the fall/autumn semester of 2021 and is open to people from anywhere in the world who want to study a master's program that is helping you making the world more sustainable.
Please see Finduddannelse.dk Sustainability Scholarship for more details.
Our ideal candidate is a student that is planning on starting a master's degree that can help alleviate the impact of the climate change - whether it be within clean energy, biology, architecture, economics, business, health, agriculture, law, political science, journalism or any other relevant field.
Postgraduate Tuition Fee Loans England only (PTFL)
If you're starting a master's degree, you could get a Postgraduate Master's Loan of up to £10,609 to help with course fees and living costs. You have to repay your Postgraduate Master's Loan at the same time as any other student loans you have. You'll be charged interest from the day you get the first payment.
If you're studying by distance learning, you can also apply.
Examples of postgraduate master's qualifications include:
MSc (Master of Science)
MA (Master of Arts)
MPhil (Master of Philosophy)
MRes (Master of Research)
LLM (Master of Law)
MLitt (Master of Letters)
MFA (Master of Fine Art)
MEd (Master of Education)
MBA (Master of Business Administration)
If you plan to study for Master of Architecture (MArch) or an Integrated Master's qualification, you should apply for undergraduate support
Postgraduate Student Loan (Scotland and EU)
Eligible full-time and part-time students, undertaking an eligible postgraduate course, can apply for a tuition fee loan up to a maximum of £5,500 towards their course. 
Eligible full-time postgraduate students can apply to us for a living-cost loan of up to £4,500. 
Please see the Postgraduate funding guide.
For more information visit the SAAS website
Postgraduate Loans for Welsh Students
If you are a Welsh student looking to study a postgraduate programme* in Glasgow then you can apply for a student loan in exactly the same way as you would for a Welsh University.
* does not apply to Erasmus Mundus programmes
Postgraduate Master's Finance
If you're starting a full-time or part-time Postgraduate Master's course (taught or research based) from 1 August 2019, you can apply for Postgraduate Master's Finance and receive up to £17,000 as a combination of grant and loan:
a maximum grant of £6,885 and loan of £10,115 if your household income is £18,370 and below
a grant of £1,000 and loan of £16,000 if your household income is not taken into account or is above £59,200.
For more information visit Student Finance Wales
Postgraduate Doctoral Loan
If you're starting a full-time or part-time postgraduate Doctoral course (such as a PhD) from 1 August 2019 you can apply for a Postgraduate Doctoral Loan of up to £25,700.
For more information visit Student Finance Wales


Alumni Discount
In response to the current unprecedented economic climate, the University is offering a 20% discount on all Postgraduate Research and full Postgraduate Taught Masters programmes to its alumni, commencing study in Academic session 2021/22. This includes University of Glasgow graduates and those who have completed a Study Abroad programme or the Erasmus Programme at the University of Glasgow. The discount applies to all full-time, part-time and online programmes. This discount can be awarded alongside other University scholarships.
The scholarships above are specific to this programme. For more funding opportunities search the scholarships database
Entry requirements
To be accepted to this programme, you must have:
At least a 2:1 Honours degree or equivalent in a relevant quantitative subject (i.e. economics, mathematics, statistics, medicine, pharmacy, epidemiology, health services research) from a recognised institution.
Exceptionally, consideration may be given to those with a relevant professional qualification who have experience in the field of health technology assessment.
A background in health or medicine is desirable but not essential, we welcome applications from other academic disciplines.
When submitting your application, please include:
Your Curriculum Vitae
A supporting statement
English language requirements
For applicants whose first language is not English, the University sets a minimum English Language proficiency level.
International English Language Testing System (IELTS) Academic module (not General Training)
6.5 with no sub-test under 6.0.
Tests must have been taken within 4 years 5 months of start date. Combined scores from two tests taken within 6 months of each other can be considered.
Common equivalent English language qualifications
All stated English tests are acceptable for admission to this programme:
TOEFL (ib, my best or athome)
90 with minimum R 20, L 19, S 19, W 23.
Tests must have been taken within 4 years 5 months of start date. Combined scores from two tests taken within 6 months of each other can be considered.
PTE (Academic)
60 with minimum 59 in all sub-tests.
Tests must have been taken within 4 years 5 months of start date. Combined scores from two tests taken within 6 months of each other can be considered.
Duolingo
120 with 120 in two or more sub-scores including literacy and no subscore below 110 for direct entry, in-sessional support requirement available for those with 120, 100 for 5 week PSE, 100 for 10 week PSE.
Tests must have been taken within 1 year of start date.

Glasgow International College English Language (and other foundation providers)
65%.
Tests are accepted for academic year following sitting.
University of Glasgow Pre-sessional courses
Tests are accepted for academic year following sitting.

Alternatives to English Language qualification
Undergraduate degree from English speaking country (including Canada if taught in English)
Undergraduate 2+2 degree from English speaking country
Undergraduate 2+2 TNE degree taught in English in non-English speaking country
Masters degree from English speaking country
Masters degree (equivalent on NARIC to UK masters degree) taught in English in non-English speaking country.
For international students, the Home Office has confirmed that the University can choose to use these tests to make its own assessment of English language ability for visa applications to degree level programmes. The University is also able to accept an IELTS test (Academic module) from any of the 1000 IELTS test centres from around the world and we do not require a specific UKVI IELTS test for degree level programmes. We therefore still accept any of the English tests listed for admission to this programme.
Pre-sessional courses
The University of Glasgow accepts evidence of the required language level from the English for Academic Study Unit Pre-sessional courses. We also consider other BALEAP accredited pre-sessional courses:
For further information about English language requirements, please contact the Recruitment and International Office using our enquiry form
Computer requirements for studying online
Broadband internet connection
Internet Browsers
Our online learning platform Moodle is compatible with any standards compliant web browser. This includes:
Desktop:
Chrome
Firefox
Safari
Edge
Internet Explorer
Mobile:
MobileSafari
Google Chrome
For the best experience and optimum security, we recommend that you keep your browser up to date.
Javascript needs to be enabled within your browser
Please note: legacy browsers with known compatibility issues with Moodle 3.3 are:
Internet Explorer 10 and below
Safari 7 and below
Computer specifications
Processor: 2GHz

Operating system (minimum):

Microsoft Windows Vista service pack 1
Windows 7
Mac OS X v10.4.11+

Memory: 3GB of RAM or more
Hard disk: 300GB
Sound card and microphone
Speakers or headphones
Monitor and video card with 1024x768 display or higher
Mobile device specifications
iOS: latest (Apple Safari & Google Chrome)
Android: 4.4+ with latest Google Chrome
Other software
Adobe Acrobat Reader
Media player e.g. Windows Media Player or VLC
Word processing software (that outputs to the following file types for marking online: .doc, .docx, .html, .txt, .rft, .pdf, .ppt, .pptx, .pps, .hwp)
Anti-virus software
Advised hardware / software
Microsoft Office 2010
Headset (ideally with a USB connector)
Webcam
How to apply
To apply for a postgraduate taught degree you must apply online. We cannot accept applications any other way.
Please check you meet the Entry requirements for this programme before you begin your application.
Documents
As part of your online application, you also need to submit the following supporting documents:
A copy (or copies) of your official degree certificate(s) (if you have already completed your degree)
A copy (or copies) of your official academic transcript(s), showing full details of subjects studied and grades/marks obtained
Official English translations of the certificate(s) and transcript(s)
One reference letter on headed paper
Evidence of your English Language ability (if your first language is not English)
Any additional documents required for this programme (see Entry requirements for this programme)
A copy of the photo page of your passport (Non-EU students only)
You have 42 days to submit your application once you begin the process.
You may save and return to your application as many times as you wish to update information, complete sections or upload supporting documents such as your final transcript or your language test.
For more information about submitting documents or other topics related to applying to a postgraduate taught programme, check Frequently Asked Questions
Guidance notes for using the online application
These notes are intended to help you complete the online application form accurately; they are also available within the help section of the online application form.
If you experience any difficulties accessing the online application then you should visit the Application Troubleshooting/FAQs page.
Name and Date of birth: must appear exactly as they do on your passport. Please take time to check the spelling and lay-out.
Contact Details: Correspondence address. All contact relevant to your application will be sent to this address including the offer letter(s). If your address changes, please contact us as soon as possible.
Choice of course: Please select carefully the course you want to study. As your application will be sent to the admissions committee for each course you select it is important to consider at this stage why you are interested in the course and that it is reflected in your application.
Proposed date of entry: Please state your preferred start date including the month and the year. Taught masters degrees tend to begin in September. Research degrees may start in any month.
Education and Qualifications: Please complete this section as fully as possible indicating any relevant Higher Education qualifications starting with the most recent. Complete the name of the Institution (s) as it appears on the degree certificate or transcript.
English Language Proficiency: Please state the date of any English language test taken (or to be taken) and the award date (or expected award date if known).
Employment and Experience: Please complete this section as fully as possible with all employments relevant to your course. Additional details may be attached in your personal statement/proposal where appropriate.
Reference: Please provide one reference. This should typically be an academic reference but in cases where this is not possible then a reference from a current employer may be accepted instead. Certain programmes, such as the MBA programme, may also accept an employer reference. If you already have a copy of a reference on letter headed paper then please upload this to your application. If you do not already have a reference to upload then please enter your referee's name and contact details on the online application and we will contact your referee directly.
Application deadlines
Please note that applications for the April 2021 intake will be accepted up until the 31 March 2021.
If you have any difficulty in completing the application, please contact: onlinedegreesadmissions@glasgow.ac.uk.
Apply now
More information about this programme
Related programmes