In the top 50 of the 2017 QS World University Rankings by Subject, for English Language & Literature. A 5 star + rating.
Overview
Our research engages with English Language and Linguistics, focusing on written and spoken English language from medieval times to the present day.
Glasgow has a long-established, international reputation for the historical study of English, linking the best of philological, literary-critical and linguistic traditions with those of contemporary linguistic theory. We are a leading player in contemporary English language and linguistics, using quantitative analysis of large online corpora as well as qualitative research in a variety of genres to identify and interpret language use across a wide range of contemporary spoken and written data.
Glasgow's historic strengths in the study of Scots and English in Scotland have been enhanced by the recent development of innovative large-scale collaborative projects. Our provision in the area of medieval English Language is closely associated with Medieval and Renaissance Studies at Glasgow, one of the largest concentrations of its kind in the UK. We have strong interdisciplinary research links with other subjects at Glasgow; recent collaborations include Psychology, Computing Science, Mathematics and Statistics, Celtic and Gaelic, and Education, in addition to our traditional links with English and Scottish Literature. Glasgow is one of the world's leading centres of excellence for Digital Humanities, and many of our projects have a substantial digital element.
Research themes
English language and linguistics
Historical English language, literature and medieval studies – including manuscript studies, codicology, textual and editing, literary and gender criticism, historical linguistics
Contemporary English linguistics, including phonetics and phonology, morphology, semantics, text analysis, sociolinguistics and onomastics
Scottish language, including written literary Scots, speech in Scotland and translation studies
Research groups
Contact: Professor Jennifer Smith [Postgraduate Convener, English Language & Linguistics]
Study options
PhD
Duration: 3 years full-time; 5 years part-time
Thesis length: 70,000-100,000 words, including references, bibliography and appendices (other than documentary appendices).
A Doctor of Philosophy may be awarded to a student whose thesis is an original work making a significant contribution to knowledge in, or understanding of, a field of study and normally containing material worthy of publication.
MLitt (Research)
Duration: 2 years full-time; 3 years part-time
Thesis length: 40,000-70,000 words (including references, bibliography and appendices).
Our Degree of Master of Letters (Research) requires you to undertake a postgraduate course of special study and research that represents a distinct contribution to knowledge.
MPhil (Research)
Duration: 1 year full-time; 2 years part-time
Thesis length: 30,000-40,000 words (including references and bibliography).
A Master of Philosophy (Research) requires you to undertake a postgraduate course of special study and research that represents a distinct contribution to knowledge.
MRes
Duration: 1 year full-time; 2 years part-time
Thesis length: 20,000-30,000 words (including references, bibliography and appendices).
Our Master of Research includes both taught and research elements. You will be required to undertake 60 to 80 credits worth of taught courses as well as independent study which represents some contribution to knowledge.
Entry requirements
Our regular standard of admission is at least an Upper Second Class Honours degree (2:1), although candidates will usually also have completed or be undertaking a Masters qualification.
Research proposal
Candidates are required to provide a single page outline of the research subject proposed (approximately 1000 words). This need not be a final thesis proposal but should include:
a straightforward, descriptive, and informative title
the question that your research will address
an account of why this question is important and worth investigating
an assessment of how your own research will engage with recent study in the subject
a brief account of the methodology and approach you will take
a discussion of the primary sources that your research will draw upon, including printed books, manuscripts, archives, libraries, or museums
an indicative bibliography of secondary sources that you have already consulted and/or are planning to consult
Your application, including your references and research proposal, will be passed to members of staff whose expertise and research interests most closely match the area of your proposed study.
English Language requirements for applicants whose first language is not English.
Fees and funding
Fees
2019/20
£4,327 UK/EU
£17,620 outside EU
Prices are based on the annual fee for full-time study. Fees for part-time study are half the full-time fee.
Additional fees for all students:
Re-submission by a research student £500
Submission for a higher degree by published work £1,250
Submission of thesis after deadline lapsed £320
Submission by staff in receipt of staff scholarship £730
Research students registered as non-supervised Thesis Pending students (50% refund will be granted if the student completes thesis within the first six months of the period) £300
Depending on the nature of the research project, some students will be expected to pay a bench fee (also known as research support costs) to cover additional costs. The exact amount will be provided in the offer letter.
Alumni discount
A 10% discount is available to University of Glasgow alumni. This includes graduates and those who have completed a Junior Year Abroad, Exchange programme or International Summer School at the University of Glasgow. The discount is applied at registration for students who are not in receipt of another discount or scholarship funded by the University. No additional application is required.
Funding for EU students
The UK government has confirmed that EU nationals will remain eligible to apply for Research Council PhD studentships at UK institutions for 2019/20 to help cover costs for the duration of their study.
Funding
Support
Resources
Teaching and research in the Arts and Humanities is supported by the outstanding resources of our University Library with its special collections and our on-campus Hunterian Museum and Art Gallery.
Our close links and partnerships with Glasgow Life, and the city's many museums, art galleries, performing arts and music venues, international festivals and creative industry organisations make the University of Glasgow the ideal place for postgraduate study of the arts.
Graduate School
Our College of Arts Graduate School creates a productive and interdisciplinary collegiate environment for all of our research students. We offer a range of services, courses and skills development opportunities for research students.
The College of Arts is home to a vibrant and diverse community of students enrolled on taught masters and research programmes within a stimulating intellectual and cultural environment. Across every school and subject area the college is home to world-leading and agenda-setting research.
Find out more about what is happening in the community by following us:
You will also be part of the wider Scottish Graduate School for Arts and Humanities, the world's first national graduate school in the Arts & Humanities. Membership includes 16 Scottish universities, four art schools & the national conservatoire, with support from the arts, culture, creative & heritage sectors.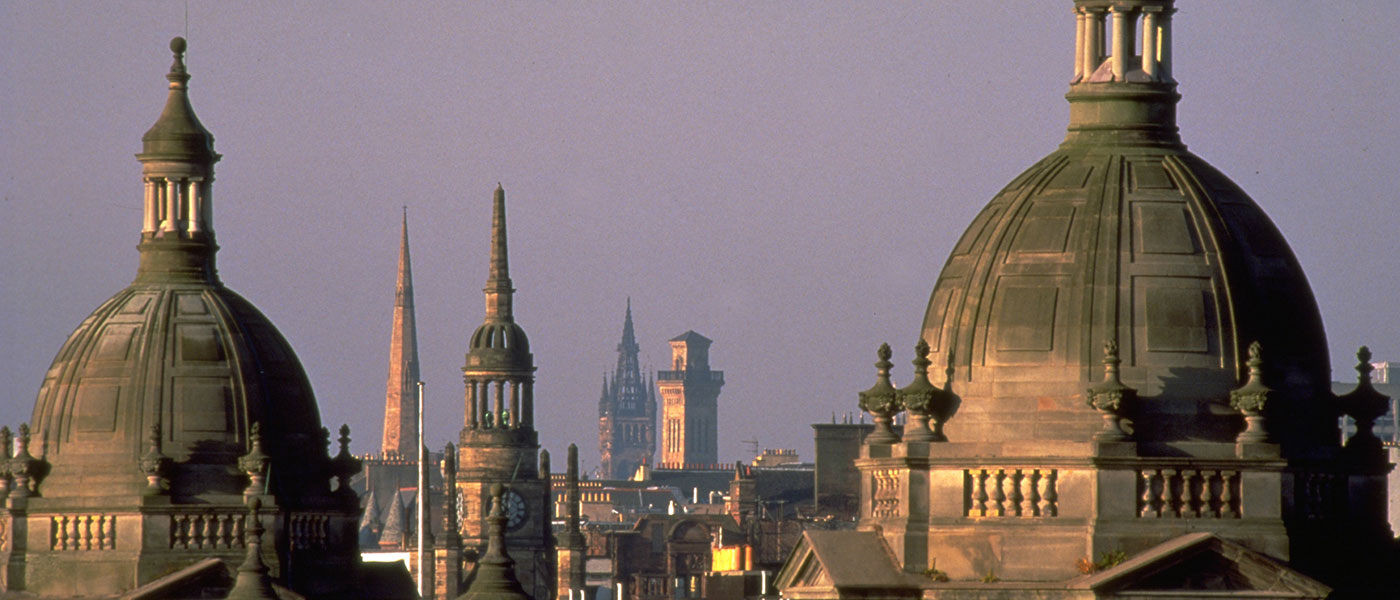 Our top ten city
A 2019 TimeOut survey places Glasgow in the top ten cities in the world. Ranked between Berlin and Paris, Glasgow was voted number one for both friendliness and affordability.