UofG Mental Health Awareness Week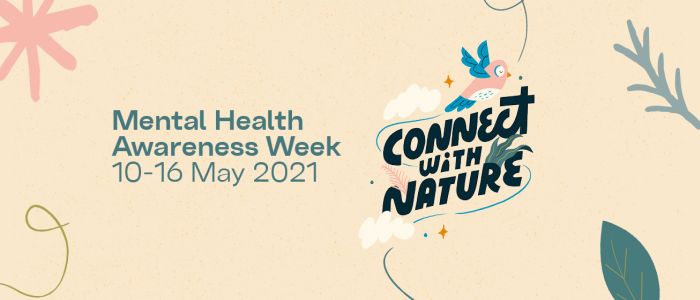 Mental Health Awareness Week, hosted by the Mental Health Foundation, this year takes place on 10-16 May, and the theme is nature.
Next week sees 2021's Mental Health Awareness Week, which this year is inviting us all to get outdoors and experience the benefits being in nature can have on our health and wellbeing!
Mental Health Awareness Week is an annual event, which provides an opportunity for us all to focus on developing good mental health. It's open to everyone and is all about starting conversations about mental health and the things in our daily lives that can affect it. You can read more about the background and purpose of the week on the Mental Health Foundation website.
Over the past year, millions of us got out and about in nature as a way of looking after our mental health - not only have been we spending more time outside, but we've become more attuned and interested in the environment around us. We know from research that there are many benefits of being out in nature for our mental health and wellbeing, and regardless of what's happening with Covid, we are so fortunate to have so many beautiful parks and green spaces across Glasgow and Dumfries we can access – including our own campuses!
This week, we invite all of our staff and students to not only get out into the beautiful outdoors, but to take a more mindful approach and really engage with what's out there – this can have a really positive impact on health and wellbeing, especially during stressful periods such as revision and exam season. Being out in nature – and mindfully connecting with it – can help to lift low mood, make us feel more connected and relaxed, reduce feelings of stress and help us be more active (in turn improving our physical health, too!). Even a ten-minute walk can have a very positive impact on how we're feeling, improving our mood and our self-esteem.
So, why not take a moment to recognise and grow your connection with nature during the week?
Experience nature: Join Sam for his Health Walk on Thursday on the main campus or take a long walk around our Dumfries campus; you'll probably find whole new areas you're unfamiliar with!
When out and about, really engage with your senses – be mindful of what you can see, hear, smell, feel and taste while outside; smell budding flowers or freshly cut grass, taste salty sea air on your lips or take a closer look at local wildlife - spring is in full swing!
Share nature: Take a photo, video or sound recording and share the connections you've made during the week, to inspire others. Join the discussion on how you're connecting with nature by using the hashtags #ConnectWithNature #MentalHealthAwarenessWeek.
Talk about nature: discuss the great outdoors with your flatmates, your family, and in your community to find and share new ways to connect with nature in your local environment. Maybe you have a favourite local walk, favourite picnic spot, or beach you can share? Even better, build your connections and go there together!
The Programme for the Week
As well as inviting our community to get out in nature and experience the great outdoors, we are delighted to have a host of wellbeing events lined up for next week, including some great ways to get moving and get outdoors from our UofG Sport Active Lifestyles colleagues, and daily bitesize webinars on top topics around mental health and wellbeing.
You can view the full programme here. You can also access our events via the Events Listing here in the Newsletter.
---
Additional Information & Resources
You can find more information on mental health and wellbeing on the CaPS webpages, and if you would like to speak to someone about how you're feeling, there are a number of support services available:
The UofG Life app also provides useful links to health and wellbeing resources available to students. With easy access from your mobile, discover more on the services provided by Nightline, Togetherall and CaPS. You can download the app via Apple Store and Google Play. You can also access the app via the University's app website.
First published: 6 May 2021