UofG-led Project Explores Walking During the COVID-19 Pandemic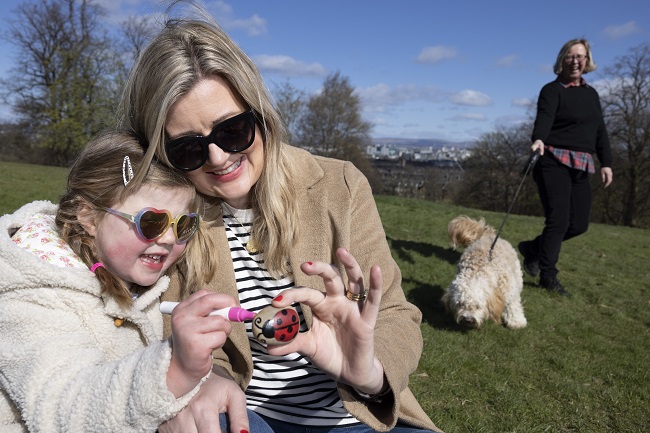 The Walking Publics/Walking Arts: walking, wellbeing and community during COVID-19 is a new research project which is looking at the experience of walking and the role of creativity during the pandemic.
The team want to hear from UofG students through their survey (details below) to help them to capture the experiences of walking and creativity during the COVID-19 pandemic.
The project is led by Professor Deirdre Heddon from the University of Glasgow, an avid walker, in collaboration with academics from University College Cork, University of Liverpool and the University of East London.
In addition to wellbeing and community, the project, funded by the Arts and Humanities Research Council (AHRC) as part of the UK Research and Innovation rapid response to COVID-19, will also look at the role of creativity – or creative walking – in those experiences.
Already academics have been finding examples of walking experiences and creativity across the United Kingdom, including colourful stone trails created for and by children, and fairy trails which have transformed local woods into sites of enchantment.
To now gauge people's experiences, key to the project is a UK-wide survey - and everyone can take part today.
Professor @DeirdreHeddon is leading an exciting project along with academics from @UEL_News @UCC & @LivUni exploring people's experience of #walking & #creativity during the #COVID19 pandemic #WorldChangingGlasgow 1/3 pic.twitter.com/EfV32LEvY3

— University of Glasgow (@UofGlasgow) April 21, 2021
The survey opened on 21 April 2021 and closes on 21 May 2021. Once the survey results are all in, researchers want to use the data and experiences to demonstrate the impact of walking, and creative walking, helping to put it into continued practice within the community.
---
Survey Information
To share your experiences of walking during COVID-19, whether you are an avid walker or a reluctant walker, please complete our survey webpages - https://walkcreate.gla.ac.uk/index.php/walking-publics/ or via the project's website.
If you are an artist who has used walking as a resource, the project team would like to hear from you through this survey which can be found here - https://walkcreate.org/index.php/walking-arts/
The surveys opens for a month and closes on 21 May 2021.
For more information about the project visit, https://walkcreate.org or please email walkcreate@glasgow.ac.uk
National Walking Month
You may not realise it, but May is National Walking Month and now the evenings are lighter for longer, this makes it the perfect time to get outside, and get walking. Learn more about the walking month and how to get involved by visiting the Living Streets website.
First published: 6 May 2021