Peer Wellbeing Support at UofG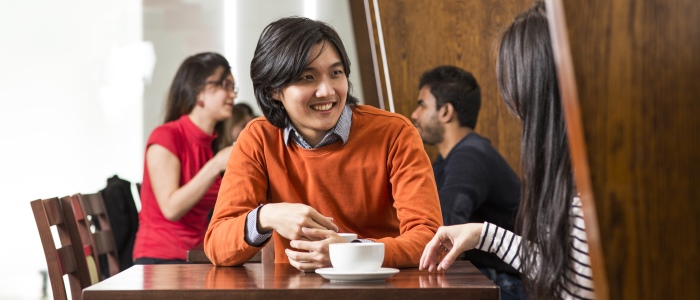 We know that we all have mental health and we all need help from time to time.
Opening up and talking to someone is one of the most effective ways to maintain good mental health and can help stop your problems becoming overwhelming. There are many support options available across the University, and today we focus on one in particular – Peer Wellbeing Support.
"The training has improved my skills in empathy and has shown me the true value of listening" (PWS Supporter 2021)
Peer Wellbeing Support is a confidential, student-led listening service, and all volunteers receive extensive training.
It is different from counselling, and you will be supported by two volunteers at a time.
Talking about how we're feeling can make us feel a bit vulnerable and speaking with fellow students who have shared experiences can help make us feel a bit safer and more able to open up - they are there to listen and help you explore how you are feeling with empathy and without judgement.
Peer Wellbeing Supporters are there to help anyone experiencing mild mental health issues, such as:
anxiety
stress
isolation and/or loneliness
making friends
dealing with change
relationship problems
homesickness
financial stress
academic concerns
There is no issue too small for Peer Wellbeing Support. Their non-judgmental, confidential support is there if you need it.
"Never before have I been so aware of each person's problems and concerns. And never before have I realized that just listening to someone can make such a big difference. That caring for each other and being a compassionate person matters" (PWS Supporter 2021)
A student may use the service if they were feeling more worried, anxious, stressed or sad than normal.
If your symptoms are becoming unmanageable and are having an impact on your ability to function, then you can access specialised support via the university's Counselling & Psychological Services or through your GP.
At the moment, all sessions are being held online so you can book in at a time that suits you and when you know you will have privacy and be comfortable to speak openly with your peer supporters (two peer supporters will be with you during your meeting).
You can have a quick 10-minute chat or stay up to an hour – it's your decision and depends on what you would find most helpful.
---
How do I book a session?
Find out more about the supporters in your school/college and how to book an online session here.
Additional Information & Resources
Alongside our Peer Wellbeing Support, there are a number of other support services available to all students:
All students and staff have access to Togetherall, a safe space online to get things off your chest and learn how to improve and manage your mental health and wellbeing.
The UofG Life app also provides useful links to health and wellbeing resources available to students. With easy access from your mobile, discover more on the services provided by Nightline, Togetherall and CaPS. You can download the app via Apple Store and Google Play. You can also access the app via the University's app website.
First published: 6 May 2021