Healthy Body Healthy Mind Award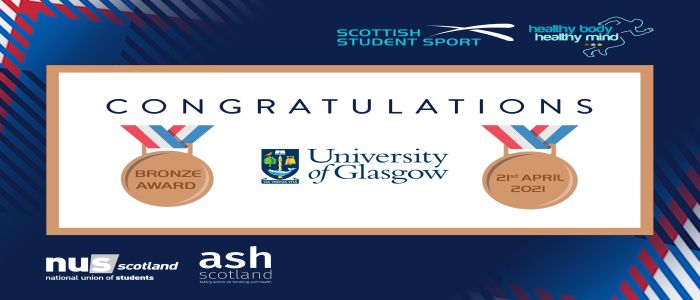 UofG Sport is delighted to have been successful in achieving the Bronze award in the 'Healthy Body, Healthy Mind' initiative.
UofG Sport and Glasgow University Sport Association (GUSA) worked together to encourage sport and physical activity, to establish a smoke-free culture and to support good mental health.
2020 was a challenging year on campus, GUSA and the UofG Sport team worked hard to create well-being plans and programmes for all of us in Team UofG to enjoy and enhance our wellbeing.
One of the things that GUSA and UofG Sport found was how important it was to highlight that being active doesn't need to mean playing a sport or attending a session at the gym, everyone can find a way that suits us individually.
GUSA and UofG Sport wanted to support the UofG community in enjoying the benefit of just getting out and moving, in whatever way fits our lifestyles.
As the Mental Health Foundation points out, it is recommended that the average adult should do between 75 and 150 minutes of exercise a week. Any activity that raises your heart rate, makes you breathe faster, and simply feel warmer counts towards exercise. As we established the Healthy Body Healthy Mind initiative across our campus we aimed to keep motivation high and activity fun. GUSA conducted several Q&A sessions in order to listen and then provide advice on a personal basis; we promoted smoke-free messaging and UofG Sport started hosting activity sessions in our UofG Living student accommodation and as well as providing online Zoom sessions.
Shereif Kholeif, President of GUSA said "Being the first University in Scotland to achieve the Healthy Body Healthy Mind since the award has changed and developed the format shows GUSA, UofG Sport and the University of Glasgow are approaching student wellbeing holistically, and doing so diligently in these difficult times. We are very proud of our partnerships across the University which have helped us achieve this award".
GUSA and UofG Sport were already active members of the Healthy Body Healthy Mind initiative before the start of the pandemic.
What COVID-19 has meant is ideas have now developed and adapted to fit the online forum and the benefits of physical activity have become even more significant.
Julie Hughes, from the UofG Sport Active Lifestyle team said that during the pandemic we were hearing from students about the importance of keeping an active lifestyle and the impact of this on their wellbeing. "Physical activity can have an impact on mood, self-esteem, anxiety and stress levels. With so many changes over the last year the Healthy Body Healthy Mind programme on campus has been fantastic to be part of."
As our growth in Healthy Body Healthy Mind developed, it was recognised that making even the smallest changes can be quite daunting. Plenty of different things can act as barriers - a lack of energy, fear of failure, or even the weather can hinder people from getting started. UofG Sport and GUSA worked together to offer practical and emotional support to enable all of us to gradually move to a more active lifestyle and an increase in our overall wellbeing.
The initiative is continuing to develop what is on offer to Team UofG with all the Healthy Body Healthy Mind programme and the team will be looking to achieving the silver and gold awards in 2022!
All ideas and contributions will be gratefully received. If you would like to be involved in any way, please don't hesitate to contact the team at sport@gla.ac.uk.
---
First published: 6 May 2021