Exam De-Stress at a Distance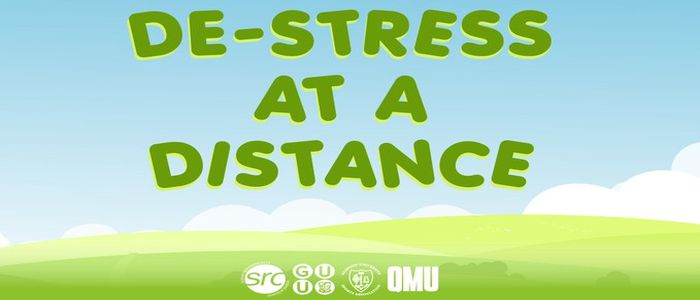 Exam De-Stress is the UofG student-led campaign, brought to you by all four student bodies. Glasgow University Students' Representative Council (GUSRC), Glasgow University Union (GUU), Queen Margaret Union (QMU) and Glasgow University Sports Association (GUSA).
This year, due to the ongoing COVID-19 restrictions, the Students' Representative Council (SRC) have renamed the campaign 'De-Stress at a Distance' and are excited to bring you the dedicated Native platform where you'll be able to find a variety of virtual events that you can sign-up for and engage with.
These are difficult and stressful times, so please remember that we're all here to support you throughout the studying and exam period with a range of activities and fun content aimed at reducing stress.
Some additional events and updates will be listed on the SRC website
Take care of each other and stay safe!
---
Find Out More
Follow the SRC on Twitter, Facebook and Instagram to find out more.
First published: 6 May 2021