Future Wireless Showcase and Engagement Event
Tuesday, 21 February 2023, 9.30am—2pm
Advanced Research Centre (ARC)
11 Chapel Lane
University of Glasgow
G11 6EW
Future Wireless Showcase and Engagement Event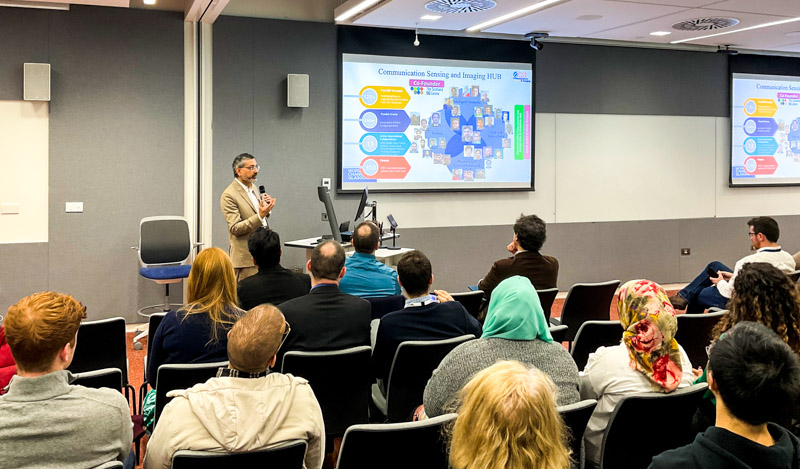 The James Watt School of Engineering is open for business. That was the main message at our Future Wireless Showcase and Engagement Event, held on Tuesday, 21 February.
Future Wireless research
Academics, industry representatives and other stakeholders had gathered for presentations on the latest 5G use cases in health, energy and security, and cutting-edge research in 6G.
"We have a private 5G network across the campus," a 5G Urban Testbed, said Professor Muhammad Imran. He is head of the Communications, Sensing and Imaging (CSI) hub and works with industry to co-create.
Other research presentations focused on cyber-physical infrastructure to deliver whole systems in energy, technology options for the currently underexploited terahertz frequencies, AI-based design and optimisation of networks, and more.
Funding for collaboration
The College of Science and Engineering has a large Impact Acceleration Account (IAA) funded by the Engineering and Physical Sciences Research Council (EPSRC).
Keith Dingwall, IAA Project Manager, said the IAA can supply funding for partnership development and the flow of people and expertise between the University and partners. "Most critically we're looking for partners who have challenges or opportunities."
In her closing remarks, Professor Margaret Lucas, Dean of Research at the College, affirmed: "Our priority and focus is really about industry engagement."
Work with us
"It was great to see such an interest from industry and stakeholders," says Dr Qammer Abbasi, event organiser and Lead for the Connecting People Theme at the James Watt School of Engineering. "We are very open to working together, to make society connected and a better place to live."
Interested businesses and other stakeholders are invited to get in touch with the College's dedicated industry engagement team. They can connect researchers and external partners and facilitate collaboration.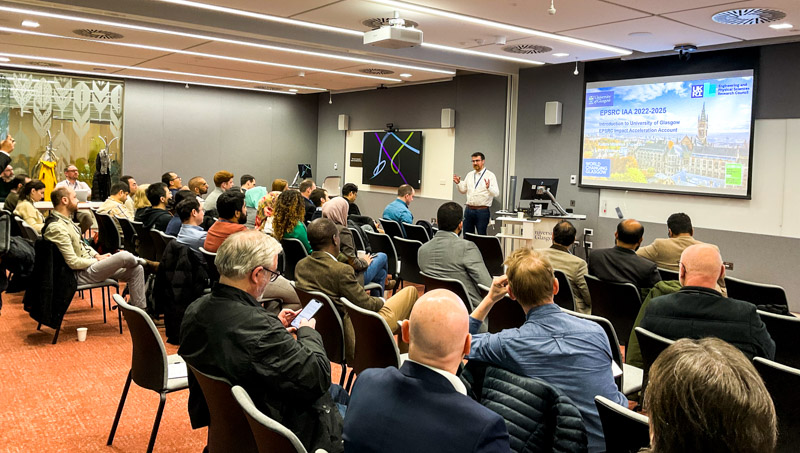 Programme
Time
Programme
0930–1000
Registration and refreshments
1000–1010
Welcome
1010–1015
Overview of James Watt School of Engineering
Manuel Salmeron-Sanchez
Head of School, Chair of Biomedical Engineering
1015–1035
University of Glasgow future wireless R&D overview
Muhammad Imran
Professor in Communication Systems, Dean University of Glasgow UESTC, Head of Communications, Sensing and Imaging (CSI) research group
1035–1120
Session 1: Future connectivity solutions
presentations: Edward Wasige, Ali Imran, David Flynn
pitches: Lina Mojhazi, Yao Sun, Masood Ur Rehman
1120–1135
Coffee/tea break
1135–1220
Session 2: Connectivity use cases
presentation: Shuja Ansari
pitches: Chong Li, Dongzhu Liu, Ahmed Zoha, Paul Harvey
1220–1230
Funding opportunities for industry collaboration
Keith Dingwall
Impact Acceleration Account (IAA) Project Manager
1230–1240
Closing remarks/thoughts
Margaret Lucas
Regius Chair of Civil Engineering and Mechanics, Professor of Ultrasonics (Systems Power & Energy), Dean of Research
1240–1325
Lunch and networking
1325–1400
Use case demos / Lab visit (Shuja Ansari)
Future Wireless Showcase and Engagement Event
Tuesday, 21 February 2023, 9.30am—2pm
Advanced Research Centre (ARC)
11 Chapel Lane
University of Glasgow
G11 6EW