Dr Chong Li
Lecturer (Electronic & Nanoscale Engineering)
telephone: +44 141 330 4626
email: Chong.Li@glasgow.ac.uk
https://orcid.org/0000-0001-5654-0039
Research interests
Biography
I received a BEng degree in Telecommunications Engineering from Donghua University (Shanghai, China) in 2002, an MSc degree (Distinction) in Communications Engineering from the University of Manchester in 2007, and a PhD degree in Electronics and Electrical Engineering from the University of Glasgow in 2011. My PhD involved developing monolithic millimetre-wave signal sources and integrated circuits.
Following my PhD I took up a post as a Postdoctoral Research Assistant, and later a Postdoctoral Research Associate at the University of Glasgow, working on development of terahertz imaging systems. I joined the National Physical Laboratory (NPL) in January 2014 as a Higher Research Scientist. Since then I have contributed to and led several commercial projects and UK national and three European research projects including PlanarCal, MET5G and MORSE. I was the measurement service provider (MSP) for Ultrafast Waveform Metrology service at the NPL and led work on microwave and millimetre-wave on-wafer measurements.
I held a visiting position at the Advanced Technology Institute (ATI), University of Surrey in 2017. I am a senior member of IEEE and a member of the European Microwave Association (EuMA) General Assembly (GA) representing Group 4 (United Kingdom, Ireland, Gibraltar, Malta). I am the Chair of Workshop&Short Courses of EuMW2021 and an Associate Editor for Royal Society Open Science. I've served as a member of the technical programme committee for several conferences. In 2015 I won the best paper at Loughborough Antennas and Propagation Conference (LAPC).
Research Interests
I am leading the Microwave and THz Electronics (MaTE) Group and interested in:
developing novel microwave, mmWave and THz components, devices and circuits;
emerging materials and technologies for wireless sensing, imaging, power transfer and communications;
metrology for antennas and propagation; and
metrology for on-wafer measurements.

Summer students, final year/MSc project students, self-funded/government-funded PhD students are welcome to my group. Please contact me if you have any brilliant ideas about any of the above listed topic(s) or something else.
Equipment and Facilities
I am currently managing the Microwave and Terahertz Laboraotry which is equiped with the state-of-art instruments for characterisation of RF, microwave, mmWave and THz devices and systems. Information about micro-/nano-fabrication can be found on the JWNC website. Here below list some of the equipment for measurements from RF to THz:
Anntenna measurement systems
0.5 GHz-16 GHz anechoic chamber
140 GHz-220 GHz near field planar antenna scanning system
220 GHz-325 GHz near field planar antenna scanning system
750 GHz-1.1 THz near field planar antenna scanning system
On-wafer power and S-parameter measurement systems
10 MHz-110 GHz on-wafer VNA system integrated with semi-automated probe station
140 GHz-220 GHz and 220 GHz-325 GHz on-wafer VNA systems with manul probe stations
750 GHz-1.1 THz on-wafer VNA system with manul probe stations
Spectrum analyer and power meter for up to 325 GHz
Other measurement capabilities
750 GHz-1.1 THz material characterisation kit (MCK)
Semiconductor device analyser for DC & Pulsed IV/CV measurement (on-wafer)
DC-40 GHz high/low temprature (77K/675K) manual probe station with permanent maganet
PhD projects
Compact monolithic millimetre-wave and terahertz integrated

circuits

Nano-vaccum electronics for mmWave and THz applications
Graphene-based tunable electronic and optical devices
Development of mm-wave imaging systems
Development of wireless charging technology for in-body medical and diagnostic devices
Metrology for on-wafer S-parameter measurements
Funding opportunities
https://www.gla.ac.uk/postgraduate/doctoraltraining/
Grants
"A Self-contained Solar-Hydro Micro Power Plant for Uninterrupted Supply in all Weather Conditions", InnovateUK, £300k, 2020-2021, PI (UoG)
"Picosatellite antennae" Alba Orbital, 2019, PI
"RFID for tracking livestocks" Scottish Agricultural Organisation Society Ltd. 2019, PI
"Multiphysical millimeterw-wave probe station," EPSRC, ECR small equipment grant, 2019, PI
"Feasibility studies on deploying a self-contained solar-hydraulic pilot power plant in a rural area in Bangladesh," Global Challenges Research Fund, 2018, PI
"Millimetre-wave on-wafer power and S-parameter measurements," Arralis Ltd, 2018-2019, PI
Supervision
Michael Farage (Y4) "Reflectarray atnennas for remote mm-wave sensing" (1st supervisor)
Yi Yi (Y2) "Graphene-based terahertz tunable modulators" (1st supervisor)
Aniket Dhongde (Y2) "RF GaN amplifiers" (2nd supervisor)
Jing Wang (Y1) "Terahertz power amplifiers" (1st supervisor)
Huihua Cheng (Y1) "Monolithic Integrated Circuits for Terahertz Communications" (1st supervisor)
Current MEng/MSc Students:
Current final year students

Yihan Wang, "Underwater wireless communication systems"

Zimo Zhao "Development of mmWave imaging system"

Andrew Scott-George, James Kelly, and Struan Maidment " Off-grid hybrid Solar-hydro power generation systems"
Feiyang Sun "Design of millimetre-wave antennas for future wireless communications"
Hussain Al Lawati "Terahertz MIMO antennas"
Wenli Jia "Design of THz reflectarray antennas"
Current UG project students

Yinhao Wang "Control system for solar and hydro power plant"

Former PhD students
2015-2018 Haris Votsi (Surrey)
Former visiting scholars:
2019: Dr. Ying Wang (Northwestern Polytechnical University)
2016-2017: Mr. Aihua Wu, HSRI, Mr. Chen Liu, HSRI
Former MEng/MSc Sudents

2018-2019

Yang Yang "300 GHz imaging system"

Mingyan Zhong "THz multipliers I"

Siyuan Zhou "Underwater wireless communication system"

Yufei Ma "Underwater wireless charging system"

Mingxin Zheng "THz multipliers II"

Wei Zhang "RFID for tracking livestocks" (Scottish Agricultural Organisation Society Ltd )

Jialu Chen "Characterising dielectric properties of thin-film PMMA"
2018-2019:
Muhammad Taha Ansari "RFID for tracking personal belongs"
Kavisha Jayathunge, Panagiotis Kamintzis, and Muhammad Taha Ansari "Wireless charging technology for underwater sensing"
2017-2018:
Abu Inayat ,Asfand Tanwear,Kaivan Karami,Naeem Mannan,Zhivomir Arnaudov,Mohamed El Mustafa Ismail Omer "Hybrid solar hydraulic power generation system"
2017-2018: Anjeeshnu Das,Xiaoyi Guo,Yuyang Wang,Yi Yi,Zhenpei Zhou
Former undergraduate Students

2018-2019 Xiaotong Guo "Design of reflectarray antennas for next generation mobile communications" (FYP)
2018-2019 Jassim Alkuwari "Characterising thin-film materials at millimeterwave frequencies" (FYP)
2017-2018 Kwing Choy (FYP)
Teaching
Real-time Computer Systems (Y3)
Microwave and millimeterwave circuit design (Y5, MSc, MEng)
Design Special Project Y5:
"Development of sensor platform for underwater applications" 2018-2019
"A standalone renewable energy power plant for uninterrupted electricity supply" 2017-2018
Final Year Project Y4:
1. RFID for tracking personal belonings
2. Frequency scanning antennas for remote sensing
3. characterising thin-film materials
Professional activities & recognition
Editorial boards
2017: Royal Society Open Science
Additional information
Previous Projects
EMPIR PlanarCal (€1.8M) 2015-2018
EMPIR MET5G (€1.6M) 2015-2018
EMRP MORSE (€2.4M) 2013-2016
DECC DGO2 (£0.9M) 2014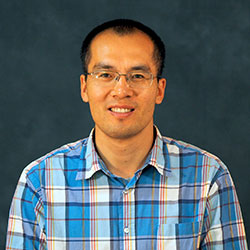 School of Engineering, R207 80 Oakfield Avenue, G12 8LT