Before You Begin
There are lots of decisions to make before you start to create your data. Making these choices early on in your project can save you time and effort later, and many funders now expect you to show you've engaged in data planning. The decisions will affect how you can access, use and look after your data.
You may also be interested in
Data Planning
Writing a data management and sharing plan involves making decisions at the outset of your research to decide which software to use; how to organise, store and manage your data; and what to include in the consent agreements you negotiate.
These will all affect what is possible to do with your data in the future.
What do research funders expect?
Most funders expect a short data planning statement to be submitted with your grant proposal, outlining your plans for data management and data sharing.
You will usually be asked to cover five themes:
What data will be created?
How will the data be documented and described?
How you will manage ethics and IPR?
What are the plans for data sharing and access?
What is the strategy for long-term preservation and sustainability?
The Digital Curation Centre (DCC) has collated specific details of UK research funders' data management plan requirements.
Some funders have data management plan templates. For funding applications, use the funder template if available. In other cases, use an institutional template:
The template guidance gives details on how to fill out the form, including examples of what can be included in your answers.
The DCC also provides DMP Online, a web-based tool to help you write your data plan and has other resources to assist in writing data management plans.
For example DMPs, see the DDC's Data plan guidance and examples or see the examples below.
Including RDM Activities in Funding Applications
See Research Data Management Costs.
Further reading
ICPSR Framework for creating a Data Management Plan [WEB, 3 pages approx]
Guidance of what to include in plans with useful example texts.
Who can help me with data planning at the University of Glasgow?
Please get in touch early (at least a week before the deadline) so there is enough time to help.
IT Services offer backup and filestore for research projects, and your local IT team may be able to provide similar services. Please contact the IT helpdesk with your requirements.
Data centres are also able to help, for example the UK Data Archive and NERC.
Examples of Data Management Plans
The Digital Curation Centre has example Data Management Plans and guidance from a variety of funders: DCC Examples and Guidance
A selection of Data Management Plans created by University of Glasgow researchers and shared with the University community can be found by logging in to DMPOnline using your University credentials. Please not that this is not a curated library of examples and they have not necessarily been reviewed by the Research Data Management service.
If you have a Data Management Plan that you would like to contribute as an example, please contact the Research Data Management team.
What to Cover in a Data Management Plan
Here are some pointers of what to include for each of the themes you're typically asked to address:
What data will be created?

Note the type and volume of data that will be created, e.g., transcripts, measurements, imaging etc.

Explain how you will capture the data, e.g., in a numbered, dated notebook.

What formats do you propose to use and why?  E.g., Microsoft Access, Excel or SPSS, as they're in widespread use.

How will the data be documented and described?

What contextual details are needed?  E.g., a description of the capture methods and data analysis.

How will you capture this?  E.g., in papers, in a database, in a 'readme' text file, in file properties/headers.

Which standards will you use and why? E.g., refer to data centre recommendations for metadata, controlled vocabularies documentation.

Are there any encoding guidelines you should follow?

How you will manage ethics and intellectual property?

How will you safeguard the privacy of research participants?  E.g., by negotiating informed consent.

Will there be any restrictions and why?  E.g., delays while you seek a patent, embargoes as right of first use. 

What are the plans for data sharing and access?

Who is expected to use the completed dataset(s) and for what purpose?  

How will the data be developed with future users in mind?  E.g., choose appropriate formats.

How will you make the data available?  E.g., deposit in a data centre, forward copies on request, create website, publish a book.

What is the strategy for long-term preservation and sustainability?

How will you store and back-up the data?  E.g., University storage with IT back-up, mirror data on partner's server.

What are the plans for sustainability?  E.g., choose open standards, deposit in data centre.

Which repository/data centre have you identified as a place to deposit data?  Show you've consulted them.

How will you prepare data for preservation and sharing?  Show time and resource budgeted in.
If you are applying to the Medical Research Council, they ask you to note any related policies. We have produced an MRC_Q7_policies_2018 to adapt and use in MRC (or other) applications as relevant.
Legal and Ethical Considerations
If the project you are planning involves data from human participants, in addition to a DMP, you will need to ensure that you have considered data protection requirements and have ethical approval for your research.
This workflow is intended to guide researchers through the process of planning a project involving human participants: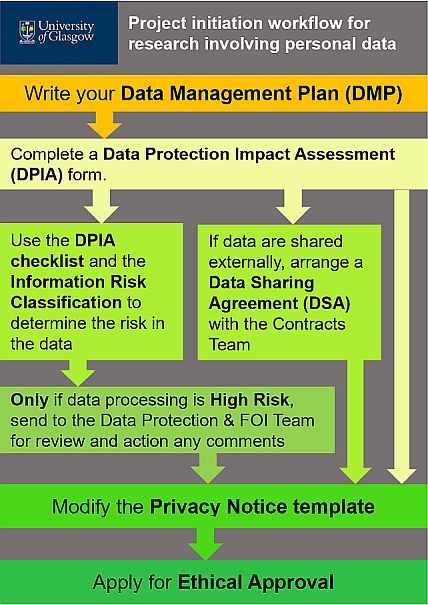 We recommend starting with a data management plan - laying out what data you would like to collect and what you would like to be able to do with the data.
Then consider the legal requirements - complete a DPIA, do you need a data sharing agreements, is your data high risk?
Finally, get your ethics approval in place, making sure to include consent for data retention and sharing where appropriate.
A more detailed version of this workflow with links to all the necessary forms, University Services and guidance is available.