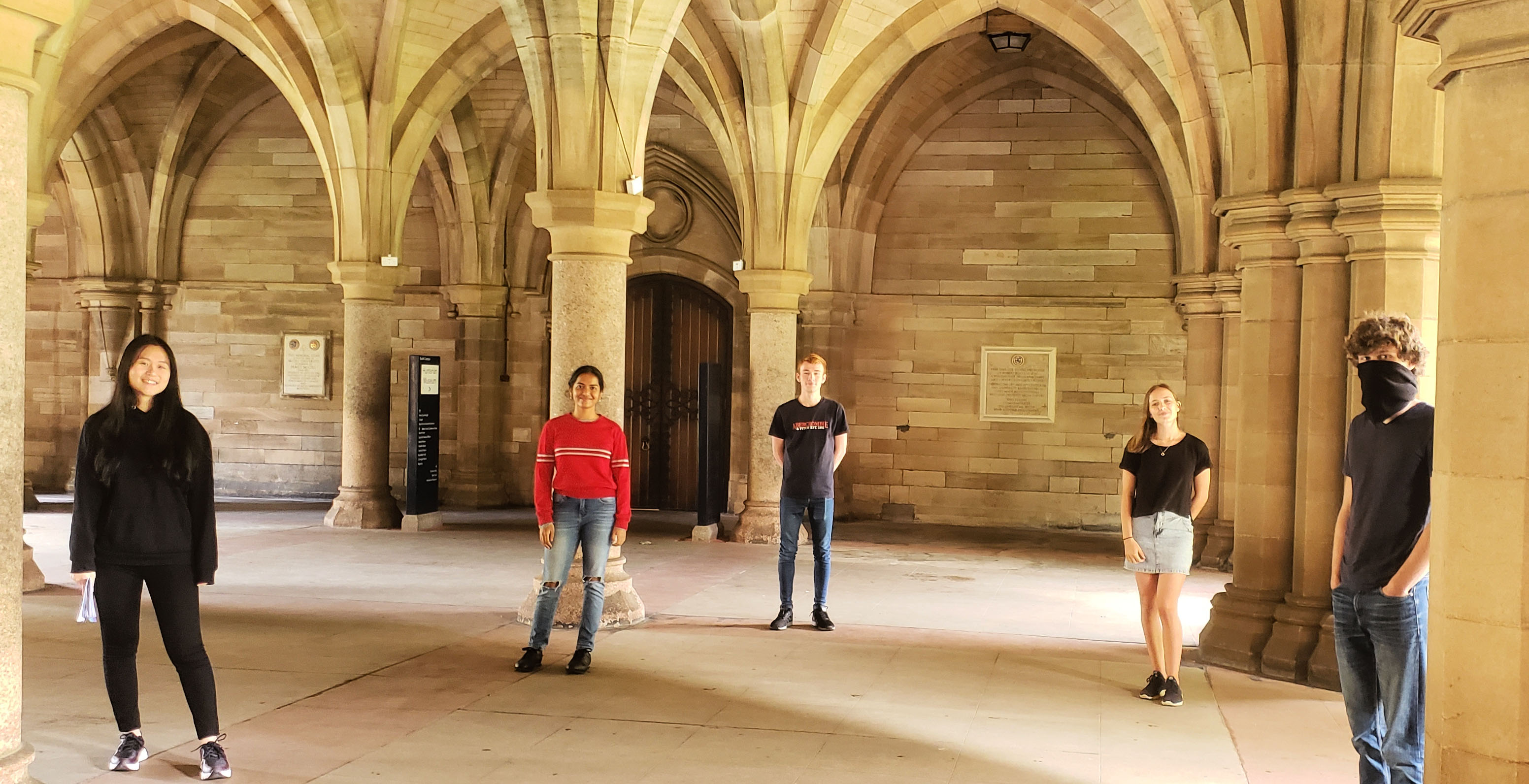 DigiGallus Connect - Improving digital inclusion in Glasgow
DigiGallus Connect is a University of Glasgow student-led project which addresses COVID-19 related isolation and loneliness through improving digital connectedness. A volunteer-run student organisation, DigiGallus Connect promotes digital inclusion in the community through the power of intergenerational relations.
The project was established by students at the Adam Smith Business School in response to the COVID-19 pandemic. It was developed with the aim of assisting vulnerable and older people, specifically within the over 50's population, who have limited access to internet and digital services.
Being digitally excluded can exacerbate social and economic exclusion. Digital inclusion rates tend to be the lowest amongst the elderly population with over half of non-internet users being over the age of 75 and 49% of non-internet users being classified as some of the most deprived in society, according to the Good Things Foundation.


Keeping Glasgow connected
The pandemic has fundamentally shifted our way of interacting with one another, with the vast majority of social interactions going virtual. Students at the Adam Smith Business School aware that COVID-19 had the potential to exacerbate isolation and loneliness amongst older people in Glasgow were keen to use their skills and knowledge to help address this. The challenge would also give them the opportunity to develop their skills and gain experience of intergenerational communication and collaboration.
DigiGallus Connect is developing and running an intergenerational mentoring programme to increase digital accessibility and confidence amongst the over 50's population in Glasgow. This programme will help support a key component of the Glasgow City Council's strategy to improve digital inclusion and participation of older people in their 'Digital Glasgow Strategy'.
The initiative aims to establish 100 mentee-mentor relationships with mentors supporting their member of the community in learning how to send emails, make online video calls, increase internet usage and ensure safe online browsing.
Professor Kathleen Riach, responsible and sustainable management lead at the Business School has been supporting the students. She said: "The ingenuity, entrepreneurial spirit and social conscience which the students have shown here is phenomenal. Their summer plans have changed with many furloughed from jobs or having their internships and work experience cancelled, and they've turned it into a positive learning experience that significantly benefits both them and their local community at the same time. "
DigiGallus Connect will provide access to a personal device, one to one mentoring and home-based internet access for those who are unable to access internet resources. Des McNulty, Assistant Vice Principal, Economic Development and Civic Engagement comments, "As part of the University's commitment to help close the digital divide in the city of Glasgow, the student run DigiGallus Connect project will distribute internet-connected devices to elderly residents, with management students providing digital literacy and free technology training to those that most need it – an example of one generation supporting another."