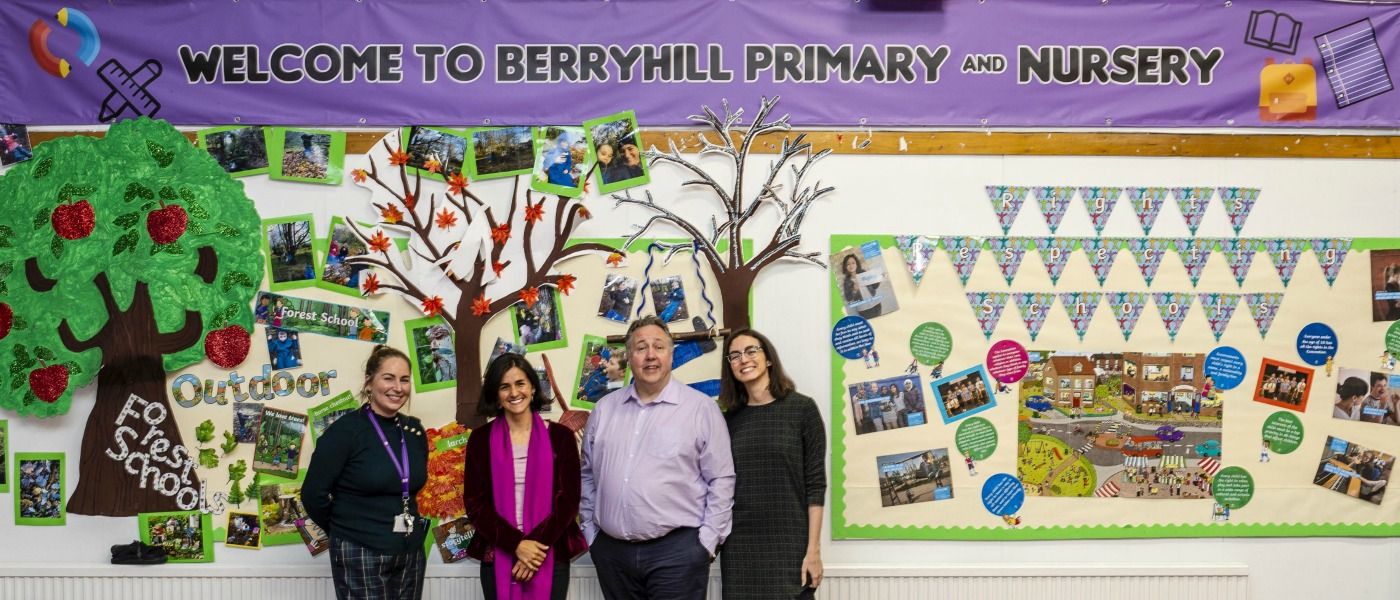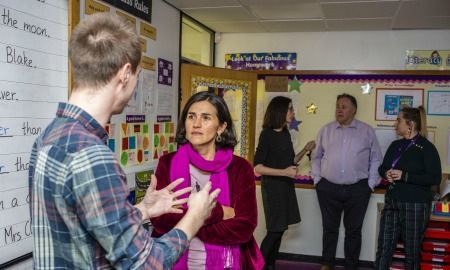 The NSEE team in discussion with teachers from a local primary school
Top of the class – helping schools reach their potential
A strong link exists between a pupil's socioeconomic status and how well they do in school. Children living in deprived communities and lower-income households generally do significantly worse at all levels of the education system than those from more affluent areas. This is known as the attainment gap.
Researchers at the University of Glasgow Robert Owen Centre for Education Change developed the Network for Social and Education Equity (NSEE), an innovative model designed to help schools work together to make significant changes to support all children in Glasgow and its surrounding areas to reach their full potential.
Collaborating for change
The Network facilitates school-to-school partnerships which are established and moderated to develop and embed evidence-based strategies. These strategies are designed to tackle education inequality and spark sustainable change.
Teachers are encouraged to work with colleagues within their own school and with partner schools, to allow educators to share effective strategies with others.
Professor Chris Chapman, who leads the NSEE team, is also a member of the First Minister's International Council of Education Advisers and is Senior Academic Adviser to the Scottish Attainment Challenge. He is also President of the International Congress for School Effectiveness and Improvement.
Chris explains: "Improving outcomes isn't always the goal of collaboration, but rather about trying new approaches, testing existing theories about learning and sharing critical reflections in an open, safe space with peers."
Widening the impact
The NSEE model has been implemented in 32 schools and six local authorities. West Dunbartonshire fully adopted the principals of NSEE to improve student outcomes. The schools participating in the NSEE methods show increasing performance for primary 4 and primary 7 students, the two participating year groups.
Since 2016, achievement in numeracy has increased by 14% for P4 and 11% for P7, while achievement in writing has increased by 9% for P4 and 13% for P7, a clear improvement thanks to collaborative working.
The NSEE team also works in collaboration with the West Partnership Regional Improvement Collaborative (RIC). The NSEE model has been used to support the wide range of collaborative networks within, between and beyond schools across the RIC.
The West Partnership RIC is made up of eight local authorities: East Dunbartonshire, East Renfrewshire, Glasgow City, Inverclyde, North Lanarkshire, Renfrewshire, South Lanarkshire and West Dunbartonshire. It is responsible for more than one third of Scotland's children.
There are over 1,000 nurseries, primary, secondary and special needs schools in the West Partnership, serving mainly urban but also many rural communities. While the West Partnership's geographic spread includes some of the country's most affluent areas, it also spans some of the least affluent. This scale and scope puts it in a strong position to influence the national agenda and outcomes regarding achieving excellence and equity for all learners.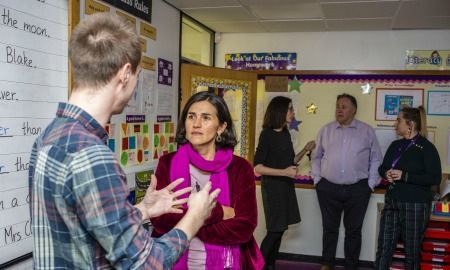 The NSEE team in discussion with teachers from a local primary school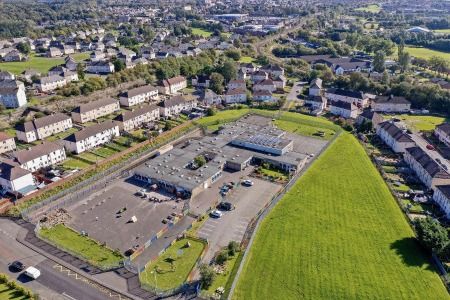 Berryhill Primary School in Wishaw, North Lanarkshire
Improving teacher confidence
Berryhill Primary School in Wishaw, North Lanarkshire, is one school benefitting from the NSEE approach. Over the past three years, they have worked with the team to devise new ways to improve numeracy.
The spirit of collaboration could be seen in how Berryhill worked with staff within the school, with schools in nearby South Lanarkshire who faced similar numeracy issues, and now with parents. They encourage parents to 'stay and play' to boost pupils' confidence. The teachers came up with resources that pupils can take home to further boost their learning.
Susan Clelland, Acting Principal Teacher at Berryhill School, says, "By working with the NSEE team at Glasgow, we have been able to facilitate and encourage free and open discussion around numeracy across the school to continue to make improvements. Feedback from parents from the 'stay and play' sessions has demonstrated that they have a better understanding of how they can support their children at home. It has also broken-down barriers of engagement with parents using this more informal approach."
The rise in numeracy speaks for itself, but teachers also report feeling more connected as a result of working together, rather than alone. Berryhill is leading the way for other schools in the North Lanarkshire area to devise strategies to improve numeracy.
Reacting to COVID
The COVID-19 pandemic has had a staggering impact on global education. The NSEE team continues to support local schools and inform and support educational leaders and policy makers to develop ongoing responses to the COVID19 crisis.
As Chris explains: "NSEE is about using the existing knowledge, expertise and ideas that exist within schools and combining them with research evidence and collaborative action research to enhance learning and teaching and impact on student outcomes. Collaboration and networking are used to move the knowledge and practices across classrooms, schools and local authorities. Tackling educational inequity is the defining challenge of our time and the COVID-19 has bought it into even sharper focus."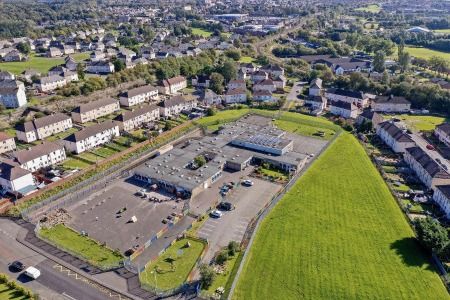 Berryhill Primary School in Wishaw, North Lanarkshire
Find out more
About the Network for Social and Education Equity
The Network for Social & Educational Equity (NSEE) aims to close the poverty-related attainment gap in young people's education by improving literacy, numeracy, and health and well-being outcomes. It is a collaborative, enquiry-based sustainable approach to professional learning and leadership development. NSEE builds on approaches that have a track record for improving outcomes for disadvantaged students.