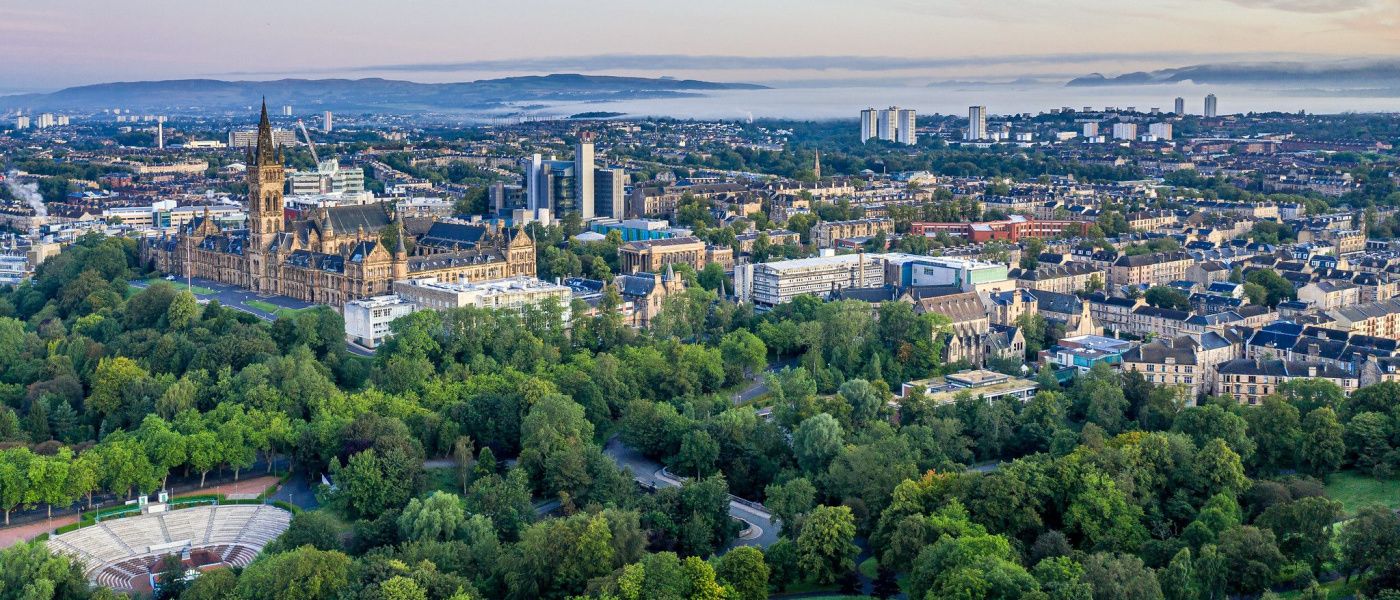 Image Credit: Ian Dick




Find out more: Sustainable Development Goals
Centre for Sustainable Solutions
The climate crisis threatens the world around us: our forests, oceans, wildlife, and communities. The Centre for Sustainable Solutions (CfSS) is building collaborative relationships both within the University and between partners across the city and country to respond to the climate emergency and enhance the growing ambition for the University and its community to be part of the solution.
Green Recovery Dialogues
A series of Green Recovery Dialogues took place to ensure that Glasgow's recovery from COVID-19 is sensitive to environmental and social concerns.
Organised jointly by Glasgow City Council, Policy Scotland and CfSS, the Dialogues have been designed to foster open conversations between experts in academia and senior leaders within the community.
The ultimate goal was to explore "agreed problems and pragmatic solutions", according to the Centre's Coordinator, Sarah Currier. The Dialogues involved a full range of experts and senior leaders from academic, public, private and third sector organisations, ensuring that civic society was effectively represented. Participants included the Scottish Environmental Protection Agency, the Wheatley Group and Zero Waste Scotland.
"Our goal is to take action to move forward toward carbon neutrality but also climate resilience and we really see Glasgow as a city that can be a driver for this sort of change." Professor Jaime Toney, Director of the Centre for Sustainable Solutions.
A Leadership Round Table in 2021, which included the Leader of Glasgow City Council and the Principal of the University of Glasgow among other senior figures looked at ways to implement the Dialogues' recommended actions, in the context of the Glasgow City Council Climate Emergency Implementation Plan and the University's Climate Change Strategy: Glasgow Green.
Image Credit: Ian Dick




Find out more: Sustainable Development Goals
COP 26 - Climate Change Conference
The Dialogues project was also part of the University's preparation for COP-26, an international summit on climate change which took place in Glasgow in November 2021. CfSS, alongside other UofG researchers, collaborated with over 40 higher education institutions as part of the COP26 Universities Network ensuring that there was an ambitious, coherent and comprehensive academic contribution to the summit.
Promoting Sustainability throughout the University
Promoting effective internal communication and collaboration is crucial to the work of the Centre. Only by doing this is UofG likely to meet its target of net zero carbon emissions by 2030. One aspect of this is bringing together the research and professional services communities within the University, so that plans and policies can be directly informed by high quality research, and researchers can access the university as a "living lab". Accordingly, the Centre highlights work from across operations, student groups, and all four colleges relating to climate change and other aspects of environmental sustainability. They offer support with developing new projects, partnerships and events, creating teaching resources for students, staff and the wider community.
Dr Stewart Miller, Associate Director of CfSS and Sustainability Officer for the University of Glasgow reflects on the University's approach to sustainability: "One of the main aims of the Centre is to conduct an audit of climate change related research that is currently being carried out at the University. Having a complete understanding of what is going on in this particular field of research at UofG, is, I think, new for us as an organisation. It's also exciting, as we can start to showcase the work of our academics more effectively and use it as a tool to engage with staff and students around what is an incredibly important issue."
Another important development is that of a new course, Climate Change and Sustainability, which was conceived and developed by students with support and mentoring from the Centre, particularly Director Professor Jaime Toney, who will be the Course Convenor. The 10-week accredited course is open to any student. The Centre will also shortly launch a new carbon literacy accredited course for staff.
Find out more
Centre for Sustainable Solutions
The Centre for Sustainable Solutions was launched in April 2020 to respond to the climate emergency and enhance the growing ambition of the University and its community to be part of the solution. The Centre supports interdisciplinary, cross-campus and cross-sectoral solutions to climate change.