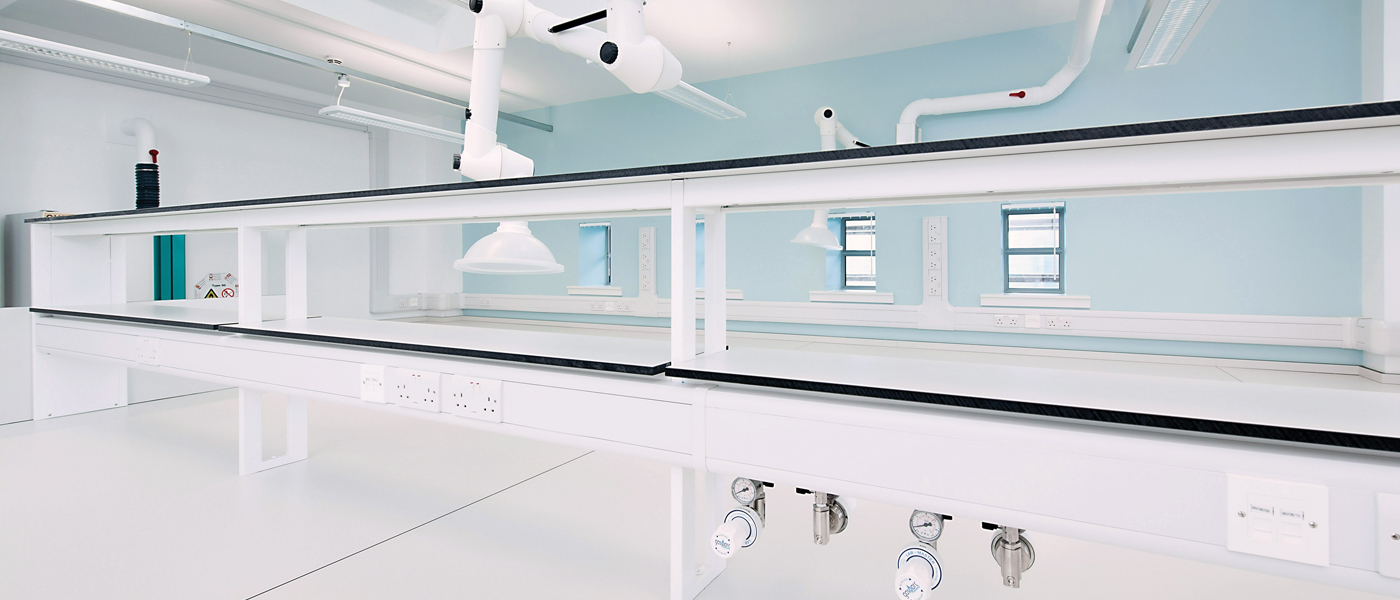 From investment to innovation
Discover more
This article was first published in December 2017.
As part of the University's £1bn campus redevelopment programme, the Joseph Black Building – home to the School of Chemistry – is receiving a £35m make over. Over the centuries investment in chemistry at Glasgow has led to ground-breaking discoveries and world-changing research. Current head of the school Professor Graeme Cooke is well aware of the department's past achievements and expects that this latest investment in chemistry will be a catalyst for even greater things to come.
"By creating a modern environment which is sympathetic to the historic building, open-plan laboratories and world-class facilities we will encourage and strengthen multidisciplinary activities and collaboration throughout the school and with our industrial partners."
Discover more
This article was first published in December 2017.

1747
For the sum of £52, William Cullen established the first lectureship in chemistry at Glasgow.
It appears that his lectures and practical demonstrations were very popular, though he was later to complain that he had expended a much greater sum himself "… in purchasing cucurbits, boltheads and a great many other instruments."


1762
Cullen was succeeded by his pupil Joseph Black whose research on latent heat, shared with his good friend James Watt in 1762, led to the development of the steam engine that drove the Industrial Revolution. Black, who is also credited with discovering carbon dioxide, later complained that his lab was small, dark and unfit for teaching and secured £500 to build a new one.
Pictured: a model Newcomen steam engine that James Watt tried to repair in 1763. It was his failure to coax the machine back to optimum capacity that sparked his invention of the separate condenser, the component that led to rapid expansion in British industry.


‌1818
The Regius Chair of Chemistry was founded by King George III, with Thomas Thomson appointed in 1818 as the first professor. He was a pioneer in emphasising the importance of laboratory work in teaching chemistry and has been called the first teacher of practical chemistry in a British university.
1831
A new laboratory was built, at a cost of £5,000, for Thomson to teach the University's first practical chemistry course.‌
1841
The Chemical Society (now known as the Royal Society of Chemistry) chose Glasgow graduate Thomas Graham as its first president. Graham is known for his studies on the behaviour of gases, which resulted in his formulation of two relationships, both since becoming known as Graham's Laws. His study of colloids resulted in his ability to separate colloids and crystalloids using a so-called "dialyzer", using technology that is a rudimentary forerunner of technology in modern kidney dialysis machines.
1904
The first Lecturer in Physical Chemistry, Frederick Soddy, was appointed in 1904. Fresh from fundamental research with Ernest Rutherford and Glasgow graduate William Ramsay (Nobel Prize, 1904), Soddy carried out a demanding series of experiments at Glasgow which established the relationship between atomic number and Periodic Table position. Soddy's researches led him to make the imaginative suggestion that elements with different atomic weights that did not seem separable by chemical means were indeed chemically identical. He proposed the name isotope, meaning equal place (in the Periodic Table), and won the Nobel Prize for this work in 1922. Pictured: Caesium iodide crystals glowing in the radioactivity emitted by one of Soddy's surviving samples.
1936
A public appeal was launched by Principal Hector Hetherington for a large Chemistry Institute complex of four new specialist departmental buildings for organic, medical, physical and inorganic chemistry. On completion it was the largest chemistry teaching and research building in Britain.
Notable innovative features included separate linked buildings for organic and physical chemistry, a 400-seat lecture theatre, a reading room, broad corridors, high ceilings and special foundations to eliminate vibrations.
1957
Glasgow graduate Alexander R Todd (Lord Todd) received the Nobel Prize in Chemistry for "his work on nucleotides and nucleotide co-enzymes". His pioneering work on the structure of nucleic acids laid the foundations for research to establish the general formula of DNA.
1969
Regarded as the greatest organic chemist of his generation, Sir Derek Barton, Regius Professor of Chemistry 1955-57, galvanised the department in the mid-1950s. He was awarded the Nobel Prize in Chemistry in 1969 for his "contributions to the development of the concept of conformation and its application in chemistry".
2017
Current developments to the Joseph Black Building will provide state-of-the-art laboratories to enhance the student experience, provide modern ways of learning and continue to attract the best students to Glasgow. Past experience at Glasgow has shown that major investment in chemistry makes ambitious aims achievable.
"Ours can be stated quite simply," says head of the school Professor Graeme Cooke. "We aim to become a UK top six research-led chemistry school by 2025."