Making the cut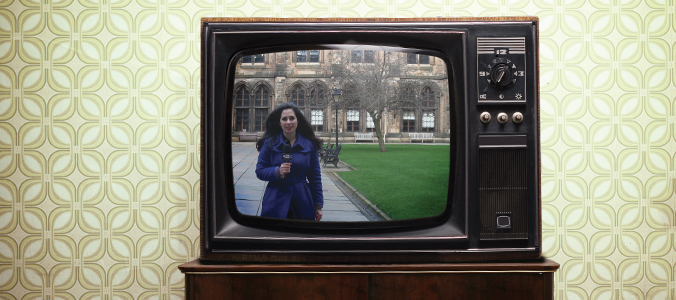 Glasgow celebrates 50 years of student television, where many of television's writers, producers and presenters cut their teeth and learned the skills needed to get ahead in television.
When Glasgow University Student Television (GUST) was founded in 1964, it was a standalone society dedicated to the appreciation of a relatively new phenomenon. Today, it is an integral part of the student media arm of the Students' Representative Council, serving as both a social outlet for students and a University-funded service. For the 50 years in between, GUST has been the impetus for the forging of lifelong friendships, the winning of countless awards and the carving out of fledgling careers in what is a notoriously competitive industry.

Television writer and producer Steven Moffat (MA 1983), of Doctor Who and Sherlock fame, believes GUST certainly influenced his and others career direction. Among his contemporaries, John Hardie (MA 1983) now runs ITN, Hamish Barbour (MA 1983) is MD of IWC Media, and married couple Peter Jamieson (MA 1984) and Julia Knowles (MA 1983) are each renowned producer-directors in their own right. There continues to be a great success rate among recent 'GUSTies' in securing employment in television journalism or production.
A lasting legacy
Enthusiasm for the station lasts long after members graduate. Though no longer a student of the University, former controller Bobby Rae (MA 2011, LLB 2013) is still an honorary GUST member. Having given seven years' service to the station, Bobby has been drafted in as GUST 50 coordinator. Piecing together the evolution of the station has been a long and steady process, and there are many gaps still to be filled. Much like the technical knowledge of the longest continually operating student-run television station in the world*, GUST's history has been passed on from one cohort of members to the next.

'No one comes in to teach us how to do things,' says Bobby. 'Quite often what happens is that members will go out on work experience placements where they learn skills and they then bring those skills back to teach others. The big thing about the GUST 50 project is creating a legacy and part of that is about ensuring that people continue to pass on their knowledge and skills. So as well as beginning to archive our footage, we have written various working practice guides that will be accessible via a dedicated microsite.'

Former GUSTies who now work in the industry shared their expertise with current members and students in a day of workshops held as part of this year's celebrations. The workshops touched on all aspects of TV, from making news and drama to production management.

'It's almost frightening to think of the power that's being developed in small student television stations with really cheap cameras,' says former GUST controller and Scotland Tonight assistant producer James Cheyne (MA 2005). 'Right now, there's almost certainly a future Jeremy Paxman, Kirsty Wark, Ewan McGregor or Steven Spielberg hanging about in one of these university offices somewhere, waiting to be discovered. Student TV is giving them the opportunities to develop, the opportunities to learn, the opportunities so that when they go to a job interview, they're just going to blow them out of the water.'‌
Broadcasting bonus
In 1967 the University established a television studio in Southpark House that remains in use to this day by the University's own Media Production Unit and Film & Television Studies students. GUST jumped at the chance to use the new facility and by the early 1970s the station was starting to look a lot like it does today. The National Student Television Association (NaSTA) was established in 1973, with GUST one of its founding members.

An amazing stroke of luck meant that GUST was able to buy a radio frequency (RF) transmission line at some point in the late 1980s or early 1990s. Legend has it that the price paid was just £1, as it was purchased from a BT subsidiary that was going out of business. The RF line gave GUST a direct feed from the office to the studio and then out across the campus. For almost 20 years, Glasgow students could tune in to the latest GUST programmes on screens in the QMU and GUU and even in student halls of residence.

Rather than transmit dead air when it ran out of programmes to broadcast, GUST trained a camera on the office goldfish. Gustav was the station's placeholder until the day he died on air – so the story goes – just as the crew had settled down to eat dinner in the Union refectory.

Chris Hall (MA 2007), who now works alongside property experts Kirstie Allsopp and Phil Spencer as senior production coordinator at Raise the Roof, remembers hearing about Gustav's death by text message. 'I seem to remember text messages going round saying Gustav is dead,' says Chris, who became GUST's Controller in 2005, the year after Gustav's death. 'People were watching the dead fish floating around for about an hour until we realised.'

It was also during Chris's time with GUST that the station stopped broadcasting via the RF Line, when the line was sold off and then not replaced. The station began posting more and more videos online, a trend that has continued.
Digital broadcasting has since allowed student TV to really take off, and all of the Glasgow station's programmes are now available online at www.gust.tv. Live broadcasts include the Freshers' address. Quality has improved with the recent switchover from taped-based to high-definition cameras, a laborious and costly process.

'Most student TV stations have enormous budgets, which obviously does increase production values,' says Technical Coordinator Arif Nadeem. 'Most of our programmes don't really require any budget at all and whatever money we have goes towards equipment. I think one of the reasons we do so well at the NaSTA awards is because we show that you don't have to have the best equipment, it's about the idea and how you execute it with what you do have.'
Betamax gems
GUST is run by the 'top four' – the controller, two heads of programming (creative and factual) and the technical coordinator – and currently has 64 members. It is the only student media team that's elected, with the successful candidates taking up their posts for the following session in July. This allows plenty of time to prepare for Freshers' Week, an intense period in the GUST calendar. More Freshers' Week programming was produced in 2013 than ever before.

'We produced five programmes every single day,' says current controller Alicja Tokarska (pictured below), whose personal highlight was interviewing The Maccabees, who DJ'd at the QMU. 'That is usually a 24/7 process – the office is never empty. This year, Go Think Big reviewed Freshers' Week coverage from universities all around the country and ours was selected as the best in the UK.'
GUST programming has always been a mixture of the serious and the not-so-serious. Among the Betamax tapes to be catalogued and archived is footage of celebrities like Jude Law and Sean Pertwee being interviewed together before they went stellar, and Stephen Fry discussing 'his G-Spot' in a tongue-in-cheek promo for the station's now 20-year-old arts programme. The first music video of Glasgow alumna and multi-award winning singer songwriter Emeli Sandé, Kill the Boy, was directed and produced by none other than GUST.

The crew was there to tell the story when the Bower Building went up in flames, and covering serious news has brought GUST industry attention on more than one occasion. When BBC News had a technical glitch while trying to cover the student protests, it was GUST that stepped in to film on the team's behalf. In the 1990s, BBC Scotland commissioning editor Ewan Angus enlisted GUST to produce a student night that went out on BBC2. And two of the crew famously filmed the Edinburgh riots that kicked off during the G8 summit in 2005, having 'embedded' themselves with a group of anarchists.

For James Cheyne, the footage helped to secure him one of six places on the highly coveted Sky graduate trainee programme.

'We filmed this incredible footage,' he says. 'It turned very violent quite unexpectedly – people were running into traffic and were hit by cars, cars were turned over. We marched up to the mainstream media, some of whom had pulled back a bit, and offered them the footage for £300. In the end, I settled for £150 and a good word for the Sky News traineeship.

'I think I was the only candidate accepted who didn't have a journalism-related degree or postgrad and that was down to the experience that I had had in GUST.'
NaSTA-tastic
Testament to the talent and hard graft of crew old and new is the shelf heaving with awards that skirts the perimeter of the GUST office in the John McIntyre Building. GUST has been crowned Best Broadcaster more than any other student TV station in the UK and at its peak took the top NaSTA title ten years in a row.

The annual NaSTA conference and awards is one of the most eagerly anticipated events of the year and GUST throws itself wholeheartedly into preparations. Compiling entries invariably necessitates all-night editing sessions and the journey to the host university is often an event in itself. While smaller stations send just one or two delegates, the band of 30 eager GUSTies that made the 12-hour pilgrimage to Exeter by bus in 2013 is typical of past turnouts.

STV News video journalist Kirsty Malcolm (MA 2010), who joined GUST in 2005, was heavily involved in preparations when Glasgow hosted the NaSTA conference in 2010. She credits the experience with giving her opportunities she would otherwise never have had to make industry contacts – some of whom she is still in touch with today.

'Nobody likes you just asking for work experience – you have to be more inventive than that,' says Kirsty. 'Saying that you're organising the National Student Television Association awards sounds really good and you get to talk to people you probably wouldn't get to talk to normally. Even the year before the awards I used it as an opener to ask STV director of content Alan Clements for his contact details. Everyone else was going up and giving him their CVs, but he didn't give his contact details to anyone else from GUST that night.

'Some people are in GUST to be creative or just for the fun of it. But if you are on a bit of a mission to get somewhere, it is very good at helping you to make those industry connections.'

'Once someone has been in GUST for a couple of years it does stay with them,' says Bobby. 'No matter how successful you get or where you go in television, you know that it all began in a little office at the top of the John McIntyre building.'‌
More about GUST
This article was first published in May 2014.