Adam Smith: Scholar, Educator, and Citizen
To mark the Adam Smith tercententary the University of Glasgow's Archives and Special Collections created an exhibition display in the University Library.
The exhibition - Adam Smith: Scholar, Educator, and Citizen - examines Smith's life, works and lasting influence in Glasgow and beyond.
It is free and open to everyone.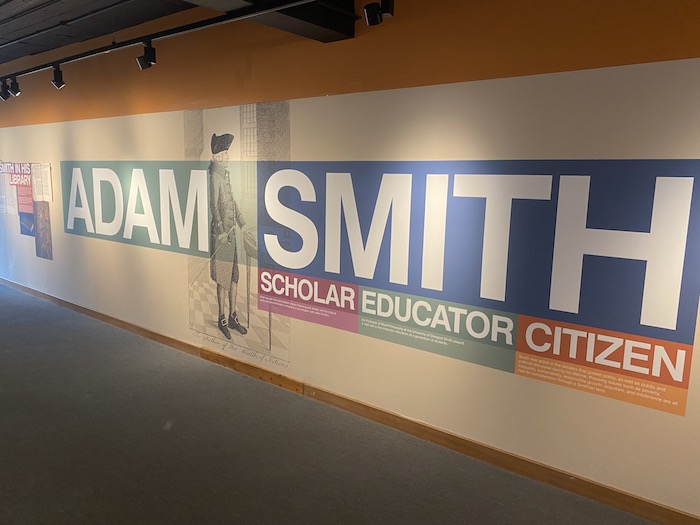 Archives and Special Collections holds a variety of early editions of Adam Smith's work, as well as notes and letters written to and from Adam Smith. These include:​
The Theory of Moral Sentiments
Sp Coll Mu40-d.10 London: 1759
The first edition of Adam Smith's first book, written while he was Professor of Moral Philosophy in Glasgow. This is a presentation copy from Adam Smith to Henry Home, Lord Kames. ​
Métaphysique
de
l'âme
:
ou
,
Théorie
des
sentimens
moraux
Sp Coll RB 3834-3835 Paris: 1764
The first edition of the Theory into French, translated by Marc-Antoine Eidous, who had previously translated Hutcheson's Inquiry into Beauty and Virtue. ​
Wealth of Nations
Sp Coll Mu6-y.20-21 (vol. 1 only on display) London: 1776 22
The first edition of Smith's classic work. Published in 1776, this was the first text to tackle economic theory in a clear historical narrative. The library holds several editions of this work, including a copy of the fourth edition that belonged to the poet, Robert Burns.​
Juris Prudence or Notes from the lectures on justice, police, revenue, and arms delivered in the University of Glasgow by Adam Smith
Sp Coll MS Gen. 109 Manuscript: 1766
This text is a fair copy (made by a clerk), of a student's notes of Smith's lectures at Glasgow. There is evidence that the lectures on jurisprudence from which the original notes were taken were delivered in the academic year 1762-3 or in that portion of the session 1763-4 which preceded Smith's departure from Glasgow.
The manuscript was published in 1896 with an introduction by Edwin Cannan. He demonstrated that the lectures contain much of the material later used in the Wealth of Nations.
Smith and Glasgow today
The University of Glasgow is a major centre for the study of Adam Smith and the Scottish Enlightenment, and holds many significant artefacts connected with Smith.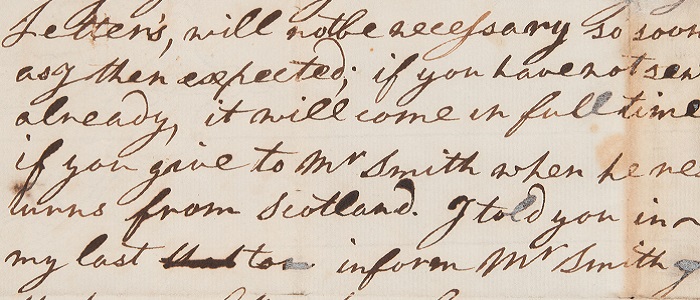 Marginalia Project
This research is analysing the marginalia in Adam Smith's personal library to provide insight to his intellectual biography.