Events
Events
Events have been going across Scotland - at the University of Glasgow, and in Edinburgh and Kirkcaldy - to mark the tercentenary of Adam Smith, including conferences, workshops, lectures, student activities, public talks and exhibitions, and more.
University of Glasgow partners across the world are also participating in this major commemoration.
We hope you can join us at one or more of these opportunities to reflect upon the life, work and legacy of Adam Smith.
Smith Around the World Lecture Series
Adam Smith 300 is a timely opportunity to renew the global interest in Adam Smith - a world-changer and one of the world's most inspiring political economists - and to bring his ideas and legacy into contemporary debates around the globe.
Over the course of 2023, our global university partners have been hosting Smith Around the World Lecture Series on their campuses, many of which have been recorded so they can be shared with our global community

Tercentenary Week: 5-10 June 2023
Adam Smith Tercentenary Week was an opportunity to hear some of the world's most prestigious speakers on Adam Smith's legacy
Commemorative activities included an exhibition, a public event with academics and policymakers, a student conference, tours, and workshops. The week concluded with a day-long symposium where international scholars and practitioners brought Smith into conversation with contemporary issues.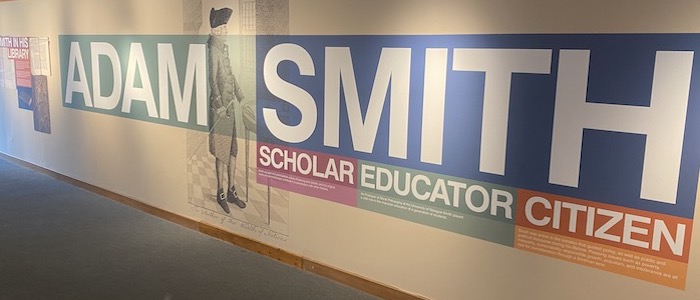 Adam Smith 300 exhibition
The University of Glasgow holds one of the most significant collections of Smith related artefacts and to mark the Tercentenary hosted an on-campus and parallel virtual exhibition.
It included Smith-related letters, books, and material from the University Archives and the Hunterian Museum, as well as reflections on his time in Glasgow at the beginning of the industrial and imperial age.
Past events
See some of the events that have been taking place as part of the Adam Smith Tercentenary.
Access videos, information and photos of the events, and see reactions from attendees shared on social media.