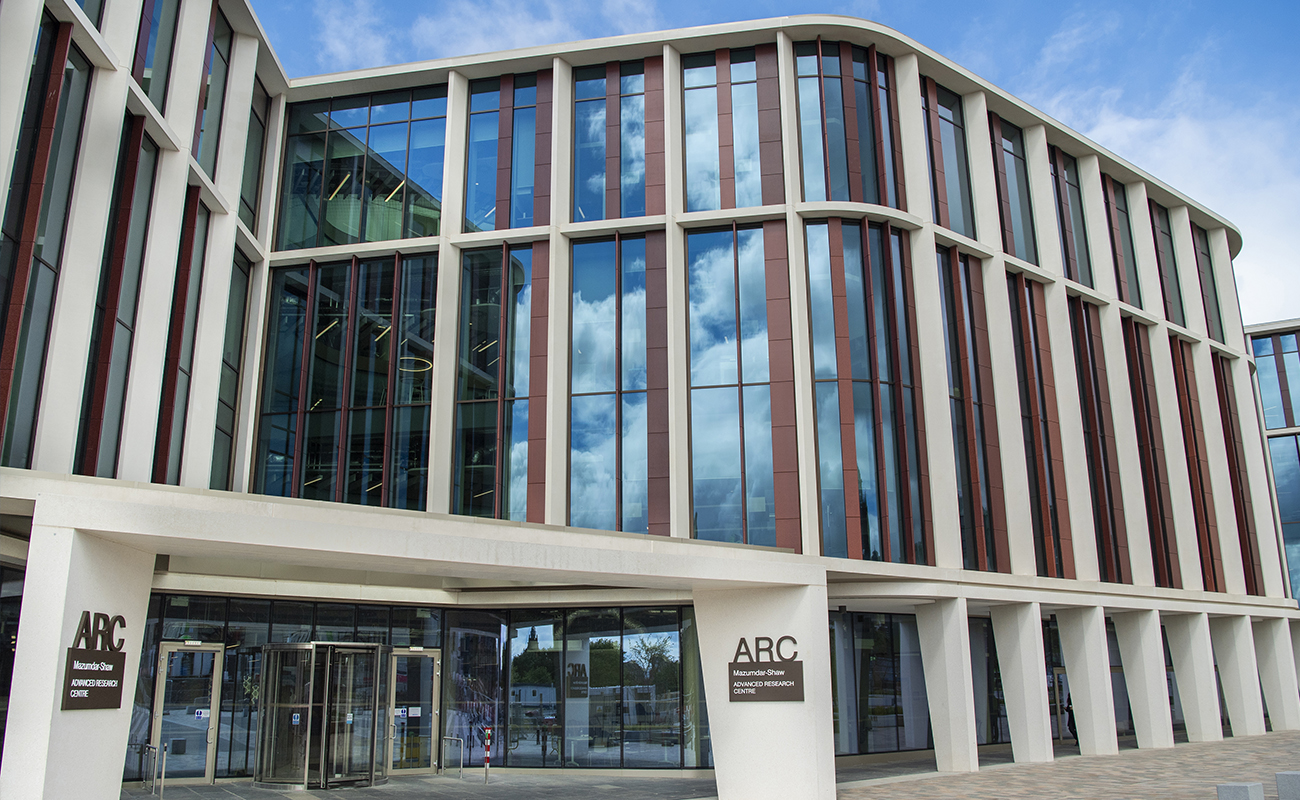 Mazumdar-Shaw Advanced Research Centre (ARC)
If you'd like to discuss support options for ARC research projects, please get in touch:
The Mazumdar-Shaw Advanced Research Centre (ARC) will be the creative and collaborative heart of research at the University of Glasgow. The £116m building will help bridge the boundaries between research, cross subject collaboration and true societal impact.
The ARC brings together leading researchers in a building specifically designed to break down organisational structures and nurture interdisciplinary collaboration. By housing diverse teams in the same building, individuals and research areas will cross paths organically, giving way to new and exciting areas of research.
On March 28th 2022, it was announced the building would be named after Glasgow graduate John Shaw and Kiran Mazumdar-Shaw. The couple gifted $7.5m to the University in July 2019. Their gift, and the many other gifts given to the development of the ARC, are key to Glasgow's world changing impact. Philanthropic support stimulates research, innovation, and education. The donor wall, found on the ground floor, recognises the many contributions made from alumni and friends across the globe.
The ARC was officially opened on June 8th 2022 by Nobel Laureate and graduate Professor Sir. David MacMillan. A recap of the day's events can be seen in the video below.
Mazumdar-Shaw Advanced Research Centre Opening from University of Glasgow on Vimeo.
If you'd like to discuss support options for ARC research projects, please get in touch:
Find out more
Our themes
Research in the ARC will be focused around five thematic areas:
Technology for Life – bringing together medicine, engineering and chemistry to focus on health care innovations such as drug discovery, regenerative medicines and stem cell technologies.
Digital Chemistry – enabling molecules, compounds and materials to be autonomously discovered, synthesised and manufactured from code. Bringing together expertise from chemistry, computing science and engineering this has the potential to be huge for transforming the production of pharmaceuticals.
Quantum and Nano Technologies – bringing together researchers from engineering and science and collaborating with health, energy and security sectors, Glasgow will be the go-to-place for research in quantum imaging and sensors.
International Development – natural scientists, vets, medics, engineers, educators and social scientists all come together to engage in poverty reduction in the global south.
Creative Economies and Cultural Transformation – bringing together academics from disciplines such as creative and cultural policy, law, digital humanities and immersive technologies to have a significant impact on the creative economy of Glasgow and beyond.
Find out more