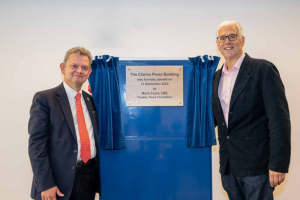 Principal of the University, Professor Sir Anton Muscatelli, and Mark Pears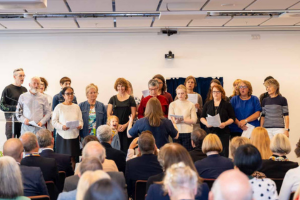 Choir performing Where I Belong at the official opening ceremony
Find our more about the Clarice Pears Building
The official opening of the Clarice Pears Building
Tuesday, 12 September 2023 saw the official opening ceremony of the Clarice Pears Building, the new home of the School of Health and Wellbeing.
The official opening was attended by donors to the building, partners of the school and representatives from several of the community groups that have been working with the Clarice Pears Building. The event was a chance for visitors to tour the space and learn more about the work being done within the building.
This state-of-the-art building brings together researchers to work with third sector organisations, local government and the NHS. This collaborative environment will support researchers to tackle some of the world's biggest health challenges and inequalities both in Glasgow and around the globe.
The ground floor of the building is also home to the Byres Community Hub, a welcoming space that is open to the public and hosts interactive exhibits, research exhibitions and seminars. The Byres Community Hub also offers opportunities for local community members to participate in research and networking events with other like-minded organisations.
During the ceremony, Principal of the University, Professor Sir Anton Muscatelli welcomed guests before inviting Mark Pears CBE to officially open the building. Mark and his brothers, Trevor and David, founded Pears Foundation which donated £5 million towards the construction of the building.
Mark said, "I am tremendously proud to officially open this new building, which bears the name of my mother, Clarice Pears. The mission of the University of Glasgow's School of Health and Wellbeing closely mirrors that of the Pears Foundation, to tackle key issues relating to the wellbeing of people and communities around the world. On behalf of the Pears Foundation, I look forward to working closely together with the University of Glasgow to meet those challenges in coming years."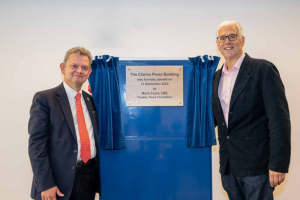 Principal of the University, Professor Sir Anton Muscatelli, and Mark Pears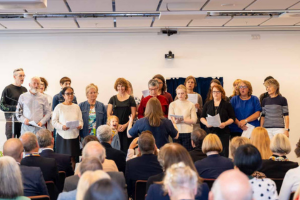 Choir performing Where I Belong at the official opening ceremony
Find our more about the Clarice Pears Building