Find out more: Sustainable Development Goals
The International Green Academy is an interdisciplinary coalition of academic and community partners from the University of Glasgow, the University of Arizona, and high schools across the same regions.
School gardens can provide a space for outdoor learning, fresh food for local communities (from families to foodbanks), and a space of health and mental wellbeing for students.
The central aim of the Academy is to promote ecological justice by engaging school pupils in local gardening practices. These direct actions have the potential to empower vulnerable populations, combat ecological anxiety, and highlight wider socio-economic issues in the areas.
World-building from the ground up
The concept for the Academy began with the University of Arizona's Community and School Program, which was launched in 2009 and developed over ten years into a sustainable network of 24 schools and 3 community garden sites.
With financial support from the British Academy and the University of Glasgow Chancellor's and Knowledge Exchange Funds, the model has been implanted in Glasgow, with a few tweaks to fit the different geographical and social context – including the accommodation of Glasgow rain!
The Academy aims to connect Glasgow students to their local environment, and encourage an awareness of urban environmental justice, sustainability, and food autonomy.
Dr Cheryl McGeachan, a lecturer in Human Geography at UofG, played a leading role in setting this programme, establishing partnerships with four schools around Glasgow.
St Mungo's Academy in Gallowgate and Lourdes Secondary in Cardonald are the lastest schools to sign up to the Academy, following successful pilot projects atBoclair Academy in Bearsden and Drumchapel High School which began in 2019 and have continued to flourish despite the challenges of COVID-19.

Find out more: Sustainable Development Goals
The Green Technicians
Instrumental to these transformations is the team of Green Technician volunteers from the UofG Geography and Earth Science student community.
Speaking of her motivation to take part, student Kirsty commented, "I believe that we Geography students have a duty to engage with local communities and share our knowledge of sustainable futures in the hope that projects like this can inspire further school communities in a proactive way to engage with ecology in the face of climate change."
Another Technician Phi, spoke about how the programme provided an opportunity for her to combine the academic and social components of her degree. She explained, "Since coming to Glasgow, my passion for foraging, permaculture and gardening, especially the potential of small-scale urban agriculture, has increased enormously. Taking part in the Green Technician programme is an amazing opportunity for me to learn more about urban gardening and ecology, put this knowledge to good use in the school garden and give me the chance to share that learning experience with the students of Boclair Academy."
Student Lily explains how this transformation of unused greenspaces around Glasgow is of vital importance.
"Despite housing a relatively large amount of green space compared to many cities in the UK, I've been saddened by the lack of opportunity to engage with these issues at the local environmental level, offered throughout Glasgow. I'm hugely inspired by the International Green Academy's mission to build socially progressive and resilient urban ecologies."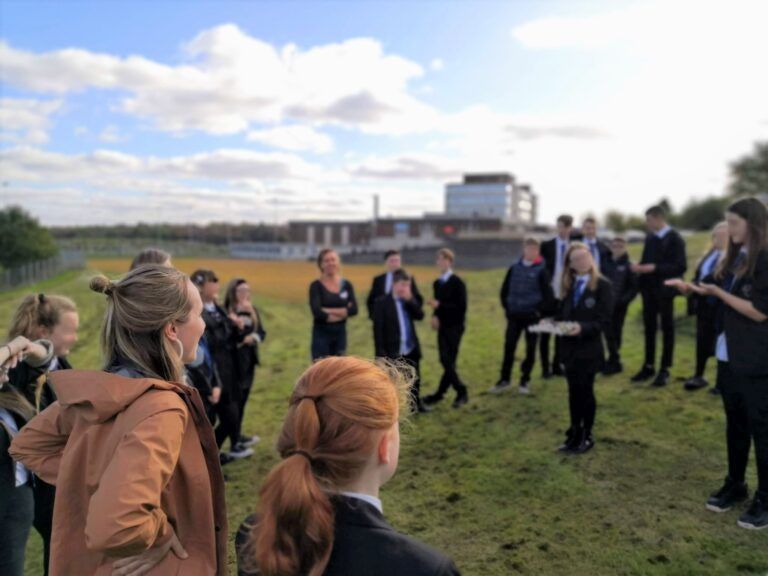 Discussions with school pupils about the school garden
Engaging students
Beyond the impressive aesthetic transformation and student engagement, the core of the International Green Academy is its educational impact.
At Drumchapel High, the team that created this garden are pupils at the school who have struggled in mainstream educational settings. Through the outdoor and active gardening sessions, they have created an alternative learning space while exchanging knowledge with researchers and volunteers. Discussions of what to do with food grown in the garden throughout the year has highlighted the community-oriented nature of the pupils, with food grown donated to the school and foodbanks.
"Working with Drumchapel has been very exciting because there's a lot of pride in the site. The students know that the communities they live in have been very badly hit by COVID, and are very keen that anything grown in the garden should be for the most needy in the community". Dr Cheryl McGeachan, University of Glasgow
Participatory methods have led to the creation of something which will hopefully benefit not only current participants, but school communities, for years to come.
This is an important aspect of the University's commitment to civic engagement – integrating into the community, sharing its resources with local groups, and appreciating that even as a world-class higher education institution, it still has a lot to learn from younger generations.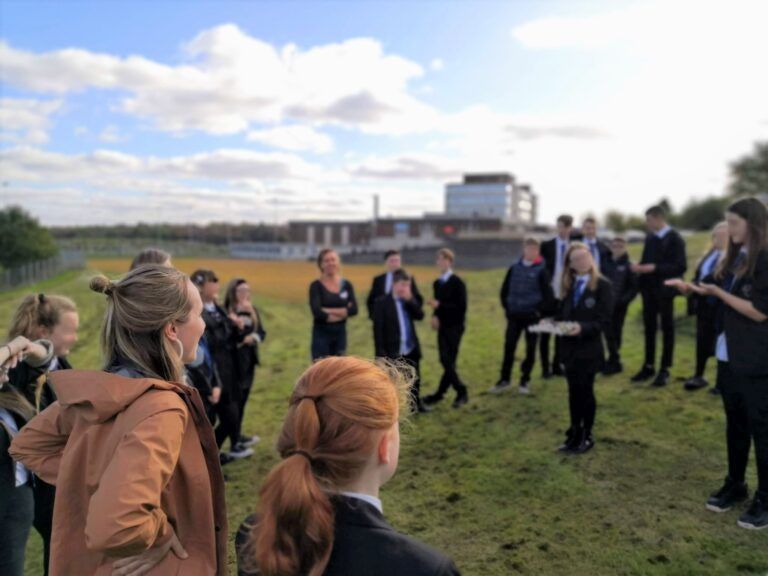 Discussions with school pupils about the school garden
Find out more
International Green Academy
The International Green Academy researches how universities and schools can work together to build school gardens that empower pupils and their communities – in an age of unprecedented ecological and social challenges. The Academy is a collective of researchers from the University of Glasgow, University of Leeds and University of Arizona, as well as teachers and pupils at schools at Glasgow (Boclair Academy & Drumchapel High School) and Tucson (Tucson Unified School District).
Find out more