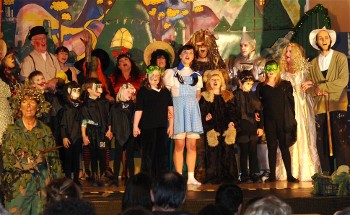 Scottish pantomime survey
Following the 2008/2009 pantomime season, the Pantomime in Scotland project worked with the Fraser of Allander Institute at the University of Strathclyde to carry out a survey of professional and community-based pantomimes which took place across Scotland, from Orkney to Arran, Partick to Mallaig!
Undertaken by the Pantomime in Scotland research team and Stewart Dunlop of the Fraser of Allander Institute, the survey provides the first detailed statistical analysis of the economic significance of pantomime in Scotland.
Key findings of the survey, conducted in respect of the 2008-09 season, were that:
567,334 people - which is 11% of the population, or 1 in every 9 people in Scotland – saw a professional pantomime in Scotland in the 2008-09 season.
Box office income for 21 professional pantomimes was £5.7 million.
Professional pantomime supported a total of 291 jobs in Scotland, and generated £3.46 million worth of wages in Scotland.
5,188 people were involved in 81 non-professional pantomimes.
An estimated 1 in every 31 people in Scotland saw a non-professional pantomime.
Download a fuller summary of the Pantomime Survey (word document).
Community pantomimes in Scotland
We identified an amazing 129 community-based pantomimes which took place during the 2008/2009 pantomime season! Some examples of these are listed below. Look out for some old favourites, stories with local flavour, workplace pantomimes and even a performance on an RAF base!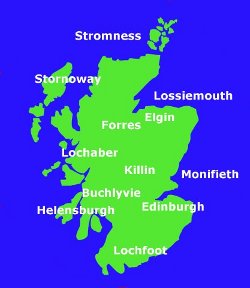 Highlands and Islands
Easdale Pantomime performed Ali Baba and the Magic Barra from an original script (2-3 Jan 2009)
Killin Drama Club, Perthshire performed The Young Sherlock Holmes and the Case of Dick Whittington's Cat at the McLaren Hall, Killin (15-17 January 2009)
Lochaber Showstoppers performed Follow the Yellow Brick Road from their own script (11-13 Dec 2008)
Stromness Drama Club opted for Peter and the Wolf this year, featuring scenes and roles for local primary school children as forest animals (4-13 December 2008)
Thespians Drama Club, Stornoway, Lewis performed Ogre-Ella from an original script (2-6 December 2009)
North-east
The Buccaneer Theatre Club, RAF Lossiemouth, Moray staged Hansel and Gretel (31 Jan-1 Feb 2009 and 6-7 February 2009)
Elgin Amateur Dramatic Society (EADS) performed Snow White and the Seven Dwarves (17-20 December 2008)
Letham Drama Group, near Forfar, Angus performed Puss in Boots (22-24 January 2009)
Monifieth Amateur Dramatics performed Mother Goose (5-7 and 13-14 December 2008)
Varis Players performed Robinson Crusoe in Forres Town Hall (22-24 Jan 2009)
Borders
Lochfoot Panto Group, by Dumfries performed Ali Baba (3-7 Feb 2009)
Central
Buchlyvie Panto Group, Stirlingshire performed Molly McGinty and her Magic Speug from an original script by Helen Murdoch (8-13 December 2008)
Helensburgh Theatre Arts Club performed Stourie Annie - A Helensburgh Cinderella from an original script (up to 13 December 2008)
Staff at the National Library of Scotland in Edinburgh staged their annual pantomime entitled Snow White and the Seven Book-Fetchers (12 December 2008)
Professional pantomimes in Scotland
In addition to community-based pantomime, Scotland has a rich and active tradition of professional pantomime.
From the traditional to the contemporary, pantomimes and Christmas shows combine humour, colourful costumes and larger-than-life characters to bring stories alive.
Have a look at this selection of pantomimes that took place in 2008/2009. How many did you see?