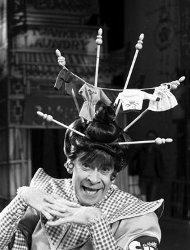 Welcome to the website for Pantomime in Scotland – an AHRC-funded research project based in the Department of Theatre, Film and Television Studies at the University of Glasgow that ran from 2007-2010.
Although the project has now finished, this website contains information on our activities and research, which aimed to explore, document and celebrate one of Scotland's great popular art forms.
Find out about our pantomime exhibition, see some archive pantomime footage and find out just how many people get involved with professional and community-based pantomime across Scotland!