Purchase a copy of the DVD from:
BFI, London
Pantomime in Scotland: a celebration of Scottish pantomime on film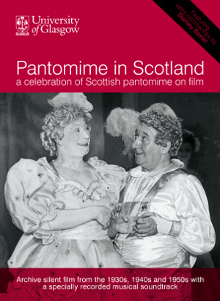 Archive silent film from the 1930s, 1940s and 1950s with a specially recorded musical soundtrack
Available on DVD now online from the University of Glasgow Shop!
Providing a unique insight into a forgotten golden age of pantomime, these films from the collections of the National Library of Scotland – Scottish Screen Archive offer a remarkable glimpse of the ephemeral art of live theatre.
These silent amateur films feature pantomimes from 1931 through to 1952. From the star-filled extravaganzas of the Alhambra Theatre Glasgow to the smaller variety-style productions at Glasgow's Royal Princess's Theatre, from classic routines such as the school room scene from Babes in the Wood to forgotten speciality acts such as acrobats, dancers and performing dogs, this material provides an unparalleled opportunity to re-live the heyday of Scottish pantomime.
Includes a 24-page illustrated booklet with further information on the films and soundtrack and extra commentary from pantomime legend Stanley Baxter on the stars of Scottish pantomime.
Extras
rare sound film of Scottish comedian Tommy Lorne from 1927
cinema trailer for Tartan Galore, a winter show at the Metropole Theatre Glasgow in 1934
Running time: 165 minutes
"These films offer a wonderful glimpse of the Scottish pantomimes and stars that I remember seeing as a boy - marvellous!" - Stanley Baxter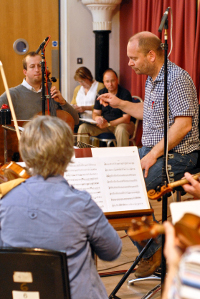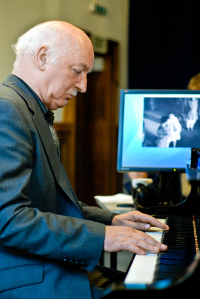 To purchase a copy of the DVD online, go to the University of Glasgow Shop or call 0141 330 5511 (Mon - Sat, 9.30am - 5pm).
To purchase in store, visit the University Gift Shop on campus.
Read Keith Bruce's article about the creation of the DVD.
Purchase a copy of the DVD from:
BFI, London