Glasgow Quantitative Methods Group (GQMG) is based in the School of Social & Political Sciences at the University of Glasgow. The group promotes interdisciplinary use of quantitative methods in research & teaching. Group activities include a seminar series, occasional methods workshops, and short courses on various quantitative analysis techniques.
Join our mailing list or contact Professor Mark Tranmer for more information.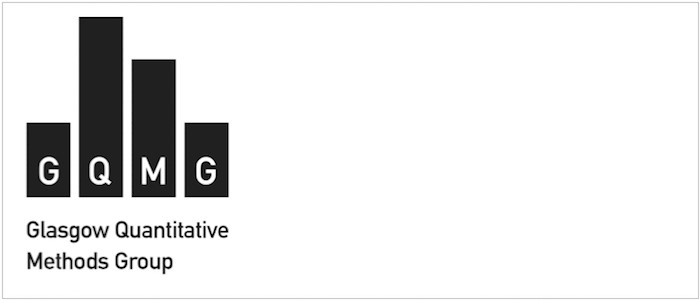 ‌
Who are we?
GQMG is a collaborative group comprised of members from across the School of Social and Political Sciences, and across the university.
School of Social and Political Sciences
MRC/CSO Social and Public Health Sciences Unit
Events
During term time, GQMG offers a series of seminars each Tuesday at 13:00 in the Adam Smith Building. Information on the Events can be found on the School's events calendar.
Contact Us
GQMG is co-ordinated by Mark Tranmer, Professor of Quantitative Social Sciences.
Join our mailing list
The GQMG mailing list provides an opportunity to share information and ideas on quantitative methods training and research. Subscribers will also receive information about forthcoming seminars and events of interest taking place at the University of Glasgow.
Connect with us
GQMG is on twitter. Follow us for the latest updates and to join the quantitative methods conversation.
Glasgow Q-Step
GQMG is an interdisciplinary group - with links to a number of schools, departments, groups and institutions, including Glasgow Q-Step. Glasgow Q-Step aims to achieve a step-change in quantitative literacy in social science through an integrated life-long learning model of working between social scientists, educationalists and mainstream statisticians at the University of Glasgow.