Glasgow Quantitative Methods Group (GQMG) is based in the School of Social & Political Sciences at the University of Glasgow. The group promotes interdisciplinary use of quantitative methods in research & teaching.
Group activities include a seminar series, and short courses on various quantitative methods.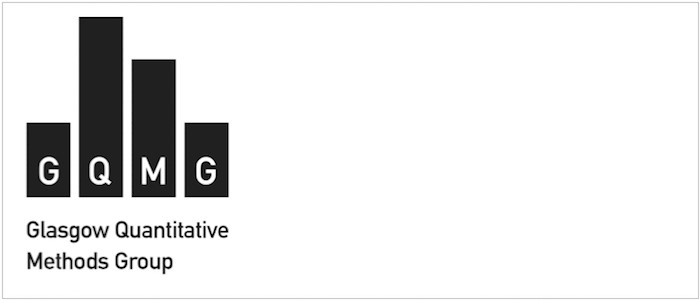 ‌
Who are we?
GQMG is an interdisciplinary group, with members from across the School of Social & Political Sciences, and across the university.
Our executive committee represents some of these different disciplines:
GQMG Executive Committee:
Events
From early 2020 we will run a seminar series from 12-1pm on a Tuesday at the main University site, in the West End of Glasgow. Details to follow.
Methodological Expertise
Some of the quantitative methods and software for which we have expertise are: Longitudinal Data Analysis; Modelling Categorical Data; Spatial Data Analysis; Multilevel Modelling; Social Network Analysis; Design and Analysis of Complex Surveys; Relational Event Models; Data Reduction, Classification, and Scaling; R statistical software.
Related Organisations
GQMG is an interdisciplinary group - with links to several organisations, including:
Glasgow Q-Step
Glasgow Q-Step aims to achieve a step-change in quantitative literacy in social science through an integrated life-long learning model of working between social scientists, educationalists and mainstream statisticians at the University of Glasgow.
Urban Big Data Centre (UBDC)
UBDC is a research centre and national data service based at the University of Glasgow. UBDC promotes the use of big data and innovative research methods to improve social, economic and environmental well-being in cities.
MRC Social and Political Health Services Unit (SPHSU)
SPHSU conducts high quality research that has a real impact on health and wellbeing, and on reducing health inequalities – both at home and across the globe.
This unit has a focus on developing and using cutting-edge methods to understand how social, behavioural, economic, political and environmental factors influence health. SPHSU works with decision makers, practitioners and the public to identify interventions and policies that can have an effective and sustained impact on health and wellbeing, particularly among those most in need.
Contact Us
GQMG is co-ordinated by Mark Tranmer, Professor of Quantitative Social Science.
Please contact us if you have a question about the development and application of quantitative methods to answer substantive research questions in the social and political sciences and/or public health.
If you are interested in pursuing a PhD in the School of Social & Political Sciences that may involve quantitative methods, please contact us.
Join our mailing list
The GQMG mailing list provides an opportunity to share information and ideas on quantitative methods training and research. Subscribers will also receive information about forthcoming seminars and events of interest taking place at the University of Glasgow.
Connect with us
GQMG is on twitter. Follow us for the latest updates and to join the quantitative methods conversation.