Child Health
University Department of Child Health
The Samson Gemmell Chair of Medical Paediatrics (the first such Chair in the UK) was established by Glasgow University in 1924, in memory of an Ayrshire doctor who became the Regius Professor of Clinical Medicine (1908-1913). Professor Samson Gemmell worked in the Children's Hospital at Garnethill for many years in addition to his Adult ward duties.
The first holder of the Chair (1924-1930) was Dr Leonard Findlay (1878-1947). After training in Glasgow and Germany, he became the First Leonard Gow Lecturer and was subsequently appointed to the newly founded Chair. This was held at the Royal Hospital for Sick Children, Yorkhill, opened in 1914.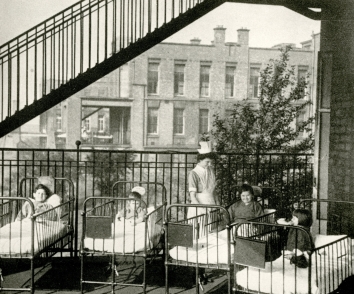 After World War II, the chair was held from 1947-61 by Stanley Graham (1895-1975). He wrote a book on acidosis and alkalosis (with Professor Noah Morris), was President of the British Paediatric Association (1955), and President of the Royal College of Physicians and Surgeons of Glasgow (1954-56).
He was succeeded by James H Hutchison (1961-77) (read more), who researched on tuberculosis, resuscitation of the newborn and the use of hyperbaric oxygen, respiratory diseases and thyroid disease. He described the pathogenesis of dyshormonogenetic thyroid disease with Professor Edward McGirr (See Medicine - Royal Infirmary).


He was the author of a well-known textbook (Practical Paediatric Problems) and was awarded a CBE in 1971 (find out more).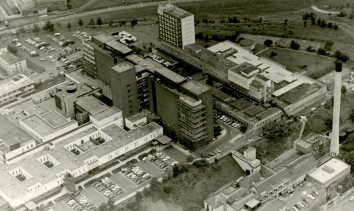 The Royal Hospital for Sick Children at Yorkhill underwent major changes at this time, being evacuated to Oakbank Hospital (1966-71) while the old hospital was demolished and replaced by the new Yorkhill Hospital, joined by an "umbilical cord" to the new Queen Mother's Maternity Hospital.


Forrester Cockburn succeeded Hutchison as Professor (1977-96). He inherited the excellent facilities created by Hutchison and Professor Ian Donald (see Obstetrics and Gynaecology). The Social Paediatric and Obstetric Research Unit (SPORU), led by Dr Paget Stanfield, had highlighted the links between poor mental and physical health of mothers and children and unemployment, low income, malnutrition, and lack of education. Cockburn's challenge and ambition was integration of Maternal and Child Health research and undergraduate and post graduate teaching in the new hospitals and surrounding communities.
There had been a demarcation between the University medical services run by Hutchison, and the NHS services run by Dr Robert Shanks who was responsible for medical wards in the RHSC and the perinatal and neonatal services in the Glasgow Royal Maternity Hospital in Rottenrow. Shanks and Professor Callum Macnaughton, who held the Regius Chair in Obstetrics and Gynaecology at Rottenrow, made the integration of University and NHS services relatively straightforward.
Dr Krishna Goel (1936-2018) worked with Hutchison and Shanks, forming a critical link between the neonatal services at the Southern General, Royal Maternity and Queen Mother's Hospitals. His research work on vitamin D deficiency rickets in the West of Scotland Asian community, the creation of films about its causes and prevention in relevant languages, and the complementing of chapati flour with Vitamin D, brought about a dramatic reduction in "Asian Rickets". He later specialised in rheumatology.
There were four senior lecturers in the department at this time, namely-
Gavin Arneil,
Eric Coleman,
William Hamilton
Margaret Kerr

Their specialist contributions heralded the move towards the creation of other child health specialities, and much of Cockburn's administrative role was devoted to this.

The increasing teaching load on NHS staff was recognised by granting all the previously designated NHS consultants Honorary University Lecturer status. Nurse teaching and training was accommodated in the same building as the Department of Child Health, which helped facilitate undergraduate and postgraduate learning from the nurse teaching staff sharing the teaching processes.
Gavin Arneil (1923-2018) was the Leonard Gow Lecturer and then a Personal Professor. He developed a world leading speciality in childhood renal medicine. His epidemiological research into causes of post-perinatal infant mortality led to an increased awareness of the prevalence of "cot death" or Sudden Infant Death Syndrome (SIDS), and to the development of a service for affected families in the West of Scotland, as well as further research into possible causes. This work developed in collaboration with paediatric pathologists Angus Gibson, Ainslie Patrick and later Alan Howatson, microbiologist Tom McAllister, Procurators Fiscal and the police. Systems and services developed in Glasgow were gradually adopted throughout Scotland. Services were integrated within a multi-disciplinary group, the Yorkhill Cot Death Unit, which became the Scottish Cot Death Trust. Following Arneil's retiral, this work was continued by James Paton (see Respiratory below) and then Tom Turner (see Neonatology below).
Eric Coleman (1925-2016) became the Leonard Gow Lecturer when Arneil was granted a Personal Professorship by the University. He was a cardiologist who managed the postgraduate teaching and cardiology technician training programs (see Cardiology).
William Hamilton was an endocrinologist with interests in growth hormone and in cystic fibrosis (see Endocrinology).
Neonatology
Neonatology (the care of newborn babies) was an early-developing specialty within Child Health.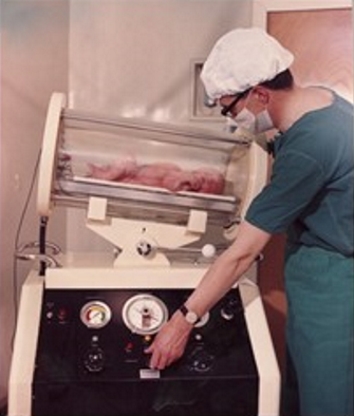 Margaret Kerr, known to countless parents as "that wee wuman", set the standards, including routines, hygiene and note-keeping.

She researched the use of hyperbaric oxygen with Professor Hutchison in the 1960s and piloted the Paediatric Department of the Queen Mother's Hospital through the 1960s and 1970s, retiring in 1983.

She was a founder member of the British Association of Perinatal Medicine, with John McLaurin who ran the neonatal unit at the Royal Maternity Hospital, and Forrester Cockburn who, after he moved from Edinburgh, shared consultant advice with Kerr at the Queen Mother's Hospital, with a degree of shared on-call cross cover from the Southern General Hospital.
In the 1960s and 1970s, the "big dragons" to be slayed were infections, birth asphyxia, congenital abnormalities, diabetes and Rhesus disease. Prematurity, although lethal, was way down the list. The use of antiseptics such as hexachlorophene reduced the number of infections, as did support from Bacteriology (Tom McAllister, the "Sunday Post doctor"), biochemistry (Bobby Logan – see Pathological Biochemistry) and Haematology (Michael Willoughby).
In the 1960s and 1970s, the "big dragons" to be slayed were infections, birth asphyxia, congenital abnormalities, diabetes and Rhesus disease

The third Leonard Gow Lecturer, who succeeded Eric Coleman, was Tom Turner. He and Cockburn had worked together in Edinburgh with Professor John Forfar on neonatal seizures.





They and others found that maternal vitamin D deficiency caused maternal hyperparathyroidism, with evidence from the infants' first dentitions that they became hypoparathyroid in utero from about 12 weeks gestation. After birth, when fed a high phosphorus artificial milk, popular at the time, they would convulse with hypocalcaemia. Turner noted that many of these infants failed to respond to intravenous calcium. He then identified the clinical importance of hypomagnesaemia in the aetiology and treatment of "hypocalcaemic seizures".
When fine plastic tubing, syringes and cannulae replaced rubber tubing, glass-metal syringes and metal taps, Turner worked with the manufacturers to design equipment for intubation and vascular access in preterm infants. He was appointed head of Hull University Department of Child Health. When he moved to Glasgow in 1980 to join Margaret Kerr, his arrival brought impetus to many neonatal research programmes and to the work of many young research workers including Drs Ann Harvie, Layla Alroomi, Ann Sutton, Charles Skeoch, Cherry Jamieson and Jim Farquharson.
During the 1980s and 1990s, neonatal care became more sophisticated, with the introduction of ventilators, monitors and oxygen concentration measurements. Collaborative studies in the UK and internationally were conducted on lung surfactants and parenteral nutrition. Obstetric management reduced the burdens of Rhesus disease (by maternal vaccination with Rhesus anti- D), diabetes (maternal monitoring of blood glucose levels) and of neural tube defects (by maternal folic acid supplementation).


The introduction of maternal steroids in pre-term labour was a "game changer" for Respiratory Distress Syndrome and extreme prematurity. Respiratory Distress Syndrome was also tackled with High Frequency Oscillation. There was increasing use of cardiology and cardiac surgery interventions (see Cardiology - Medical and Surgical) as well as neonatal bronchoscopy (see Respiratory below).
Turner joined forces with Dr John McClure (Ayrshire) in order to maintain the service to families affected by the Sudden Infant Death Syndrome (SIDS).


When Margaret Kerr retired in 1983, Barbara Holland was appointed to the Queen Mother's Hospital /Royal Hospital for Sick Children team as her successor. She helped Tom Turner to expand the breast milk bank, originally set up by Forrester Cockburn and Ann Harvie in 1979 as part of a research project.


This has now expanded to become the Scottish National Breast Milk Bank. Holland's research in neonatal haemorheology (blood flow properties) was ably assisted by Dr Morag McFadyen.
Fetal Medicine
The pioneering work of Professor Ian Donald in obstetric ultrasound (see ) opened a window on intrauterine life never seen before. It led to a flood of management challenges for both obstetric and neonatal care, including fetal malformations, neural tube defects, growth failure and Rhesus disease (haemolytic anaemia). The latter was treated with intrauterine, intraperitoneal and fetal red blood cell transfusions.
Professors Charles Whitfield and Callum MacNaughton (see Obstetrics and Gynaecology) inaugurated the speciality training and General Medical Council accreditation of Fetal Medicine. As Turner completed his spell as Leonard Gow Lecturer, Alan Cameron was appointed as the fetal medicine Leonard Gow Lecturer. This helped complete the plans to integrate Maternal and Child Health provision at the Yorkhill Hospitals.
Other University Senior Lecturers during Cockburn's chair tenure time were -
Dr Malcolm Donaldson (Endocrinology)
Dr Margaret Drummond (Community Child Health)
Dr Alison Kerr (Genetic Factors in Epilepsy)
Dr James Paton (Respiratory Disorders and Cystic Fibrosis)

Each made important research findings in addition to teaching and heavy clinical commitments to both local and national clinical networking.
Biochemistry
Cockburn's own research interests remained largely in the determination of biochemical values in the West of Scotland population for cellular membrane structures and their functions, for comparison with those of "healthier" populations elsewhere in the UK, Europe, Canada, and USA. Many colleagues were involved, but Robert Logan and his staff in the Biochemistry Department at Yorkhill (see ), together with Tom Turner and Barbara Holland unlocked the understanding of the neuroendocrine functions of phospholipid bilayers. Mosaics of groups of phospholipids subject to continuing re-arrangement sub-serve our ability to acquire and recall memories, analyse thoughts, and take decisions. Membrane protein gateways, which allow ion transfers and are subject to genetic control and epigenetic influence, are common to Professor Sameer Zuberi's findings in the epilepsy and seizure stories, and to the Yorkhill team specialising in inherited metabolic disorders, as well as fetal alcohol and other drug effects on the mental and physical health of children.
Cockburn's successor as Samson Gemmell Professor of Child Health was Lawrence Weaver (1996-2011). He was appointed as the first Reader in Human Nutrition (1994-1996) and his interests were in both child health and nutrition. Formerly a member of the scientific staff of the MRC Dunn Nutrition Unit in Cambridge and consultant paediatrician at Addenbrookes Hospital, he developed several international links, co-authored a WHO monograph, Feeding and Nutrition of Infants and Young Children (2000) and built up a strong academic department with basic and applied science interests. He was awarded a DSc in 2004 for his research on the use of stable isotopes to measure intestinal function, gut development, metabolism and bacterial infections, and also the Sydenham Medal by the Society of Apothecaries in 2007.
Weaver was succeeded in the Chair by Syed Faisal Ahmed in 2012. He heads the Developmental Endocrinology Research Group, with a major focus on rare endocrine conditions, coordinating International and European Registries.
Specialties in Child Health


Cardiology and Cardiac Surgery
Eric Coleman was succeeded as paediatric cardiologist by Bill Doig and Alan Houston. Cardiac Surgery was initially developed by Philip Caves, succeeded by James Pollock. (see Cardiology).
Diabetes and Endocrinology
J Oman Craig was consultant with an interest in Diabetes at the Royal Hospital for Sick Children. He wrote a book on Diabetes in Children and initiated a Scotland-wide Diabetes discussion group (see Diabetes). Subsequently Joyce Richardson, Ken Robertson and Christine Gallagher continued the care of children with diabetes.
Dr William Hamilton was Senior Lecturer in Child Health until his retirement in 1988. He was a founder member of the European Society for Paediatric Endocrinology (ESPE) and played an important role in drawing up the constitution in 1965, hosting the annual meeting in Glasgow in 1965. Dr Hamilton developed a laboratory specialising in growth hormone and steroid assay, and established strong links with postgraduates from Libya, supervising a number of PhDs.
In 1989 Dr Malcolm Donaldson took up the post and developed outreach paediatric endocrine clinics in Ayrshire (with Dr John McClure), Paisley (with Dr Cameron Shepherd and Dr Norman Coutts) and Lanarkshire (with Dr Robert Barclay). An auxologist, Wendy Paterson, was appointed in 1990 and played a key role in establishing an endocrine database. A database for the follow up of infants referred by the Scottish Newborn Thyroid Screening Programme was started in 1990 (with Dr Mary Ray).

An important milestone for the endocrine service was the appointment of Sister Ethel McNeill in 1995, by which time specialist clinics in Turner syndrome and Prader-Willi syndrome had been established, together with joint oncology-endocrine clinics (with Dr Elaine Simpson) and haematology-endocrine clinics (with Professor Brenda Gibson). Dr Donaldson retired in 2012 but still pursues his interest in international teaching, as coordinator of ESPE Maghreb School and a teacher on ESPE Caucasus and Central Asia School.
In 2000, Dr Faisal Ahmed was appointed as Consultant Paediatric Endocrinologist. He quickly set up a metabolic bone service with input from occupational therapy (Ms Elizabeth Dougan), medical genetics (Dr Esther Kinning) and with facilities for dual energy X-ray absorptiometry (Dr Sheila Shepherd). He also started a multi-disciplinary service for children with conditions affecting sex development, and developed local and international networks for facilitating care and research for a range of rare endocrine conditions. Over 20 young academics have been awarded MDs or PhDs under his supervision within the Developmental Endocrinology Research Group. In 2007 he was awarded the Leonard Gow lectureship at the University of Glasgow and this was followed by a personal chair of developmental endocrinology.

In 2012, Professor Ahmed succeeded Professor Lawrence Weaver as the Samson Gemmell Chair of Child Health at the University of Glasgow. Professor Ahmed has contributed to the British Society of Paediatric Endocrinology and Diabetes as chair of its clinical committee, and ESPE in several roles including coordinator of its summer school (2011-2014), coordinator of the paediatric endocrine training centre in Africa (2009-2011) and currently as chair of its science committee and member of council (2014-2020).
In 2008, Dr Guftar Shaikh was appointed Consultant Paediatric Endocrinologist, bringing with him interest in hyperinsulinism/hypoglycaemia, obesity, late effects of childhood cancer, and pituitary disorders. Dr Shaikh has further developed the transition service for patients needing ongoing endocrine care in the adult sector, as well as the paediatric endocrine genetic tumour service. Dr Shaikh is also actively involved in the training and development of Paediatric Endocrinologists and is the current Chair of RCPCH College Specialist Advisory Committee for Paediatric Endocrinology and Diabetes.
By 2012, the endocrine service had three endocrine nurses, occupational therapy, clinical psychologist and a data manager.
Ear, Nose and Throat Surgery
Neil Geddes and Ken Mackenzie were ENT surgeons at the Royal Hospital for Sick Children (See Ear Nose and Throat).
Gastroenterology
Lawrence Weaver's clinical interests were in gastroenterology and nutrition, and with John Evans he developed the specialty through training lecturers and fellows, and the addition of new consultant posts, including -
Andrew Barclay
Paraic Mcgrogan (Leonard Gow lecturer)
Richard Russell (Associate Professor)
Paul Henderson (Associate Professor)

The Gastroenterology Department worked closely with the Departments of Child Health and Human Nutrition, with many collaborative clinical and research projects, growing into one of the foremost in the UK.
Haematology and Oncology
Michael Willoughby, consultant haematologist/oncologist (1962-1982) pioneered the emerging successful treatments for childhood leukaemias and other malignancies, as well as home treatment with clotting factor concentrates for children with haemophilias.

The specialist Schiehallion Unit opened when he moved to Perth, Australia. He was succeeded by Ian Hann (1983-1988), who moved to Great Ormond Street Hospital, London and became a Professor, and then by Brenda Gibson, who continued the MRC clinical trials in leukaemias, became a Professor, and was awarded the OBE in 2017. Elaine Simpson joined as oncologist, and Elizabeth Chalmers as haematologist (1990-). (see Haematology).
Infectious Diseases
Nephrology
Gavin Arneil was succeeded as paediatric nephrologist by Anna Murphy and James Beattie, who developed dialysis and transplantation. (see Nephrology).
Neurology and Epilepsy
Robert Shanks (1917-1984) pioneered and developed electro-encephalography (EEG), and assessment of physical and mental handicap. He was assisted by Robert McWilliam (dates) who became a consultant in Stirling before returning to Glasgow.
Dr John Stephenson created a highly original and effective specialist paediatric neurology unit, funded by the Fraser of Allander Foundation. He held a personal chair.
Alison Kerr was a Senior Lecturer with an interest in Genetic Factors in Epilepsy.
Nutrition
The Glasgow University Department of Human Nutrition was created in 1990 when Professors John Durnin (Physiology) and Cockburn, together with strong support from the Principal, obtained a ten year grant from Rank Prize Funds. Professor Brian Wharton took up the challenge of heading the new department (1988-1992), and half of Cockburn's research laboratories. Durnin continued his nutritional research in the Queen Mother's Hospital laboratories. Wharton recruited John Riley (Professor of Paediatric Energy Metabolism 2006-), Christine Edwards (Professor of Nutritional Physiology), Mike Lean who succeeded Wharton in 1992 as Professor of Human Nutrition, now based at the New Lister Building, Glasgow Royal Infirmary and Lawrence Weaver (Reader in Human Nutrition in 1994, who succeeded Cockburn as Professor of Child Heath in 1996).
Ophthalmology
Orthopaedic Surgery
Noel Blockey and Alan Connor were orthopaedic surgeons at the Royal Hospital for Sick Children.
Pathology
Dr Angus Gibson and his successor Dr Allan Howatson developed their comprehensive pathology services in a department adjacent to that of biochemistry.
Psychiatry
Fred Stone (1921-2009) was an NHS consultant psychiatrist since 1954 and was appointed Professor of Child and Adolescent Psychiatry (1977-1987). His seminal book, "Psychiatry and the Paediatrician" published in 1976, was required reading for all trainee paediatricians. He attracted colleagues of high ability such as Hugh Morton, David James, Graham Bryce, Wendy Raine, Helen Minnis and Christine Puckering. He was a member of the Kilbrandon Committee, which replaced the Scottish Juvenile Court System with a system of Children's Hearings which has proved to be therapeutically more effective. He was Chairman of the Children's Panel Advisory Committee for Strathclyde Region (1988-1993). He was awarded an OBE in 1991.
Stone was succeeded by William Parry-Jones (1935-1997) as Professor (1987-1997). He was an authority on the consequences of traumatic experiences on young people, and on eating disorders.
The Chair is currently held by Chistopher Gillberg.
Christine Puckering, a clinical psychologist working with the senior lecturer in Child and Adolescent Psychiatry at that time, Helen Minnis, began her research with 2-year old children of depressed mothers. These studies led to the development of the Mellow Parenting Programme for children under one year. It was recognised that early intervention was needed and prenatal (Mellow Bumps) and Mellow Fathering programmes have been added. Mellow Parenting has now been adopted by health services worldwide.
Helen Minnis succeeded Parry-Jones as Professor (dates). Her researches have taken her into the neurosciences and genetics.
Radiology
Elizabeth (Betty) Sweet was paediatric radiologist at RHSC (1963-88), and was one of the first to appreciate the potential of ultrasound in paediatrics, particularly in the abdomen. She was president of the European Society of Paediatric Radiology in 1985.

Mark Ziervogel developed paediatric cranial ultrasound in Glasgow. They wrote the paediatric chapters in Clinical Diagnostic Ultrasound (first edition). Anne Holman (1988-1999) continued its development, particularly in the diagnosis of pyloric stenosis, scrotal swellings, renal and muscular disorders.

Ruth Mackenzie developed obstetric and paediatric ultrasound and with Alan Mathers, obstetrician, wrote the obstetric ultrasound chapters for the second edition of Clinical Diagnostic Ultrasound. She set up the Nuclear Medicine Department at RHSC in 1982 using charity funding. It was one of the first to report the Tc DMSA changes in children with acute pyelonephritis and to highlight to role of ultrasound and nuclear medicine rather than intravenous urography in the investigation of renal disease.
Respiratory Disorders
James Paton is Clinical Reader with a special interest in Respiratory Disorders, including asthma.
Surgery
‌Professor Daniel (Dan) Young (1932-2013) (read more) was Head of the University Department of Surgical Paediatrics at Yorkhill Hospital from 1969, becoming Reader in 1992 and Titular Professor (1992-1998). He pioneered surgery in the newborn, including surgery for cleft lip and palate, shunts for control of hydrocephalus, and neonatal surgical emergencies.


The Dan Young Neonatal Surgery Unit was named after him in 1991. He was President of the British Association for Paediatric Surgery and the British editor of the Journal of Paediatric Surgery. He chaired the committee which established the intercollegiate FRCS in Paediatric Surgery.
Robert Carachi was appointed as lecturer in 1978 and succeeded Young as Head of Surgical Paediatrics in 1999. In 2004 he was awarded a personal chair in Surgical Paediatrics. He had a major interest in solid tumours in childhood, including tumour markers. He led teaching of the Child Health module as Hospital Subdean, and was editor of the Scottish Medical Journal from 2009. He retired in 2015.
Community Child Health
Community Child Health doctors were employed by Greater Glasgow Health Board, providing a link between other community-based services and local hospitals. School based nursing and medical services were introduced and supervised by Public Health doctors and they achieved marked improvements in growth rates and health, carefully documented in Scottish annual national reports.

George Forwell, Chief Medical Officer, helped by Drs June Ross, Maureen Dale and their community child health colleagues created a programme of GMC approved consultant training and registration in the speciality of Community Child Health. These newly created consultants completed the links with Child Psychiatric mental health services at Balvicar Street, Easterhouse, Clydebank and Drumchapel Child Health Clinics. Dr Margaret Drummond, from the White Tops Centre in Dundee, was appointed as Senior Lecturer and Consultant to head the new Stuart Laidlaw Centre and pursue her research programme. Balvicar Street doctors received support from Rutherglen and Southern General hospital paediatricians. Leyla Alroomi ran outpatient clinics in Easterhouse as did Tom Turner in Clydebank, while Cockburn conducted the Stuart Laidlaw GP unit clinic.
The Community Child Health Services became established in four Child Development Centres –
Balvicar,
Bridgeton,
Possilpark
Achamore Centre (Drumchapel)
Consultant-led multidisciplinary Teams included a health visitor and allied health professionals (speech and language, physiotherapy and occupational therapy), and outreach general paediatric clinics were also held there, as well as in other localities. Dr Kate McKay has augmented the influence of these centres through her senior adviser appointment to the SHHD.
In March 1999 a Symposium entitled "Early Child Rearing: The Fabric of Society" was held in the Royal College of Physicians and Surgeons of Glasgow and marked the 400th Anniversary of the College.

In Scotland "Getting It Right For Every Child" (GIRFEC) had the same ideals as the Sure Start Programme in England, and followed the Cambridge Bowlby Credo written by Professors Cockburn and John Davies.

Andrew Boddy followed Paget Stanfield as director of SPORU and David Stone followed Boddy. In 1995, David Tappin became director of SPORU and renamed his department the "Paediatric Epidemiology And Community Child Health" (PEACH) Unit, where David Stone became Professor of Paediatric Epidemiology (now retired).
Charlotte Wright is Professor of Community Child Health (2006-).


Read more..
Transfer of Yorkhill Hospitals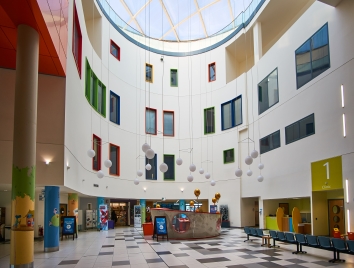 In 2004 it was proposed to close the Queen Mother's Hospital, leaving the Children's Hospital isolated at Yorkhill.

This decision would have destroyed the integration of maternal, fetal and paediatric services created by Ian Donald and James Holmes Hutchison. Due to the strength of professional evidence and public opinion, the Minister for Health asked Professor Andrew Calder (Edinburgh University) to conduct an independent inquiry.


The report his group published in 2006 set out a vision for a "world class" medical hub, combining emergency services for mothers, adults, and children on one site. It recommended that the new children's hospital be physically linked to a modernised maternity suite at the Southern General Hospital in Govan, with theatres and labour wards beside intensive care facilities for babies and children.
The new Royal Hospital for Children opened in 2016, opposite the new Queen Elizabeth University Hospital for adults, on the Southern General Hospital site.
Professor Forrester Cockburn and Dr Tom Turner

Images unless otherwise noted provided by Dr Tom Turner