Athena SWAN in SHW
Our awards
Athena Swan Gold (2018)
In March 2018, we gained a prestigious Athena Swan Gold Departmental Award (on appeal), in recognition of our commitment to promoting equality, diversity and inclusion in higher education.
Professor Jill Pell, Director of SHW, said:
"Professor Sally-Ann Cooper [right] and her team have done a fantastic job in leading us to our success in achieving Athena Swan Gold. As a result of their efforts, equality and diversity are embedded in all aspects of our work ensuring the school is a great place to work for all its staff and students."
Athena Swan Silver (2015)
In 2015, we gained our Athena Swan Silver Award and this was renewed in 2017. ‌‌‌‌

Professor Sally-Ann Cooper, former Athena SWAN SAT Chair and Deputy Director of the School of Health and Wellbeing, said:
"We ‌are delighted to have achieved a Silver Athena Swan award recognising the work of all staff in ensuring that gender equality is embedded within the Institute, with equality of opportunity a reality rather than just an ambition."
Asha Costigan, SHW Head of Administration [left] and Audrey Dickie, SHW Admin Assistant [right], who were part of the team that compiled the Silver Award application, collected the award from Professor Dame Julia Higgins – one of the founding members of the Athena Swan Charter – on behalf of SHW's Athena Swan self assessment team.
Athena Swan Bronze (2014)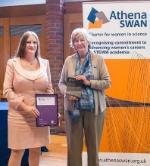 Our commitment to equal opportunities was recognised in 2014 by the awarding of Athena Swan Bronze. It was collected from Professor Dame Julia Higgins by our Athena Swan Champion Professor Sally-Ann Cooper [right]. ‌