Dr Alex Benchimol
Senior Lecturer in Scottish Romantic Print Culture) (English Literature)
telephone: 01413302695
email: Alex.Benchimol@glasgow.ac.uk
https://orcid.org/0000-0001-5948-0086
Research interests
Research interests
Scottish Romanticism
Radical intellectual culture in the Romantic period
Scottish periodical history in the long eighteenth century
Scottish Enlightenment
Theories of the public sphere & comparative national media
Eco-criticism
Biography
Dr. Alex Benchimol is Senior Lecturer in English Literature and has been teaching in the department since 2003. He is the founder, and currently co-convenes, the Scottish Romanticism Research Group in the School of Critical Studies. Alex is a native of Phoenix, Arizona and was educated at The College of Wooster in Wooster, Ohio where he studied English and History, and holds Masters degrees in Cultural Studies and English from the Universities of Glasgow and Toronto, respectively. He completed a doctorate in the Department of English Literature at the University of Glasgow in 2001.
Dr. Benchimol's primary research interests include Scottish Romanticism, radical Romantic intellectual culture, the Scottish Enlightenment, Scottish periodical history, theories of the public sphere, and ecological writing (he was recently co-investigator on an AHRC-funded research network, Values of Environmental Writing). His monograph (published by Ashgate in 2010) charts the contested development of cultural criticism in Britain during the early nineteenth century: Intellectual Politics and Cultural Conflict in the Romantic Period: Scottish Whigs, English Radicals and the Making of the British Public Sphere. It has been reviewed in the BARS Bulletin and Review, Romantic Textualities, Scottish Literary Review, The Year's Work in English Studies, Eighteenth-Century Scotland, the Journal of Eighteenth-Century Studies, and the European Journal of English Studies.
His research and review essays have been in published in journals such as Nineteenth-Century Contexts, Textual Practice, Romantic Circles Reviews, Romanticism, Thesis Eleven, Radical Philosophy, The European Legacy and most recently, the Romantic Circles Praxis Series. Alex co-edited with Professor Willy Maley a volume of essays on the public sphere from a distinguished line up of international contributors: Spheres of Influence: Intellectual and Cultural Publics from Shakespeare to Habermas(Peter Lang European Academic Press). A major forthcoming essay on the Habermasian public sphere will appear in the collection Understanding Habermas, Understanding Modernism in 2017 and Alex serves on the editorial board of the Journal of Applied Social Theory.

Alex's current research explores the development of Scottish civil society, constitutional identity and the national press in the long eighteenth century, including the emergence of a distinctive Scottish public sphere since 1707, reflected in recent contributions to The Edinburgh Companion to Scottish Romanticism, Studies in Scottish Literature (2013) and in his 2015 essay collection (with Rhona Brown and David Shuttleton) Before Blackwood's: Scottish Journalism in the Age of Enlightenment (2015). He is currently co-editing with Gerard McKeever the first applied research volume on Scottish Romanticism, Cultures of Improvement in Scottish Romanticism, 1707-1840, to be published with Pickering and Chatto's Enlightenment World series. Alex's next monograph project, Printing Enlightenment: The National Press and Public Sphere in Eighteenth-Century Scotland, applies theoretical insights from the Scottish legal philosopher Neil MacCormick and the German critical theorist Jürgen Habermas to highlight the overlapping dynamics of national identity, material improvement and intellectual community in the eighteenth-century Scottish press and public sphere.
Extending his research on the Scottish press and public sphere into the twenty-first century, Alex has collaborated with Professor Philip Schlesinger of the Centre for Cultural Policy Research on two complementary research programmes funded by the Royal Society of Edinburgh. Securing Scotland's Voice: Strategic Responses to the Digital Media Revolution in the National Press (2013) linked key assessments of the economic, regulatory and political challenges facing the Scottish newspaper press from researchers, journalists, and policymakers within Scotland and the wider UK while also providing international perspectives on the current state of Scotland's national media from leading researchers and practitioners representing comparable national media ecologies in Europe and North America. This project resulted in a widely disseminated public policy article for Policy Scotland (2014) and a featured cluster of essays in the journal Media, Culture and Society (2015). In 2016 Dr. Benchimol and Prof. Schlesinger were awarded with another RSE grant to fund a companion research project on the Scottish press and constitutional change, 1707 and 2014: Civil Society, Constitutional Identity and the National Press in Scotland, which will initiate a unique public forum and research network among historians of the Scottish press, constitutional experts, scholars of the nation's contemporary media, civil society activists, policymakers and media industry stakeholders in order to facilitate knowledge exchange about the relationships between constitutional change, civil society debate and national identity in Scotland's press after two key historical events: the Acts of Union in 1707 and the Independence Referendum in 2014.
Dr. Benchimol also co-organized the 12th Biennial International Conference of the British Association for Romantic Studies: Enlightenment, Romanticism & Nation, and the Before Blackwood's: Scottish Journalism in the Age of Enlightenment symposium.
Grants
Co-I, 'Values of Environmental Writing', AHRC Network Grant, 2010-11 (PI: Dr. Hayden Lorimer, Geographical and Earth Sciences; Co-I: Dr. Rhian Williams, English Literature).
PI, 'Securing Scotland's Voice: Strategic Responses to the Digital Media Revolution in the National Press', RSE Arts and Humanities Workshop Grant, 2013 (Co-I: Prof. Philip Schlesinger, Centre for Cultural Policy Research).
PI, '1707 and 2014: Civil Society, Constitutional Identity and the National Press in Scotland', 2016-17 (Co-I: Prof. Philip Schlesinger, Centre for Cultural Policy Research).
Supervision
Dr. Benchimol is particularly interested in supervising postgraduate research on any aspect of Scottish Romanticism, radical intellectual culture of the romantic period, periodical culture of the long eighteenth century, literature and the public sphere, and theoretical approaches to British intellectual and cultural history.
Alex has successfully supervised postgraduate research projects on Improvement and Scottish Romanticism; postcolonial modes of hospitality in Scott's Waverley novels; Ossian and the writing of Scottish history; Blake, Whitman and Transatlantic Romanticism; Brazilian Romanticism; Victorian diaries and life-writing; and radical aesthetics in the Modernist novel. He currently supervises projects on the Eco-monstrous in the fiction of Cormac McCarthy and R. A. Lafferty; and David Foster Wallace and American Pragmatism.
Lead Supervisor: Freire, Rafael Argenton (2010) Byron and Álvares de Azevedo: Byronism in Brazil. MPhil (R).
Lead Supervisor: Millim, Anne-Marie (2010) Preaching silence: the disciplined self in the. Victorian diary. PhD.
Lead Supervisor: Karagouni, Villy (2012) Voices of dissent: Interpenetrations of aesthetics and socio-politics in three modernist case-studies. PhD.
Co-Supervisor: Chiu, Kang-Yen (2012) Hospitality, nation and empire in Walter Scott's Waverley novels. PhD.
Lead Supervisor: Davidson, Ryan J. (2014) Affinities of influence: exploring the relationship between Walt Whitman and William Blake. PhD.
Lead Supervisor: McKeever, Gerard Lee (2014) Enlightened fictions and the romantic nation: aesthetics of improvement in long-eighteenth-century Scottish writing. PhD.
Lead Supervisor: Fertig, Anne R. (2015) Authentic fictions and aesthetic histories: the problem of the poems of Ossian in the writing of Scottish history, 1760-1814. MPhil (R).
Teaching
Dr. Benchimol teaches undergraduate Honours courses in nineteenth and twentieth-century American Literature, Romantic Literature, cultural theory, and ecological writing from the eighteenth century to the present.
He has contributed core teaching to MLitt programmes in Modernities, Victorian Literature and Romanticism at Glasgow. Alex administered the MLitt in Romanticism and the Forms of Modernity from 2003-2008, convened the MLitt in Enlightenment, Romanticism and Nation from 2008-10, and was overall Postgraduate Convener for English Literature from 2008-11. He convened the second year English Literature module in Writing and Ideology (2A) from 2013-16.
Dr. Benchimol was made a Fellow of the Higher Education Academy in 2009.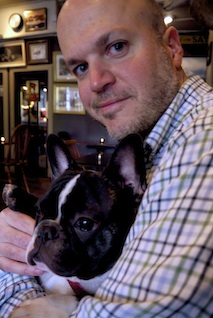 R309 Level 3, English Literature, 5 University Gardens, Glasgow G12 8QH,