Before Blackwood's: Scottish Journalism in the Age of Enlightenment
Beyond Blackwood's 3Study of the unique intellectual, material and institutional networks of the Scottish Enlightenment has become a key concern for scholars in literary studies, cultural and social history, bibliographic studies, and other fields. Taken together, this scholarship has established new trajectories in the cultural history of the British Isles, from the Act of Union in 1707 to the thriving periodical culture of the early nineteenth century metropolitan public sphere. Reflecting the global impact of the Scottish Enlightenment this symposium will bring together leading contributors from both sides of the Atlantic to examine the evolution of Scottish journalism and its role in the development of the public sphere in Scotland and Britain during the long eighteenth century.
Scottish periodical culture of the period—understood in its widest sense—will be an overarching focus of the symposium, with key concerns in the following areas: publishing history; literary culture; medicine and science; language and national identity; discourses of material improvement; publishing history; the Scottish national public sphere and the rise of the national press; the practice of anonymity/pseudonymity in the period; and metropolitan/provincial inter-dynamics. Very much in the spirit of the age of Enlightenment, the symposium seeks to initiate a new international and interdisciplinary academic network to study this dynamic cultural formation of the long eighteenth century.
We are particularly interested in papers on any of the following topics:
the emergence of the public sphere / public opinion
publishing histories
categories of literary knowledge and cultures
Scots language
national identities
metropolitan/provincial dynamics
natural philosophy, medicine and science
discourses of material improvement
anonymity and pseudonymity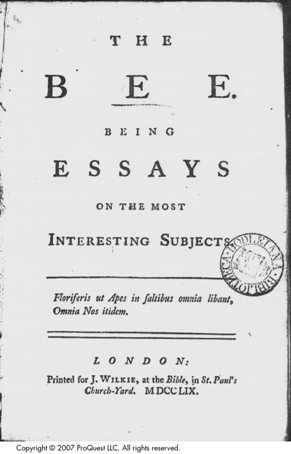 Before Blackwood's: Scottish Journalism in the Age of the Enlightenment marks the establishment of a new interdisciplinary College of Arts research cluster, the Scottish Romanticism Research Group (SRRG), open to scholars investigating the origins, development, and articulation of Scottish Romanticism over the long eighteenth century, including its engagement with the intellectual themes and cultural practices of the Scottish Enlightenment.
Dr. Alex Benchimol
Dr. Rhona Brown
Dr. David Shuttleton
('Before Blackwood's' Organisers)