Ramsay's Songs and Music: research and performance
An important part of the new Edition is the focus on Ramsay's innovations not only in Scottish poetry and drama, but in music. Ramsay included songs in his first edition of poetry and his connections in early Enlightenment Edinburgh position him at the centre of a thriving musical scene.
Performing Ramsay's songs have been an essential aspect to helping us understanding how he set his text to music. The album, Shepherds & Tea Tables: Songs of Allan Ramsay produced by project Co-I, David McGuinness and his early music ensemble Concerto Caledonia showcases the variety of songs published in Ramsay's most popular works, namely The Gentle Shepherd (1729) and his 4-volume song collection The Tea-Table Miscellany (1723-1737). If you would like to stream the album on Apple Music, Deezer, and Spotify, please click here.
Below is the link to listen on YouTube:
https://youtube.com/playlist?list=OLAK5uy_mM2JN8OYgODXXDx8Wb_BjaHdDN-DC7eB0
Please also have a look through the Map for some context of music in Edinburgh during Ramsay' time.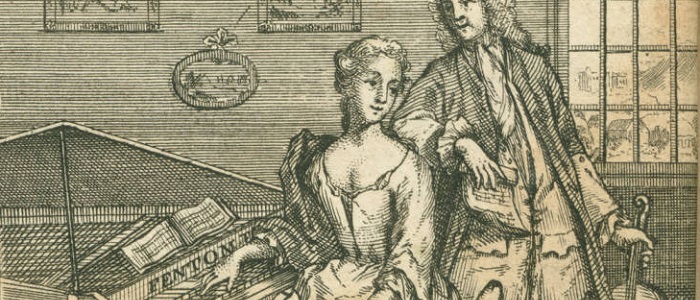 (above): detail from the frontispiece in Musick for Allan Ramsay's collection of 71 Scots songs (c. 1720).
Image courtesy of the G. Ross Roy Collection of Scottish Literature, Irvin Department of Rare Books and Special Collections, University of South Carolina Libraries, Columbia, S.C.