New Msc Cancer Sciences gets underway
New Msc Cancer Sciences gets underway
Issued: Thu, 25 Sep 2014 15:42:00 BST
From Bench to Bedside: Cancer Sciences in the 21st Century
The new MSc in Cancer Sciences was launched on the 17th of September 2014. ICS are pleased to welcome twenty four students from around the world onto our programme, which takes a "bench to bedside" approach, enabling graduates to work within a multidisciplinary environment of world-leading scientists and cancer-specialists.
We were very fortunate to welcome three visiting speakers, Christine Gundry from the Beatson Institute, Lynn Murray from the cancer charity Think Pink Scotland, and Gillian Hailstones from Maggies' Centre Glasgow. They told the students about their personal experiences of cancer and of supporting cancer patients. Their stories were inspirational and very moving, reminding us why cancer research is so important.
Classes for the MSc Cancer Sciences will mainly be held in the new Wolfson Wohl Cancer Research Centre at Garscube, which was officially opened in the spring. We are very grateful to our colleagues across the University, at Cancer Research UK and NHS GGC for their contributions to this exciting new programme.
Programme directors: Katherine West and Torsten Stein
Apply at www.glasgow.ac.uk/cancer
Twitter feed: @GUcancersci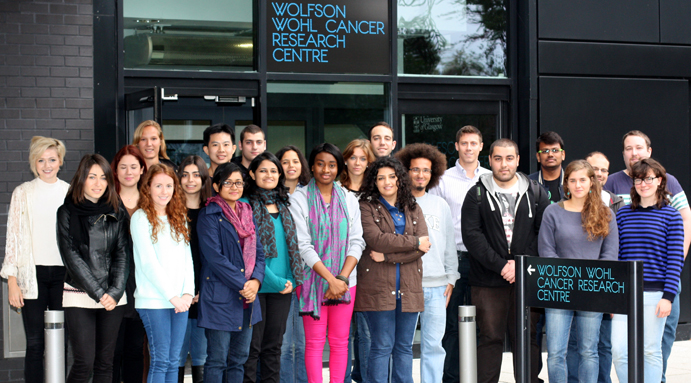 ---