£5.5m funding boost for home healthcare monitoring technology
Published: 7 September 2020
A project which aims to develop quantum-powered health sensors for home use in order to spot the earliest signs of disease is being backed by £5.5m in new funding.
A University of Glasgow-led project which aims to develop quantum-powered health sensors for home use in order to spot the earliest signs of disease is being backed by £5.5m in new funding.
The cash boost is part of a £32m funding package announced today by the Engineering and Physical Sciences Research Council (EPSRC), part of UK Research and Innovation.
A total of six university-led projects will share the award from EPSRC's Transformative Healthcare Technologies for 2050 funding call.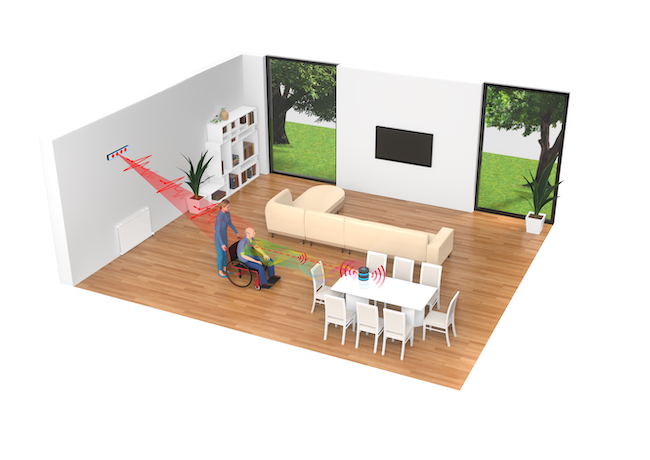 Each research team will work to develop revolutionary new technological approaches to transform care and treatments in the NHS by the middle of the century.
Over the next five years, engineers, psychologists, computing scientists and physicists from the University of Glasgow's College of Science and Engineering will collaborate with primary and secondary care clinicians from the College of Medical, Veterinary and Life Sciences and statisticians at the University of Lancaster to explore how healthcare sensors can be integrated into the home of the future.
The project also involves working closely with a network of large industrial partners, SMEs, charities and third sector organisations to deliver smart sensory systems for monitoring individual's health and wellbeing.
Building on technology already in development by the researchers, the Healthcare QUEST initiative will find new ways to use quantum technologies to directly monitor health markers like blood flow, heart rate, movement and potentially even brain function in people's own homes. The project will be supported by input from industry, clinicians, charities and patient groups.
The feedback provided by the monitors will offer users a suite of bespoke intelligence about their wellbeing. Suggestions about lifestyle changes could help people avoid behaviours which could lead them to develop chronic disease, while others recovering from illness could have their progress monitored remotely by healthcare professionals.
Professor Jon Cooper, the University's Wolfson Chair of Bioengineering, is the project's principal investigator. Prof Cooper said: "We believe that the home environment has huge potential as a place where transformational healthcare changes can occur in the future. We hope to find new ways to make the home an extension of our physical bodies, providing the kind of detailed feedback on our wellness and monitoring of health markers that we cannot do ourselves.
"The analysis of the data streams from the sensors will be validated using clinically-approved models, providing users with 24/7 medical expertise to help them keep fit and healthy.
"The data collected by the sensors might also help to predict the early stages of non-communicable diseases like heart attacks and strokes and provide invaluable new ways to track the transmission of infectious diseases.
"We're delighted that our funding bid was approved by EPSRC. We've put together a really strong research team, with expertise in bioengineering, quantum technologies, primary and secondary care clinicians, artificial intelligence, real time data interpretation and healthcare economics, and we're looking forward to starting the work which will make this ambitious project a reality."
EPSRC Executive Chair, Professor Dame Lynn Gladden, said: "The projects announced today will develop new approaches which could become routine in the NHS and community and home care in the coming decades.­­
"Harnessing the latest technologies and the UK's world-leading expertise will allow us to deliver a step-change in how healthcare is delivered and benefit millions of people, emphasising the critical role the UK's R&D sector plays in improving the health of the nation."
The fund will support the next generation of underpinning science and emerging technologies, focusing on new approaches expected to have an impact within the next 30 years for the NHS, community or home care and an ageing workforce.
In addition to researchers from the Universities of Glasgow and Lancaster, Healthcare QUEST will also benefit from the support of Aridhia, HAS Technology, Howz, IBM, Microsoft, Moodagent, Photon Force, Savii ARMED, and Sphere.


---
First published: 7 September 2020