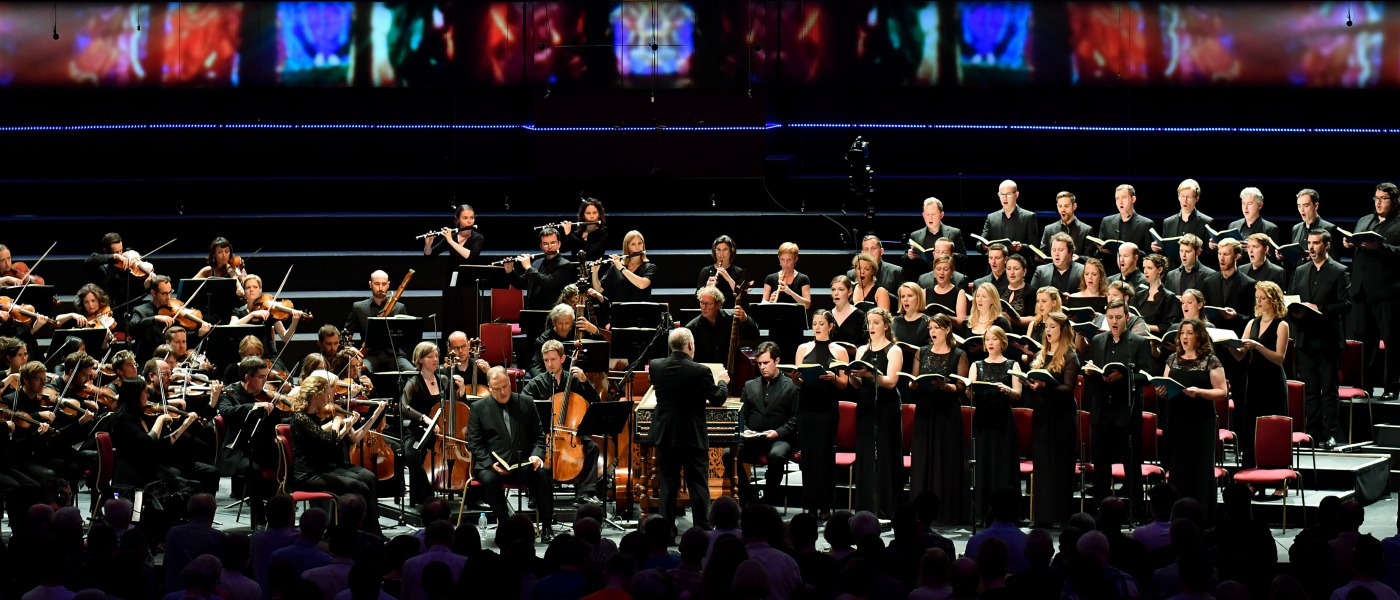 Historically informed performance
Discover more
A modern audience stands in the Royal Albert Hall and sings 18th-century German hymns.
This performance of Bach's St John's Passion is the centrepiece of the 2017 Proms' Reformation Day. It's the debut Proms performance for John Butt, Gardiner Professor of Music at Glasgow and Bach specialist, and his Dunedin Consort.
It's an ideal opportunity for Professor Butt to explore his interest in how participation affects a listener's experience of the music. Tonight's audience is taking part in the performance itself by singing pieces that echo the original church service in 18th Century Leipzig for which Bach originally composed the St John's Passion. Professor Butt is interested in how singing at the beginning, middle and end of the performance might affect an audience's appreciation and reaction to the professional singers on stage.
A dialogue between past and present
Professor Butt has a long standing interest in historically-informed performance, looking at how music was originally performed and how performance affected the way music was written. He has been highly influential in bringing 'historically informed' music performance to audiences across the world.
Drawing variously on sources such as original manuscripts and knowledge of how instruments were played, Professor Butt and the Dunedin Consort have consistently produced critically-acclaimed recordings of Baroque pieces. One of their first recordings, Handel's Messiah, received the Classic FM/Gramophone Baroque Vocal Album and the Marché International du Disque et de l'Édition Musicale Award.
Gramophone Magazine stated "Butt and the Dunedin Consort marry astute scholarship to sincere artistic expression and the result is comfortably the freshest, most natural, revelatory and transparently joyful Messiah I have heard for a very long time."
The blending of historical performance knowledge and musical expertise brings audiences the freshness and originality that would have been conveyed when the pieces were first performed several hundred years ago. Taking this approach with such familiar pieces as Messiah, Bach's Passions and Mass, Mozart's Requiem (another Gramophone Award winner) and Handel's Cannons dramatic works has enriched the classical music culture for both audiences and critics.
Bach's John Passion - A liturgical reconstruction
Rather than a dogged pursuit of authenticity, Professor Butt's research is not just about performing music that is rooted in historical fact but why we are interested in doing such a thing and what that says about the modern world:
"The negative answer is that we've run out of ideas and lost any sense of musical progress, which I would say means to some that past musical culture somehow has to be revived as a sort of desperate measure.
From that point of view it could be seen a sign of decline, but for me it serves as a way of regenerating our culture in the wake of very rapidly changing environment, whether intellectual, architectural, or to do with communications, and that by actually going back and looking at certain routes that have been cut off or forgotten, we reground ourselves in our shared culture. In this sense historical performance actually becomes a potential vehicle for renewal and inspiration."
Professor Butt thinks that by placing classical music in a performative context we can "bring the music to life in a new way":
"I always say as long as it's actually bringing the music to life in a new way, the exact historical correctness is not necessarily the point. It's the fact we're using knowledge of history as a way of rethinking the present and rethinking our own ways of doing things. That's the crucial thing to think about here."
Audience reaction
Critics and audiences have reacted positively to this style of performance. The Guardian described the Proms performance as shedding "new light on the work by carefully contextualising it."
Butt believes the success of the Dunedin Consort has been the fact they have been able to draw on the choral tradition from the UK and marry it with talented musicians from across Europe. Taking the Gardiner Professorship in Music at the University of Glasgow happily coincided with the vacancy of musical director at the Dunedin Consort. Under Butt's leadership, record sales and recognition increased for the Dunedin Consort. They regularly take part in festivals and concerts across the world, bringing their approach to Baroque music to a wide audience.
Upcoming work
As Head of Music for the first four years after his arrival at the University of Glasgow, Butt has been followed by colleagues who have together created what he feels is a "stimulating environment". Different research interests within the subject complement each other. All staff share an interest in modernity and the current state of music. Together with colleagues from Music and Film and Television Studies, Professor Butt is planning to explore film auteur theory in a series of books (co-edited by Dr David Code). Together, they'll be looking closely at works by directors such as Hitchcock and Kubrick, and how music influenced their conceptions of their films, including their musical collaborators and choices for editing, shaping and pacing their films.
In terms of performance, John Butt's recording with the Dunedin Consort of Monteverdi's Vespers 1610 was released this September, entering the UK Specialist Classical Chart at no. 2. He argues that this is the first self-reflexive piece of music - a piece that through its composition reflects on the nature of a vespers service, encouraging the listener to think about the experience of listening to the music.
Photograph: Chris Christodolou
Discover more
About the researcher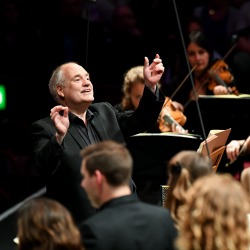 John Butt is Gardiner Professor of Music at the University of Glasgow, musical director of Edinburgh's Dunedin Consort and a Fellow of the British Academy. He began his musical career as organ scholar at King's College, Cambridge. He has written numerous books on Bach, seventeenth-century music and modernity, including Playing With History, which examines the phenomenon of historically-informed performance and was shortlisted for the British Academy Book Prize. He has performed worldwide to critical acclaim as a conductor and organist.
Photograph: Chris Christodolou
Discover more