Human African Trypanosomiasis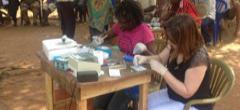 ‌
Human African Trypanosomiasis
Research led by Professor Annette MacLeod is targeting Human African Trypanosomiasis, otherwise known as sleeping sickness, through international collaboration and investigations of new reservoirs for the disease.
Professor MacLeod is a founding member of the TrypanoGEN network, which focuses on understanding the genetic basis of sleeping sickness with a goal of improved health of people living in developing nations. The network gathers a wide range of research expertise from across Africa and Europe to address several aims:
To generate a database of human genetic variation in different African countries to identify informative genetic markers, and the genes and pathways that are important for disease susceptibility and resistance
To create and extensive biobank housed in network hubs to facilitate trypanosome research now and in the future
To develop infrastructure in African laboratories and develop existing infrastructure to international standards and to devise standard operating procedures for sample collection and storage
To provide training for African scientists to strengthen the capability for long-term research into trypanosomiasis
Professor MacLeod is also working on how people's skin can act as a reservoir for the parasite that causes trypanosomiasis. Supported by the Wellcome Trust and the Wellcome Centre for Molecular Parasitology,Professor MacLeod has shown that trypanosomes can be present in the skin of those who do not show any symptoms of the disease and can be a way for tsetse flies to become infected and further transmit the parasite. This area of research is shedding light on how this disease persists and has important implications for control efforts.‌
---
First published: 21 January 2021