Understanding & mitigating the impact of HIV infection on the burden and severity of influenza illness in Malawi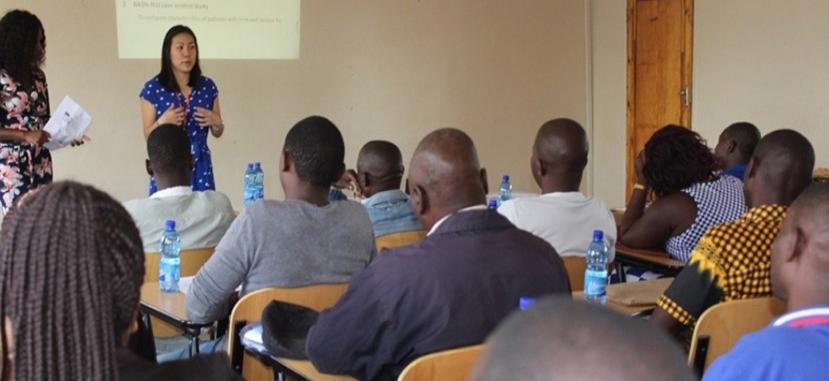 Acute respiratory infections (ARI) account for 2.4 million deaths globally and 27% of these deaths occur in sub-Saharan Africa. In Malawi, they are most common cause of adult hospital admissions, putting severe strain on the health care system.
Dr Antonia Ho, Clinical Senior Lecturer at the Medical Research Council (MRC)-University of Glasgow Centre for Virus Research, is working with the local community, healthcare staff and national policy makers in Malawi to improve understanding of influenza infection – in terms of how it presents, who it affects and what time of year it circulates – also highlighting the increased risk of symptomatic influenza and severe disease in HIV-infected people, and emphasising the importance of influenza surveillance.
Dr Ho's initial research identified that HIV-infected individuals are more at risk of ARIs such as influenza infection, and they are five times more likely to have severe disease, compared with HIV-uninfected people. The research, funded by a Wellcome Trust Clinical PhD Fellowship, conducted two observational studies at the Queen Elizabeth Central Hospital in Blantyre, Malawi, recruiting over 1700 patients. The study found that 57% of influenza-associated hospitalisations were attributable to HIV. Other factors such as household overcrowding, poor sanitation and food insecurity also contribute to risk of severe influenza illness in Malawi.
Embedding research learnings
Funding of £4.8k from the Scottish Funding Council Global Challenges Research Fund enabled Dr Ho to return to Malawi to share her findings directly with study participants and stakeholders.
Dr Ho presented her research findings to the participants and staff in the hospital who took part in her original research to make them aware of the risks of influenza and the importance of infection control measures.
Dr Ho explains, "We followed the study participants for two years, so my study team and I developed a good relationship with them. The people who share their lives with researchers seldom see the results of their efforts. Sharing study results with the participants signals not only the openness and accessibility of researchers, but also raises a positive profile of research in general and highlights the need for interventions that may decrease the risk of future harm."
One study participant praised the good practice of sharing the research results and felt improved "self-worth" that they had "contributed to an overall enrichment of scientific knowledge."
Limbikani Chaponda from the Public Health Institute of Malawi said, "Dr Ho's visit was timely as it laid the foundation for Influenza Surveillance. Her continued support will enable the Ministry of Health to start testing circulating viruses and report flu data to WHO which will lead to access to vaccines."
During the visit Dr Ho was able to discuss the prescription of antibiotics for the treatment of influenza illness and other respiratory viral infections. Antibiotics are often prescribed for influenza. However, as it is a viral illness, they won't treat the disease, and can lead to people developing antibiotic resistance. Dr Ho's discussions with the Blantyre Community Advisory Group and medical staff at the Queen Elizabeth Central Hospital highlighted the symptoms associated with flu and discouraged the prescription of antibiotics if doctors felt the chest infection was caused by a virus rather than bacteria.
The funding has also enabled Dr Ho to engage with the local scientific community and national policymakers within the Ministry of Health to discuss strategies to reduce the burden and severity of influenza illness amongst HIV-infected adults.
Next steps
Currently there is no routine respiratory viral surveillance or national influenza immunisation programme in Malawi. Dr Ho was invited by the Influenza Surveillance Task Force to visit three potential study sites in Bwaila District Hospital, Mchinji District Hospital, and Kamuzu Central Hospital to give recommendations for the development of future respiratory viral surveillance and influenza preventative strategies, such as vaccination.
Dr Ho is keen to continue to support the implementation of respiratory viral surveillance in Malawi, which will be key to the country's pandemic preparedness strategy. During the COVD-19 pandemic, Dr Ho has continued supporting the Malawi Ministry of Health. She has led a prospective cohort study of healthcare workers and community members to ascertain the occupational exposure to SARS-CoV-2, and has recently received funding from the Wellcome Trust to implement a SARS-CoV2 serosurveillance study, in partnership with the Ministry of Health and Malawi Epidemiology and Intervention Research Unit (MEIRU).
Key facts
Dr Ho's initial research study found that 57% of influenza-associated hospitalisation was attributed to HIV.
A £4.8k SFC Global Challenges Research Fund grant enabled Dr Ho to disseminate research findings to former study participants and engage directly with healthcare staff, the local community and policy makers.
Inclusive research practices are about equitable partnerships and inclusion. Importantly participants of the study learned the outcomes of the research, and the importance of infection control measures.
Dr Ho is currently working with the Ministry of Health on a study on SARS-COV-2 sero-surveillance.
---
First published: 24 May 2021