Sound Thought Beta 2014
Issued: Tue, 27 May 2014 04:00:00 BST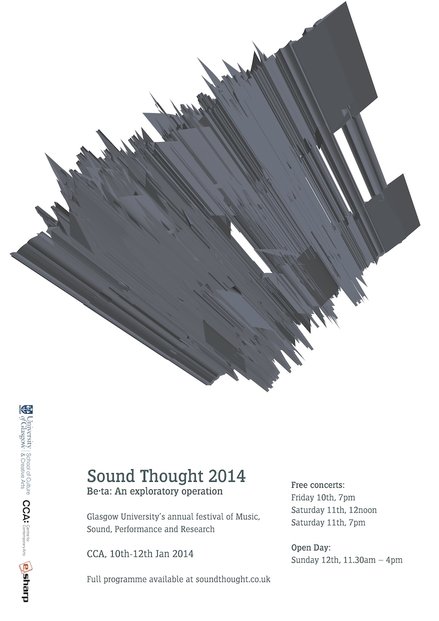 This collection of papers is drawn from the 2014 annual conference, which consists of music composition, performance and research run by Glasgow University music department postgraduates. Sound Thought 2014 took place in Glasgow's renowned Centre for Contemporary Arts between January 10th and 12th provided a platform for postgraduate music students to present their work to an academic audience and an engaged public. The conference presented research and practice from a range of sound and music disciplines in an environment which contrasts, relates, and contextualises the work. The event engaged the public with music research from across the UK and promoted understanding of the research field as well as enhancing the research environment at the university through interdisciplinary and inter-institutional collaboration. We are thankful to eSharp for collaborating with us to produce this final publication from the event.
eSharp would like to extend its thanks to Sound Thought for their input and collaboration in compiling this collection.
Lead Editors: Brianna E Robertson-Kirkland, Calum Scott, Bethan Parkes, Lynne Kelman, Debora Agazzoni
Image: Bob Rafferty
Content
The journal is split into a practice based section hosted at the Sound Thought webpages and a text based section which appears below.
Text
| | | |
| --- | --- | --- |
| Elizabeth Ford | Sources for the chamber music of William McGibbon | ST1 - Ford‌ |
| James Lavender | Affirming Chance: Experimentation Between Sound and Philosophy | |
| R. Jenai Talkington | Off the Axis: Navigating Globalism and Locality with Sound Mapping | ST3 - Talkington‌ |
Practice
| | |
| --- | --- |
| Patrick Lydon | Transport Me |
| Leslie Deere | Untitled (west coast) |
| Georgia Rodgers | Late Lines remix |
| Richard T.C. Nelmes | Hiraeth |
| Iain Campbell F-W 2 | In / am_avinestar_ ( |
| Konstantinos Vasilakos | Live coding in studio: from code to tape |
| Neil Simpson | lls, ills, bills (extract) |
| Kim Walker | |
| Thomas McConville | Shop (Cyclical Music) |
---