News in brief, 21 October 2019
Published: 21 October 2019
A round-up of news across the University
The search is on for new Future World Changers
We're looking for ambitious UofG students to join our community of Future World Changers who are working to improve lives while they study.
Do you:
have dreams/ambitions that you want to achieve while you're a UofG student?
want to tell your story and inspire the next generation of students to join UofG?
The opportunity
We will work with you to tell your story to our University community and huge audience of friends and followers both online and offline.
We will create a profile and a video about you to be featured on our Future World Changers site, and share your story across our @UofGlasgow social media channels.
We will provide you with a wide range of support - including mentorship opportunities, training and invites to exclusive events - that could help you to take a step closer to achieving your goal.
We will offer you opportunities to enhance your CV by acting as an ambassador for the University.
What we're looking for
You don't need to have changed the world already or have a plan to solve all of the world's problems!
To get the most out of this opportunity, you should be:
ambitious/enthusiastic
reliable/hard-working
friendly/outgoing
active on social media
comfortable in front of a camera.
Find out how to apply and check out the stories of our current Future World Changers who have ambitions to improve the world and change lives.
For more information, read about Sofiat's experience as a Future World Changer.
The closing date is 5pm on Wednesday 30 October.
Professor Sir Tom Devine to deliver Inaugural Glasgow Thomas Muir Lecture
Scotland's leading historian, Professor Sir Tom Devine, visits the University on October 31 to give the inaugural Thomas Muir Lecture on Democracy and Civil Society.
The lecture series is named after radical 'martyr' Thomas Muir (1765-1799), a former student of Glasgow whose reform activities led to his trial for sedition and exile to Botany Bay.
In his talk, 'Foundations of Elite Supremacy in 18th-Century Scotland', Professor Devine will take a fresh approach to Muir and 1790s reformers, exploring why an unrepresentative system of government not only survived Muir's lifetime but managed to endure for many years after.
The lecture series is a collaboration with the Friends of Thomas Muir society and the Centre for Robert Burns Studies, who have a research interest in Scottish Radicalism, and is supported by the Centre for Scottish and Celtic Studies. Professor Roibeard O Maolalaigh, Head of College of Arts, will introduce the event.
Professor Gerard Carruthers of CRBS has said that "Muir deserves his celebrated place as an apostle of democracy. But I'd suggest that democracy and openness to different opinions is what Muir should best be remembered for."
Dr Ronnie Young, Lecturer in Scottish Literature, noted that "the annual Muir Lecture aims to explore traditions of democratic thought in Scotland as well as addressing present challenges to democracy".
Dr Rhona Brown, Senior Lecturer in Eighteenth-Century Scottish Literature and the Periodical Press, added: "We welcome Professor Devine to the University of Glasgow, to show us Muir's importance, not just in his own time, but in our own complicated political moment."
The lecture will run 6-8pm in the Kelvin Hall. Tickets are available via Eventbrite link
LGBT+ Staff Network Welcome Back with Robert Gale
The LGBT+ Staff Network are excited to welcome Robert Gale as our guest speaker on Tuesday, 22 October 2019, 17.30-19.30 at the Hunterian Museum
A graduate of UofG, Robert is Artistic Director and CEO of Birds of Paradise Theatre Company, Scotland's first touring theatre company employing disabled and non-disabled actors.
Under Robert's artistic direction, BoP has gone on to win Fringe First, CATS and a Herald Angel Award. Robert also wrote Blanche and Butch, a co-production with the Tron Theatre which explored the stories of three disabled drag queens, fully integrating the BSL interpreter into the production.
We can't wait to hear from Robert and hope you'll join us for the evening. Refreshments will be served.
Please book: https://www.eventbrite.com/e/lgbt-staff-network-talk-with-robert-gale-tickets-76773925879
Password: wbgale19
Council of National Representatives of Erasmus Student Network hosted at UofG
Erasmus Student Network (ESN) is the biggest student association in Europe. Currently, it consists of 41 ESN countries and is currently includes more than 1,000 Higher Education Institutions across all around these countries.
The number of volunteers running it is as high as 13,000 with 350,000 international students using its services every year. Its main aims are improving and simplifying the social and practical integration of international students, representing their needs and rights on a local, national and international level while also promoting mobility, volunteering, and active citizenship.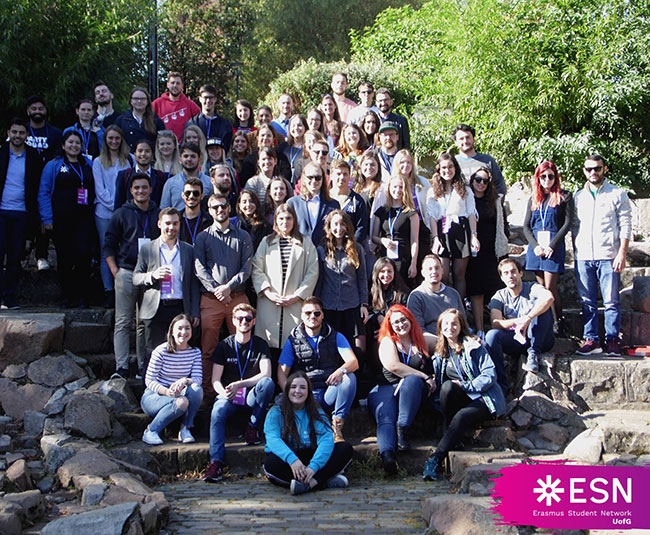 Between 19-22 September 2019, all the eyes of this student body were focused on Glasgow, as the local section of the University of Glasgow – ESN UofG was the official host of the Council of National Representatives of ESN (CNR).
CNR is one of the two main decision-making bodies of the ESN. The meeting of the International Board of ESN and the National Representatives, along with 70-100 delegates from all of our member countries and guests, discuss education, educational policy development as well as about the future of the Erasmus+ programme and how we can improve our services and thus, the quality of the programme.
CNR scrutinises and checks the work of the Board, and must be consulted on budgetary, strategic and policy matters of the whole network. One of the main outcomes of the CNR in Glasgow was accepting Albania as the 41st ESN country.
On Friday 20 September, the International Board, the National Representatives and other participants were present at the Gilmorehill Campus. Apart from the official programme of the meeting which took place in the Wolfson Medical School building, they all walked around the Main Building during the lunch break.
Katarina Simkova,
President
Erasmus Student Network UofG
---
First published: 21 October 2019