Staff and SMG Networking Event held in GUU
University staff from different parts of the University joined members of the Senior Management Group last week in the second of a series of networking events aimed at raising the visibility of members of SMG and their work.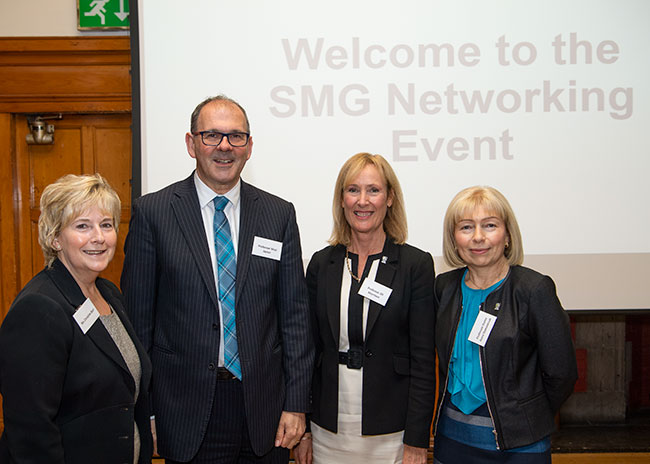 The lunchtime event was held at the GUU and was introduced by Christine Barr, Executive Director of Human Resources.
Short three-minute introductions about each of their roles were delivered by Professor Neal Juster, Senior Vice-Principal and Deputy Vice-Chancellor; Professor Dame Anna Dominiczak, Vice-Principal and Head of the College of Medical, Veterinary and Life Sciences; and Professor Jill Morrison, Vice-Principal and Clerk of Senate.
Professor Juster talked about development of the University's strategic plan beyond 2020; ensuring that campus development is aligned to the University's vision; and ensuring that the work of World Changing Glasgow Transformation (WCGT) is aligned to the capital programme.
Dame Anna talked about the forthcoming Industry Day that the College of MVLS is hosting on 30 October; and the importance she places on being able to work with Professional Services staff, particularly in producing successful bids for funding.
As Clerk of Senate, Professor Morrison is responsible for ceremonies in the University and the key role she undertakes involving academic and professional services staff and students. She is also responsible for oversight of academic conduct and student appeals.
Staff in attendance had the opportunity to meet Professor Juster, Dame Anna and Professor Morrison and to discuss various topics including University culture and values; connections and collaboration and student and staff wellbeing.
Staff in attendance commented positively on the dialogues and chance to network with others with whom they might not normally come into contact.
We look forward to meeting other colleagues and would encourage you to come along to future events of this nature and meet new people from different parts of the University.
---
First published: 14 October 2019