Superhero Science: Agents of A.W.E.S.O.M.E.
Published: 1 August 2016
Campus eNews meets the team behind the award-winning student-performed comedy science show, which is generating excitement for STEM subjects across the West of Scotland.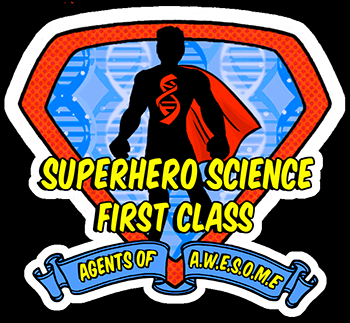 The staff and students on the project team behind Superhero Science: Agents of A.W.E.S.O.M.E. are determined to spread the love for STEM subjects. So far they've performed their comedy science show to 12,000 under-12s in schools across the West of Scotland, boosting the kids' interest in Science, Technology, Engineering and Mathematics along the way. Now the project has won the 2016 Herald HE Award for Outstanding Contribution to the Local Community. The judges praised the show's originality and quirkiness, and the fact that the team targets schools in disadvantaged areas.
Superhero Science is a collaboration between UofG's Kevin O'Dell, Douglas Macdonald and Lisa Di Meo of Time-Tastical Productions, and PhD students Laura Richmond (UofG) and Chelsey Wilson (Strathclyde).
Science communication
Kevin told Campus eNews about the show: "The presenter is an agent from AWESOME: the Agency for Worldwide Education about Superhero Operatives and their Missions on Earth! She tells the story, triggering video clips to illustrate scenes, and the kids get to build their own hero by choosing superpowers. At one point we ask them how the hero could get past a barrier, and there's a couple of minutes' discussion on each of the options. Could you stick to the ceiling like a gecko? How do their feet work? Or could you become invisible, is that possible? Then what happens in the next clip depends on what they choose. It's getting them to think, in a fun way, about lots of different concepts. The science is real and contemporary and the story is plausible - if a bit nonsensical!"
Kevin and Douglas previously worked together on Zombie Science, a comedy show with versions for teenagers and young adults. First performed in 2011, the show still tours schools and festivals and has so far been seen by 65,000 people. For that project they employed writers and performers, but this time they entrusted the development and delivery of the show to Laura and Chelsey, with support from Lisa.
Both students are on the Doctoral Training Programme (DTP) scheme, part of which is a three-month work placement to gain extra skills. Kevin worked with his DTP contacts to set up a placement with the project team, and in 2014 Laura spent one month researching, one writing and filming, and one performing the first version of the show. Feedback from pupils and teachers was overwhelmingly positive. In 2015 Chelsey spent a month modifying the script and updating the filmed sections to swap in new science. She then performed for two months in primary schools, and for paying audiences including at Glasgow Science Festival.
Research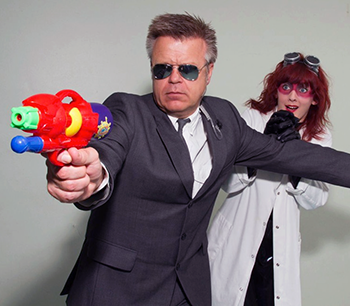 "During her research phase" Kevin explained, "Laura visited schools to find out what kind of science they wanted us to deliver, so we could broadly fit their curriculum. Most primary school teachers don't have a science background, so we developed follow-up materials and a website they could use to answer the next question. Laura has a good understanding of genetics and biology, Lisa is a college biology teacher and Doug is a physicist so we could bring different things together.
"We also talked to kids about what the story could include, and many told us they wanted the villain to be female so we invented Professor Jean Splice! We were already very conscious of the fact that most superheros are male, so in a way it was a stroke of luck that all our presenters are female: Laura then Chelsey, and now Lisa who has taken over performing the show."
What next?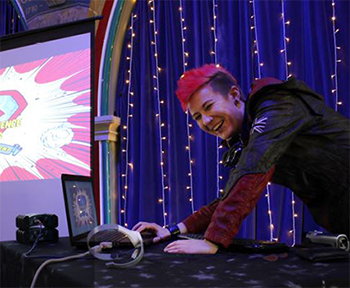 Laura is currently completing her PhD in genetics. She told Campus eNews: "I've always enjoyed teaching, and I love science so I get a real kick out of seeing other people get interested in it. I also love superheroes so there was that! The story involves genome editing and as I work with the CRISPR/Cas system that was a fun link to make. The kids genuinely loved the whole thing and I can't even express how much I enjoyed it! It was my first real experience of science communication and made me realize that this is something I'd love to pursue as a career."
Kevin and the Time-Tastical team will continue to revise their shows to write in new discoveries and showcase the University's live research. They're also working on plans to share their knowledge and help others develop science communication events.
Superhero Science is sponsored by the Wellcome Trust and the Biotechnology and Biological Sciences Research Council.
For more information
UofG's other Herard HE Award 2016 winners
Research Project of the Year: Gravitational Waves (with the University of Strathclyde)
---
First published: 1 August 2016