Student Claudia makes Glasgow's smile better
Published: 25 July 2016
Campus eNews meets the 'Outstanding Contribution From A Student' winner from the Herald Higher Education Awards 2016.
The University's Claudia Wasige won the 2016 Herald HE Award for 'Outstanding Contribution from a Student'. The judges were impressed by her work to tackle poverty, overcome inequalities and raise awareness, and the ways she inspired and enabled dozens of her fellow students to volunteer.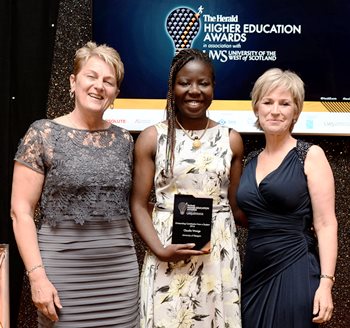 Claudia's work to improve oral health in Glasgow's vulnerable communities began in 2013, during her second year studying dentistry. While volunteering as a befriender and counsellor at The Everlasting Foodbank in east Glasgow, she noticed many of the clients had bad teeth. She told Campus eNews: "While I was talking with one guy he ate a sandwich, a couple of biscuits and had a cup of tea, all with no teeth. I'd never seen that before and thought: 'this is not ok'! I asked him, if I were to bring leaflets and resources and show him where to go to the dentist, would he think about it? He said yes."
There was already a small group of dental students running occasional campaigns to promote oral health. Claudia joined them and took charge, quickly expanding the group to 20. She persuaded pharmaceutical companies to sponsor them with toothpaste and brushes, designed leaflets, and started monthly visits to The Everlasting Foodbank to raise awareness and offer free advice. The sessions were so popular, they inspired the group to found the Glasgow Oral Health Improvement Student Society (GOHISS), with Claudia as President. She spent summer 2015 building links with more community organisations, then recruited and developed a training programme for 118 more student volunteers. She taught them that "every food bank and every night shelter works differently so you're learning as you go in. You have to be able to try different things."
GOHISS now runs five monthly outreach sessions in three locations, providing free services to more than 200 of the city's most vulnerable individuals, from refugees to the homeless.
The HE Award also recognised Claudia's work with UofG's Reach Programme, which supports access to professional subjects, to widen participation in higher education. She was founding President of the Reach Dental Society, which created course materials and clinical demonstrations to help the University engage with S4-S6 pupils in 95 schools across the west of Scotland.
Motivation
"How did I fit GOHISS and Reach in alongside studying? It's important to me so I just do it! When you work in a food bank there's such great chat and you fall in love with the people there, so anything you can do to help out, you just do. And I went to one of the schools Reach now works with, which doesn't traditionally send students into higher education or professional courses, so I didn't get a lot of help trying to get in. It's an issue that's close to my heart, so I want to help them as much as I can."
Inspiring people
Claudia says one of her biggest inspirations was her paternal grandfather, Charles Wasige. "He grew up in a colonised Kenya. Unlike his brothers, he decided to walk the equivalent of Glasgow to Edinburgh once a term to get an education. He was a devout man who is remembered for his self-made prosperity and radical generosity. My grandparents fed anyone who came knocking. He coined the term 'If you can read and write you don't need anyone to teach you', which I altered to 'no one can stop you'".
The future
Claudia graduated Bachelor of Dental Surgery in July and will start her vocational training in Glasgow in August. In the meantime she is coaching tennis in the west end of Glasgow (did we mention she played on UofG Tennis Club's First Team and was crowned Women's Champion in 2013?!) She's excited for the future but "gutted" to have to reduce her involvement with Reach, and to leave the GOHISS committee. Former Society Secretary Lizzy Todd is taking over as President - "she'll be absolutely fantastic!" - though Claudia will still be involved in the Society, including the Big Smile world record breaking attempt planned for 2017.
She's also working with fellow UofG alumni to set up a motivational group aimed at students. "It's called 'Learning to Fail' and we'll be doing small group work around how to deal with messing up, and the idea of how to fail well. Like I didn't get a job first time round, not until my third try, and it was stressful but I wasn't really bothered by it because I've tried so many things and failed so badly so many times that now I can just say 'Yeah whatever, it'll work out, I'll be fine!'"
Outstanding leadership
The Head of the Dental School Professor Jeremy Bagg nominated Claudia for the Award. He said she had "contributed as much to her peers, the University and the wider community as she gained from studying hard in a competitive and highly vocational course. She is determined to raise awareness of the extremes of inequality in Glasgow, and to do whatever she can to tackle it. Her outstanding leadership qualities allowed her to mobilise significant numbers of her colleagues, to harness their energy and enthusiasm, and to make the most of their combined professional skills. I believe Claudia is very deserving of this award and I'm over the moon that she won it!"
For more information
GOHISS: The Glasgow Oral Health Improvement Student Society
UofG's other Herard HE Award 2016 winners
Outstanding Contribution from a Student: Fergus Taylor was Commended
Research Project of the Year: Gravitational Waves (with the University of Strathclyde)
---
First published: 25 July 2016