Information for LGBT+ Students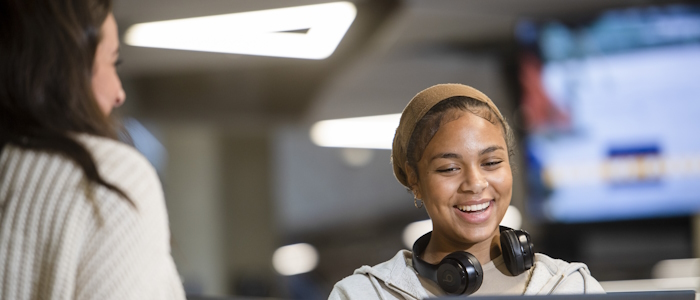 Useful information on University policy, support and contacts are shown below
Check out this year's events to celebrate LGBT History Month on the University's EVENTS PAGE. Search LGBT History
GULGBTQ+ Students' Society

GULGBTQ+ – The Glasgow University Lesbian Gay Bisexual Transgender and Queer + is a students' society formed to provide an open and welcoming space for people under the LGBTQ+ banner (the banner includes people from outside the acronym; moreover, the society welcomes everyone from every background). It provides both a welfare and social space so that people can get to know each other.
LGBT+ Network for Staff and PhD Researchers
LGBT+ staff and PhD students are welcomed by the University of Glasgow Lesbian, Gay, Bisexual & Transgender + Network. The Network was one of the first in Higher Education in Scotland. The network can:
provide a welcoming environment to meet regularly for social events;
provide a space for the safe discussion of LGBT+ issues;
provide information about relevant LGBT+ events within and outwith the University.
inform University policy with respect to LGBT equality and inclusion; representatives attend the Gender and Sexual Diversity Equality Group.
University's LGBT+ Equality Group
The University's LGBT+ Equality Group is chaired by the LGBT+ Equality Champion; and has student and staff representation. The group acts as a channel of communication where issues affecting LGBT+ people can be raised and addressed or referred to appropriate bodies for action.
LGBTQ+ Honorary Chaplain
The University has appointed the Reverend Linda Haggerstone as its first LGBTQ+ Chaplain.
Her message to the LGBTQ+ community at the University is simple: "I want LGBTQ+ students and staff to know there is someone there to listen, whether they are coming out or experiencing difficulty at work, with their studies, relationships or finding social activities. I want them to know that someone cares about them and will point them in the right direction. I am connected with a lot of different communities so we will find ways to help. I'd like to offer them hope that they will find a little more joy in their lives at least. Because I identify with the community and am not an outsider, I believe I understand the issues."
Contact Details:
LGBTQ+ Honorary Chaplain
Rev Linda Haggerstone
Mobile : +44 (0) 07585 852 627
Email : lhaggerstone@gmail.com
Rainbow Office Hours
Office hours with LGBTQ+ staff
Office hours are the times when staff are available for you to see them, to discuss anything you need to. This can be in-person in their office or online as a virtual one-to-one.
Rainbow Office Hours
Twice a year UofG staff who identify as LGBTQ+ hold Rainbow Office hours, typically to coincide with LGBT History Month in February and National Coming Out Day in October. Rainbow Office Hours are an opportunity for you to talk to an LGBTQ+ member of staff about LGBTQ+ issues. Rainbow Office hours are open to staff and students at all levels and from all Schools and Colleges across UofG. The sessions are drop-in and you do not need to book an appointment before you attend.
Regular office hours
In addition to specific Rainbow Office Hours to mark LGBT History Month and National Coming Out Day, a number of LGBTQ+ staff across UofG are happy to see students from all levels and Schools in their regular office hours throughout the year.
A list of LGBTQ+ staff participating in Rainbow Office Hours with times, dates, and locations is available via Sway (UofG sign-in required). If you are a member of staff and would like to sign-up for Rainbow Office Hours, please contact Emily.Nordmann@glasgow.ac.uk
Peer Wellbeing Support
Peer Wellbeing Support is a confidential, student-led listening service. It allows students to talk and share their problems, and receive support from trained Peer Wellbeing Supporters.
Changing your name or gender on University systems
Transitioned before registering with the University?
Undergraduate students
If you have applied for an undergraduate degree via UCAS and wish to make changes to your name etc. before you register with us, you will need to make those changes with UCAS. You will need to provide UCAS with updated official documents – such as a deed poll certificate, birth certificate, driving licence or passport. If you don't have any official documentation in your new name, you may need to wait until you have registered with us to make any changes.
Information on how to make those changes with UCAS can be found on your UCAS applicant's hub or a specific form can be found at Can I Change my UCAS Choices? Change UCAS Application.
Once UCAS updates their systems our University of Glasgow admissions records will be updated automatically and no further intervention should be required.
Postgraduate Taught (PGT) Students
If you applied to us via our Direct Application, you can contact Admissions via their Enquiry Form and an Admissions Officer will be assigned to support you through document uploads to make the appropriate changes.
Transitioning while at University
*Not 'out' at home OR want to use your preferred name?
Simply add the name you wish to be known by at the University to the 'Preferred Name' field in your student MyCampus profile. This will then update all relevant systems, including your Student ID card, without affecting your Primary name in your MyCampus records. Note, this change may take a couple of days to filter through to all peripheral University systems.
Please note, the 'Preferred Name' field will not be reflected in your degree certificates when you graduate – only the Primary Name is shown on degree certificates.
If the 'Preferred Name' field in MyCampus is completed after an ID card has already been issued using the Primary name, the normal replacement charge will be applied if a student wishes a new card.
If you need help with this, check out the dedicated MyCampus guide.
*International students holding a student visa in your birth name and/or gender?

For UK Visas and Immigration purposes, the University must keep your primary MyCampus records the same as your identity shown on your student Visa. However, you can amend the name you wish to use within the University by completing the 'Preferred Name' field in your student MyCampus profile. This will then update all relevant systems, including your Student ID card, without affecting your Primary MyCampus record.
Please note this will NOT change the name shown on your degree certificate.
If the 'Preferred Name' field in MyCampus is completed after an ID card has already been issued using the Primary name, the normal replacement charge will be applied if a student wishes a new card.
If you need help with this, contact the Student Services Enquiry Team.
Ready to change your Primary/First name?
A change to your Primary Name on MyCampus will change your personal details for the purposes of your degree certificate, home address/contact information, enrolment with your College, School or Research Institute, your student identification and email.
You can change your Primary name and/or gender in the main University's student MyCampus records by submitting an Personal Information Update request.
To verify your identity, you will be asked for identification in your new chosen name or gender. If you cannot provide this, you will be able to make a declaration in writing using a Declaration Form, which you can request from the Enquiry Team as part of your request form.
Please ensure you review the information available at Citizens Advice Scotland and Scottish Trans to ensure you are aware of the full implications of changing your Primary name with the University.
Note that using a different version of your name on your degree certificate to that shown on other forms of identification may cause you difficulties in future. You are responsible for making changes to all your other forms of identification.
The Student Services Enquiry Team will not make contact with other parts of the University about your name or gender change on your behalf. If you need to tell someone/an area separately, following the systems updates which take place when your Primary name is changed, you must do this yourself.
We have prepared a Transitioning Action Plan that may help you identify who you may want to inform about your new name or gender. If you would like help to inform anyone about a name or gender change you can contact your Adviser of Studies. If you are a Postgraduate Research student, your supervisor or another member of staff of your choice will be able to assist you. The action plan and information can be found in the University's Equality and Diversity Policy: Appendix E.
Advice and support is also available for transgender Undergraduate and Postgraduate Taught students from the GULGBTQ+ Students' Society or the LGBT+ Network for Postgraduate Research students.
Data Protection Statement
The information you provide will be used for the purpose of amending your student record details on MyCampus. The University will not notify Schools/Institute/College Administration of a change in name or gender.
There may be instances where the University is required to share your personal and sensitive personal data with third parties for statutory or regulatory reporting purposes. For further details on how the University processes your personal data can be found in s.3 of the University Regulations
Replacement Degree Certificate/Parchment
It is not normally possible to amend your name on your degree certificate unless:
An administrative error has occurred and has been notified to the Registry Graduation Team within three calendar months of graduation.
A change is required under the Gender Reassignment provisions of the Equality Act 2010. Please make your request in writing, to Graduation, Registry, Fraser Building, University of Glasgow, Glasgow G12 8QQ, or by email to Graduation@glasgow.ac.uk. To verify your identity, Registry will ask for official identification in your new chosen name, such as deed poll, passport, or drivers licence.
If you have changed your name following completion of your course of study, (for example, through marriage, or by Deed Poll), and wish to demonstrate to a prospective employer or educational institution that your degree certificate belongs to you, you will need to show supporting documentation showing the name change to your prospective employer.
Going abroad as part of your studies?
Make sure you know what to expect before you make your choice.
You can find the latest Go Abroad info and get support from the University's Go Abroad team.
Every country varies in its acceptance, awareness and understanding of the LGBT+ community, and it is important for LGBT+ students to understand what type of environment they will be going to. The types of laws, policies, and organisations present in any country are huge factors in determining its social environment, so these are all things LGBT+ students should consider before studying abroad.
Research your destination thoroughly, and identify issues which may affect your experience studying there, for example occurrences of homophobia, or failure to recognise same-sex marriage rights.
Identify support services that can provide help, should you need it. For example, your host university may have a LGBTQ+ society, or a dedicated member of staff in their Student Services team. There may also be LGBTQ organisations in your destination country that you can join.
In addition to the support and information from the University's Go Abroad team, the following external websites will help you in your research. Although these external sources are reputable, please use this information with caution.
The Foreign and Commonwealth Office has LGBT Foreign Travel Advice (with external resource links). They also have Foreign Travel Advice with the latest travel advice by country including safety and security, entry requirements, travel warnings and health. Find the country you are considering visiting, and click on the 'Local Laws and Customs' link.
GoAbroad.com: An LGBT Student Guide to Studying Abroad
NAFSA: Rainbow Special Interest Group
International Lesbian, Gay, Bisexual, Trans and Intersex Association - Every year, ILGA produces maps on Gay and Lesbian rights in the world as well as its State Sponsored Homophobia report. You can download them from their site.
Stonewall have prepared excellent resources which is a country-specific briefing outlining laws and attitudes.
Trans Lifeline have contact details for many global NGOs.
AIG have developed a page for LGBTQ Travel Safety Tips.
Pronouns and LGBTQ+ Terminology
Pronouns
What are pronouns?
Words used to refer to or by people talking (I or you) or when someone or something that is being talked about (she, he, it, them, and they).
Often people tend to think "he/him" refers to a man or a boy, and "she/her" refers to a woman or a girl, as these pronouns are gendered in the English language. People also tend to make assumptions about someone's gender based on their appearance or name. However, these assumptions are not always correct.
Another benefit of using pronouns, and encouraging others to use them, is that it can help when someone has a name we are not familiar with.
What are some commonly used pronouns?
She/her/hers and he/him/his are a few commonly used pronouns.
Some people may chose to use they/them/their. People will be familiar using these words to refer to groups, but they can also be used to refer to a singular person instead of he/him/his or she/her/hers.
For example: "They (meaning just Ashley) emailed over all the information you need" or "Ashley sent their notes around before the class" and "Ashley needs that report, can you print it off for them?"
Find other examples of pronouns at Trans Student Educational Resources
How do I use pronouns or ask someone what pronouns they use?
When you do not yet know which pronouns someone goes by, it is generally a good idea to use "they/them".

Asking and correctly using someone's pronouns is one of the most basic ways to show your respect for their personal identity. If you are unsure of a colleague's or student's personal pronoun, first and foremost you should listen, both to them and any others close to the individual who may use the correct pronouns.
If you are not sure what pronouns to use for someone, it is okay to ask, but do make sure to share your own too, e.g. "My pronouns are she/her, by the way. What pronouns do you go by?"
We encourage all staff to share their pronouns with their colleagues if they feel comfortable doing so, but nobody should ever be forced to share their pronouns if they do not wish to.
If you are asking as part of an introduction exercise and you want to quickly explain what personal pronouns are, you can try something like this: "Tell us your name, where you come from, and your pronouns if you feel comfortable sharing. That means the personal pronouns that you use in reference to yourself."
If you're chairing a meeting, try "Let's go around and introduce ourselves with our names, our personal pronouns if we feel comfortable sharing, and what we do. I'll start. I'm Jane, my personal pronouns are she/her, and I work in the School of Life Sciences."
What if I make a mistake?
It's okay! Everyone makes mistakes from time to time. The best thing to do, if you use the wrong pronoun for someone, is to say something right away, like "Sorry, I meant (insert pronoun)"
If you realise your mistake after the fact, apologise in private and move on. There's no need to make a big deal out of your mistake or draw attention to it. Just try your best to get it right in the future.
Why is it important to respect people's personal pronouns?
When someone is referred to with the wrong pronoun, it can make them feel disrespected, invalidated, dismissed, and alienated. Repeated and purposefully using an incorrect personal pronoun however, constitutes bullying and harassment.
What can I do to make it easier for others, even if I use the more commonly used pronouns?
1. Indicating your personal pronouns in your email signature helps to normalise an action that makes it easier for transgender and non-binary members of our community to express themselves. It also helps other people feel confident that they are addressing you, as you wish them to. Another benefit of using pronouns and encouraging them is that it can help when someone has a name we are not familiar.

2. You can also include your personal pronouns in your Zoom profile. Simply sign into your University Zoom account -at https://uofglasgow.zoom.us/profile to add them. Make sure you have the latest version (Use the 'Check for Updates' option after clicking your profile picture in the Zoom client app - check out how to do this at https://support.zoom.us/hc/en-us/articles/201362233-Upgrade-update-to-the-latest-version). Others in your meeting will also need to have the latest version.
3. Try introducing your colleagues in such a way that makes their pronouns clear, e.g. "This is Sarah; she works in the School of Engineering" or "This is Dean; they're new to Glasgow."
4. You may hear one of your students or colleagues using the wrong pronoun for someone. In most cases, it is appropriate to gently correct them without further embarrassing the individual. This means saying something like "Alex uses the personal pronoun she," and then moving on.
5. If others are consistently using the wrong personal pronouns for someone, do not ignore it. It is important to let those who have been misgendered know that you are their ally. It may be appropriate to approach the individual who has been referred to by an incorrect pronoun and say something like "I noticed that you were being referred to with the wrong pronoun earlier, and I know that can be hurtful. Would you be okay with me taking them aside and reminding them about your pronouns?" Follow up if necessary, but take your cues from the comfort level of the individual. Your actions will be greatly appreciated.
Inclusive Language
To continue to build a culture which is inclusive of all genders, you should avoid wording that assumes there are only two genders, e.g.:
Instead of "ladies and gentlemen", say "everybody", "colleagues", or "friends and guests".
Instead of "he/she" (when referring to someone unknown or a universal person), use "they" or "the person".
Instead of "men and women", say "people".
Further reading
You can find out and read more about pronouns on MyPronouns.org.
Terminology*
There are a wide range of words and terms that people may use to describe themselves, their identity, and their experience. It is important to note that the language and terminology used is constantly evolving and shifting, as communities and individuals develop new ways to articulate their identities and experiences.
Gay: Refers to a man who has a romantic and/or sexual orientation towards men. Also a generic term for lesbian and gay sexuality - some women define themselves as gay rather than lesbian.
Lesbian: Refers to a woman who has a romantic and/or sexual orientation towards women.
Bi: Bi is an umbrella term used to describe a romantic and/or sexual orientation towards more than one gender. Bi people may describe themselves using one or more of a wide variety of terms, including, but not limited to, bisexual, pan, queer, and other non-monosexual identities.
Homosexual: This might be considered a more medical term used to describe someone who has a romantic and/or sexual orientation towards someone of the same gender. The term 'gay' is now more generally used.
Cis or Cisgender: Someone whose gender identity is the same as the sex they were assigned at birth. Non-trans is also used by some people.
Gender Identity: A person's innate sense of their own gender, whether male, female or something else (see non-binary below), which may or may not correspond to the sex assigned at birth.
Gender Expression: How a person chooses to outwardly express their gender, within the context of societal expectations of gender. A person who does not confirm to societal expectations of gender may not, however, identify as trans.
Intersex: A term used to describe a person who may have the biological attributes of both sexes or whose biological attributes do not fit with societal assumptions about what constitutes male or female. Intersex people may identify as male, female or non-binary.
Queer: In the past a derogatory term for LGBT individuals. The term has now been reclaimed by LGBT young people in particular, who don't identify with specific categories around gender identity and sexual orientation. Please note though, this term should not be used to describe anyone unless you specifically know they use it to describe themselves.
Questioning: The process of exploring your own sexual orientation and/or gender identity.
Trans: This was the term most commonly used by participants to describe their status, identity or experience. 'Trans' quite literally means to go beyond or across, and its use in this context originates from the words 'transgender' and 'transsexual' - to traverse gender and / or sex. 'Trans' generally functions as an umbrella term to describe the experience / status of being a different gender from the gender assigned at birth.
Trans woman is an identity term used by some women who were assigned male at birth. Some people also use MtF (male-to-female) to describe their experience / identity. Likewise, some people use the term trans feminine to describe their experience / identity of being a trans person who was assigned male at birth, but does not solely identify as a woman.
Trans man is an identity term used by some men who were assigned female at birth. Some people also use FtM (female-to-male) to describe their experience. Likewise, some people use the term trans masculine to describe their experience / identity of being a trans person who was assigned female at birth, but does not solely identify as a man.
Non-Binary: Describes identities that do not fit into the man/woman binary. Other terms include genderqueer and genderfluid.
Transgender: Similarly to 'trans', transgender also describes the experience / status of being a different gender from the gender assigned at birth. Increasingly, the short-form term - 'trans' - seems to be preferred and used most widely.
Transsexual: This term is sometimes used by people who change, or intend to change, aspects of their bodily sex. Whilst 'transsexual' has somewhat fallen out of popular usage in the UK, this term is still an important means for many people to articulate their experience. 'Transsexual' is not a derogatory term when used as self-identification, yet the term is not necessarily favoured or used by everyone.
Person of trans experience is sometimes used by people to denote that they have or have had a trans/transgender/transsexual experience, but this is not central to their identity. Similarly, person with a trans history is sometimes used by people who have had a trans/transgender/transsexual experience, and regard this as just another factor of their history, life and experience.
Agender and no gender are terms used by some people to describe feeling outside of or without gender.
* References:
https://www.stonewall.org.uk/help-advice/glossary-terms
https://www.trans.ac.uk/ResourcesInformation/IdentityTerms/tabid/7237/Default.aspx
Equality and Diversity Policy
Stonewall Scotland Diversity Champion Programme
The University of Glasgow is proud to be a Stonewall Scotland Diversity Champion. As a Diversity Champion we have access to best practice in policy and procedure development, networking opportunities with other organisations; an opportunity to bench mark ourselves against competitors, displaying our commitment to equality for LGBT students, staff and potential students and staff.

‌
External Resources
Please note the University of Glasgow is not responsible for the content of these resources.